Exciting Ideas to Create a Culture of Peer Learning through Corporate Training
A guide to some of the best ideas to build and nurture a culture of peer learning at the workplace through corporate training. From hosting events to using social media and more, explore how to incorporate peer learning and tips to start implementation.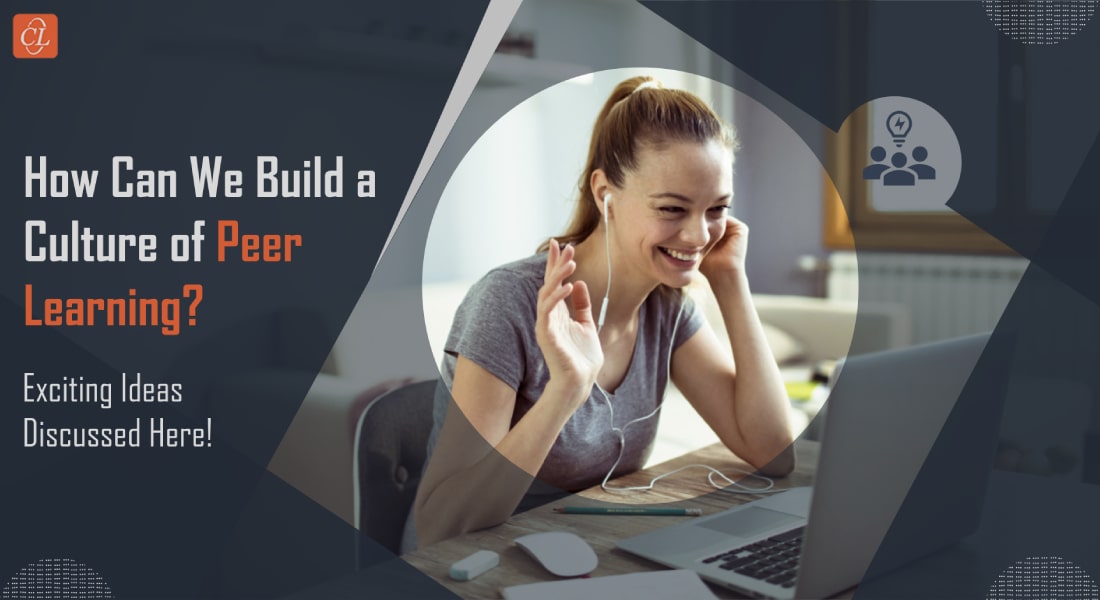 From school days to the corporate setup, peer-to-peer learning is often underrated but extremely crucial. A culture of learning from one another at the workplace helps employees inculcate new skills and learn how to perform more productively. Peer learning is a crucial part of corporate training – whether organizations plan for it, or it happens informally among employees.
Co-workers can help each other enrich their work efficiencies in a way that no training program can. As training managers, you need to ensure you nurture the value of peer-based learning. This article will provide you with innovative ideas to achieve this.
What is Peer Learning?
Peer-to-peer learning refers to the practice where employees teach and learn from each other. Any fruitful collaboration between co-workers can be considered peer learning. With the right incentives and work culture, employees can easily double up as teachers.
The Need for a Peer Learning Culture
Managers are often reluctant toward instilling peer-to-peer learning practices because they think that only an expert can help employees learn better. They often fail to understand that collaborative learning can be a powerful tool in bringing about effective skill development amongst employees.
Hence, it becomes crucial that we dig deep and understand why peer learning should be an integral aspect of any work culture.
Build a Perfect Peer Training Program
Must-Try Ideas:
Develop a mentor-mentee program
Encourage networking
Conduct regular performance reviews
Promotes Connectivity and Collaboration
Interaction between employees can help them work more cohesively. Encouraging mutual learning in corporate training can help employees combine their efforts and promote team spirit.
Makes Employees Feel at Home
It is highly important to make employees feel comfortable at work. Peer learning provides them with a sense of security and helps in bringing the best out of them. Pairing up seasoned employees and new hires as buddies can lead to very effective training.
Helps Brush up Existing Knowledge
Peer learning is the need of the hour as it helps employees gain new skills and refresh their existing knowledge. Experienced employees also benefit from the learning-by-teaching effect.
2 Ideas to Facilitate Peer Learning
Now that you know its benefits, it's time we take action! Let's jump into some of the best ideas to cultivate a peer-to-peer learning set up at your workplace.
1. Develop a Mentor-Mentee Program
Every employee needs a source of inspiration and guidance, and this works best when it comes from within the organization. An excellent thumb rule for this program is to pair an entry-level employee with a seasoned campaigner to help the new hire integrate into the company.
A well-defined mentor-mentee program can help employees develop new relationships at work and be at ease. The main aim of such programs is to bridge the gap in communication created by conventional workplace hierarchy. With the right mentorship, an employee can significantly increase work performance.
2. Encourage Networking
Set up a system where employees are encouraged to head out of their cubicles and network in the workspace. Organizing networking programs regularly can help employees get to know their peers better.
a. Internal Networking
This refers to interactions and the exchange of ideas between employees within their immediate workplace. It is encouraged chiefly through bonding exercises and social events within the workplace.
Some of the ways in which you can boost your organization's internal networking are as follows:
Organize Regular Social Gatherings
This will provide employees a break from work and encourage them to discuss topics they aren't likely to discuss during a busy workday. A theme-based gathering or a potluck can help employees build relations in and outside their immediate departments.
Create Online Group to Bounce off Ideas
In today's Work from Home setup, online platforms such as Microsoft Teams have become the backbone of internal communication. Having groups solely dedicated to specific topics or processes can help boost peer learning among employees.
Start a Professional Development Book Club
A professional book club can be an excellent tool for helping your employees learn new skills and methods. This book club should exclusively revolve around professional development and skill development. This also helps bring employees who share a common interest in touch with each other.
b. External Networking
This helps learners develop contacts and relationships with people outside their immediate work environment. External networking can be used to garner advice and support from employees and industry experts.
Here are some ways to encourage external networking:
Organize Mandatory Work-Related Events and Classes
A live webinar or a virtual classroom can help employees build meaningful contacts with other professionals. Organizing these classes can offer them an opportunity to gain knowledge, learn about trends, get expert insights, and meet like-minded people. It also adds to increased workplace camaraderie and productivity.
Start Industry-Related Discussion Groups on Social Media Platforms
Social media platforms such as Facebook and LinkedIn provide employees a portal to share their success stories, tips, and more. Groups on such platforms can also allow employees to seek guidance and develop connections with other colleagues.
Learning Lunches
These provide employees with a relaxed setting to exchange knowledge and ideas. The informality a mealtime offers can help employees feel less intimidated by their superiors and more open to genuine conversations.
Learning Management System
The LMS can be used to host chat rooms or discussion forums where learners can share ideas and engage in discussions, moderated by experts or facilitators.
How to Set Up a Peer Learning Process
The previous section discussed how to inculcate peer learning in corporate training. Now, it's time for a brief guide on how exactly you can go about setting up this system.
Do the following to create an efficient mutual learning setup in the workplace.
1. Select a Peer Learning Moderator
The basic job of the moderator is to ensure all activities related to peer training run smoothly. They should oversee all conversations in the setup, without being directly involved.
2. Work Toward Creating a Safe Environment
If you want your collaborative training program to work, it's necessary to provide an environment that makes employees comfortable. Everyone should feel like they can address their queries and doubts to anyone. Moreover, experienced employers and high-level managers should be approachable.
3. Organize Networking Events
As mentioned earlier, networking can be a great source of mutual learning in the workplace. Setting up happy hour meetings and seminars can help employees gain new ideas and perspectives.
4. Start with a Mentorship Program
The inception of the mentorship program would result in a new hire gaining insights from a seasoned employee. It is vital to introduce new hires to this program as soon as they are onboard. It helps them learn how to approach their job accurately right from the beginning.
5. Seek Diverse Perspectives
Peer training should bring together employees from different backgrounds and foster an open-minded culture. This can help employees in approaching different situations with different perspectives.
6. Keep Track of Your Program
Get in touch with every employee and ask for their feedback on the mutual training programs. Identify some common lapses pointed and fix them. Developing quantifiable metrics might help you judge your peer learning initiatives the right way, and also improve them.
Final Words
Everyone at work needs help. It's better for the employee and the organization if the aid comes from within. Peer-to-peer learning makes employees feel at home and provides them with valuable actionable insights.
New developments in peer training programs help employees learn from each other remotely and in person. If you want to foster growth, innovative thinking, and accountability in your organization, then strategize a cohesive training program today! Explore eLearning trends that will guide you.