What's all the Ado about Converting Classroom Material to eLearning?
When converting classroom training material to eLearning, what are the things you need to consider? Can classroom content be used 'as is'? How can the essence of the classroom be captured and retained? Read on to find out.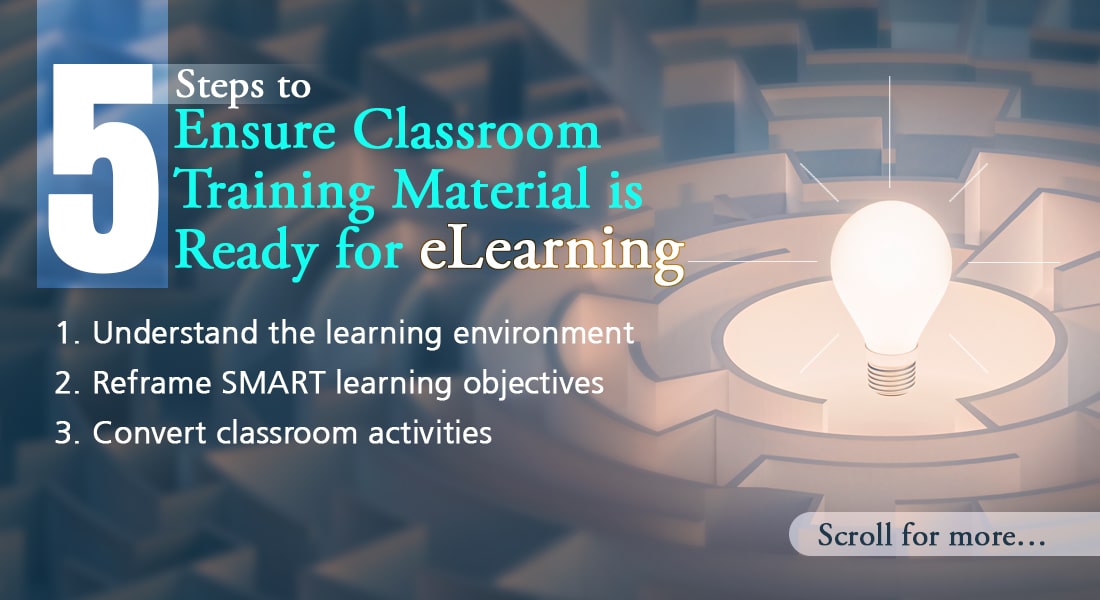 Classroom training has been around from time immemorial, and is still the first choice for many organizations to train their employees. But like everything else today, learning too is evolving to adapt to the changing world.
Most organizations have been addressing their training requirements with effective ILT (Instructor-led Training) programs complemented by suitably informative resources. But, depending on the learners, the learning environment, and topics of courses, ILT might or might not always be the best format for training. For learners who are dispersed in different locations, those constantly on the move, or others with jam-packed schedules, it can be difficult to take time out for the classroom sessions.
Considering the present scenario with the global pandemic and the growing popularity and appeal of eLearning, migrating from ILT to eLearning might be a good option for many organizations. But it is important to understand the process of classroom to eLearning conversion to ensure it happens smoothly and results in effective eLearning.
Organizations need to make the best use of the training materials and resources available with them (and not creating the content from scratch) because that'll help save a lot of time and cut costs. Shifting from classroom training to eLearning is a big step that should be taken after due consideration.
Steps to Ensure ILT Material is Ready for eLearning
Analyze learners and the learning environment
Revisit learning objectives
Analyze content
Devise an appropriate instructional strategy
Provide opportunities to practice
Whether you are planning on doing it internally with the help of your in-house L&D team or outsourcing the task to an eLearning partner, you need to be aware of the conversion process and how you can make it smoother and more efficient.
5 Steps to Ensure Classroom Material is Ready for eLearning
1. Analyze Learners and the Learning Environment
The purpose of any learning program is to improve employee performance. We should have an idea about learners' present and desired performances to bridge the gap. When converting classroom training to eLearning, we also need to know about the learning environment of learners – where they will be accessing the course, which devices they will be using to access the courses, average available time, work commitments, and more.
For example, before developing an eLearning course for sales personnel, we should be aware that most of the learners might be on the move, dispersed in different locations, and often access the courses through their mobile phones.
Knowing about the learning environment can help design courses that are more suitable for learners and ensure easy access and better learning and engagement.
2. Revisit Learning Objectives
Performance-based learning objectives describe what learners will be able to do on completion of a course. They set the stage for eLearning course development – helping us pick the right content and strategy. To be effective, learning objectives should be SMART, that is, they should be Specific, Measurable, Attainable, Relevant and Targeted.
Revisiting the learning objectives of your ILT program will help you remember the purpose of the course, (irrespective of the format) and keep you on track when converting classroom content to eLearning. This can also be an opportunity to modify the learning objectives if needed to stay up to date with the present requirements.
Sometimes, it may not be possible to cover everything from the classroom training in the eLearning course. Hence, you should convey to your eLearning partner what you want to achieve from the course. Your eLearning partner will go through the classroom material after understanding your requirements and will if required, modify the learning objectives that help define other aspects of the eLearning course.
3. Analyze the Content
Review the available content thoroughly and check if it is aligned with the set learning objectives. If any gaps in the content are identified, they need to be filled with the help of the subject matter experts, and the content updated to make it coherent and complete.
If you are outsourcing the conversion to an eLearning partner, provide them with the appropriate classroom material to be used for the eLearning course. For complex topics or in-depth technical concepts, it is desirable your Subject Matter Experts (SMEs) explain the topics to the Instructional Designers (IDs).
ILT materials usually contain a lot of extra information that cannot be used for eLearning. In such cases, the content has to be chunked to separate the essential need-to-know content from the extra nice-to-know information in the course. This task is carried out by instructional designers.
4. Devise an Appropriate Instructional Strategy
After finalizing the learning objectives and gathering the content that meets those objectives, the next step is to devise the appropriate instructional strategy (which refers to the methods, techniques, and devices used to instruct learners). Different instructional strategies can be used depending on the learners, their learning environment, and the complexity of the content. Some popular strategies are guided learning, scenario-based learning, case studies, and simulations.

ID strategies ensure courses engage learners and offer them learning in realistic settings to facilitate instant application back on the job.
5. Provide Opportunities for Practice
In the class, the instructor wraps up the session either by asking learners for their lessons learned, by posing questions, or other techniques. This has to be captured and retained when we convert classroom training material to eLearning.
A course summary at the end will help learners recall important concepts and reinforce learning. Assessing learners' understanding helps assess how effective the training was in helping learners achieve their learning objectives.
eLearning courses generally have two types of assessments: formative and summative assessments.
Formative assessments appear during the course, at the end of each topic. They help reinforce what was learned in a particular segment of the course and are always followed by feedback. They help learners rectify gaps in their learning and become aware of areas in which they are prone to make errors and those that they need more practice in.
Formative assessments can be designed in any format such as singe select or multiple select MCQs, fill in the blanks, drag n drop questions, scenario or case-study based questions, gamified assessments, and more.
Summative assessments happen after the completion of the entire instruction and are used to measure the overall performance of learners. Unlike formative assessments, summative assessments are scored and certify if a learner had succeeded in achieving the learning objectives. Summative assessments usually use single select multiple choice questions.
Inputs for eLearning assessments can also be taken from the questions posed by the instructor in the classroom.
Wrapping Up
Converting from classroom training to eLearning can help cut down on cost, save time, and avoid the logistical hassles of organizing face-to-face sessions. If you want to learn more about making your eLearning courses effective and maximize ROI, give these eHacks a read!