What is Content Curation and Where Does it Fit in Corporate Training?
There's a new buzzword in L&D town – content curation! What does it mean? Why is it important? How to get started? Find answers to all your questions about content curation for corporate training in this blog.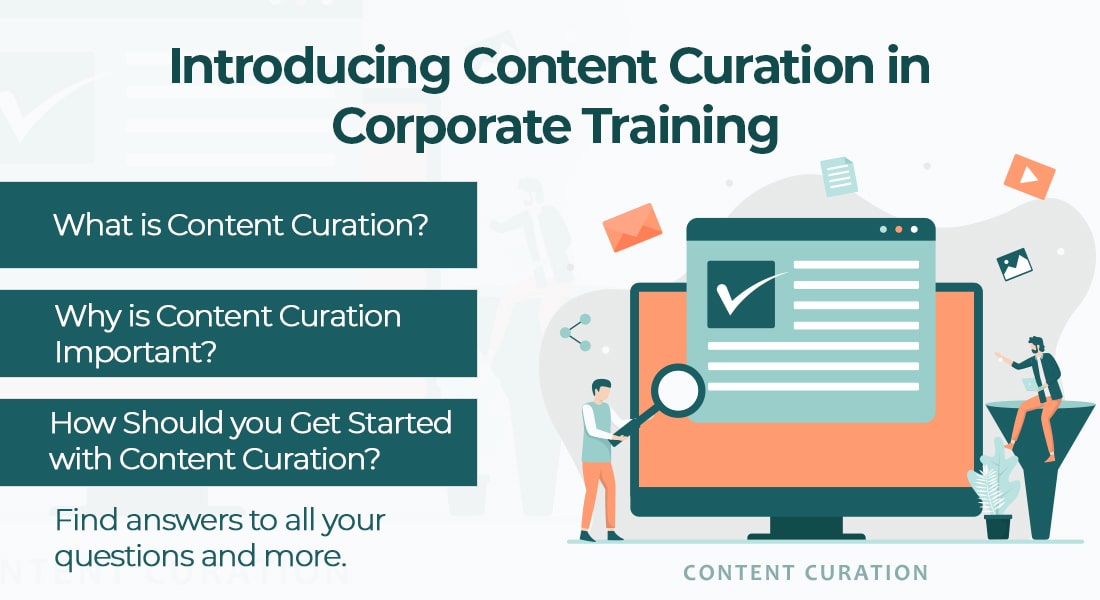 How does learning happen? Why do some learn more than others from the same content? Many have tried to make sense of it – neuroscientists, cognitive theorists, educators, and L&D professionals. But the only thing that everyone is sure about is that there is no one sure way of learning. Learning can happen anytime, anywhere, through any medium. And with the Internet, you never know what, when, and how you are going the next lesson – a TedX talk or a BuzzFeed blog. So if so much content is readily available, why are we talking about content curation again? That too, in the context of corporate training?
Well, L&D's approach to corporate training has always been a little too dependent on structure, making the learning process quite formal. But learning doesn't always happen in a structured context. That is why it's not surprising to see reports like Docebo's 'Fake It 'til you Make It?' that say that 40% of corporate employees Google for the solution before asking a co-worker or referring to any training material or aid when they encounter a problem during their job tasks.
As much as it hurts to admit it as a corporate L&D professional, you can't really blame your learners. It's infinitely more convenient to type in and hit 'search' and find all the information you want at your fingertips. But there's a catch to letting learners source information directly from the Internet – you never know how reliable the information is. That's why corporate L&D needs a middle ground – a Google-like content supply but one which is totally reliable. And that can happen only through content curation.
What is Content Curation?
According to Training Magazine, "Content Curation is the process of sorting through vast amounts of web and enterprise-based content and presenting it in an organized and meaningful format".
Simply put, content curation in corporate training involves carefully putting together all of your organization's training materials – be it in form of classroom training material, eLearning courses (both custom and off-the-shelf), job aids, or external resources like videos from recognized web-channels, research journals, interviews of thought leaders and masterclasses, blogs, published articles, etc. on a common centralized platform that learners can access.
However, collecting all sorts of information and dumping them on a platform can hardly be called curation. Much like in a museum or gallery where there is a flow or theme in the art display, the content that has been curated should also make sense for learners instead of just overwhelming them.
Should You or Shouldn't You Consider Content Curation?
Like any new trend in corporate training, content curation too has stirred up both proponents and detractors. A lot of people think it's completely unnecessary because: one, you can always create custom training material, and two, even if employees Google for information, they are adults who know the difference between a reliable source and an unreliable one.
Instead of simply refuting these claims, let's take a scientific approach and make a list of the pros and cons of content curation.
Content Curation

Pros

Cons

It reduces the effort of creating eLearning courses and curriculums from scratch.

Your learners can use and share a lot of content that is available freely online.

Content curation does mean a lot of work to compile all information and make it accessible to learners.

You have to be on the alert for outdated content or expiring licenses. This means having a dedicated content curator and working extensively with SMEs.

The curated content from external resources can work as a support for your primary training.
Curated content provides a diverse range of resources that learners will find more engaging and effective than formal eLearning courses.
How Should you go About Content Curation in Your Organization?
1. Invest in an LXP or New-age LMS
Learning Experience Platforms and new-age Learning Management Systems have upped the expectations from corporate training in the past few years. A lot of L&D professionals, as well as stakeholders, see the value in not only keeping learners informed but also making the learning experience very personalized and engaging. And because there'll be a variety of training materials and eLearning courses with content curation, an LXP or new-age LMS will allow you to personalize and individualize learning paths for different learner groups.
2. Find the Right Resources
As the Internet offers access to almost limitless learning resources, there's no need to limit yourself to only a few common keywords while curating the content. Here are some of the resources you can look at:
Your organization's internal databases – webinars and videos of company leadership and SMEs can be a real treasure trove of training information.
Websites of top-tier universities and research institutes make part of their course material available to the public.
Specific trade associations and related state departments also post newsletters, articles, and best practices for various jobs within various industries on their websites.
Websites and channels offering video tutorials – YouTube, SkillShare, Masterclass, Udemy, etc. offer tons of high-quality video tutorials on just about any topic you can think of.
Thought leaders' websites, credible bloggers, and podcasters can be a source of insights to all learners.
BigThink and TED offer video lectures and interviews from world-renowned thought leaders on a wide range of topics.
All major news media sites, be it local, national, and international have a strong digital presence that'll keep your learners informed about the changing dynamics of the business world.
End Note
Content curation is a very cost-effective way to add a variety of types of content to your learning curriculums. That doesn't mean that you can't or shouldn't create training content from scratch. Custom eLearning courses will remain the priority for any corporate training. Content curation will complement such formal curriculums and make learning a more engaging and effective experience for learners.
And if you find yourself short on time and expertise to design and develop effective online training solutions for your employees, you can always outsource to a reliable vendor. Here's a free eBook on how to choose the right outsourcing partner for eLearning design and development.