7 Stakeholders You Need to Ace Classroom to eLearning Conversion [Infographic]
For insights on the seven types of stakeholders you need for classroom to eLearning conversion, take a look at this infographic. Explore how your facilitators, learners, management, IT team can add value.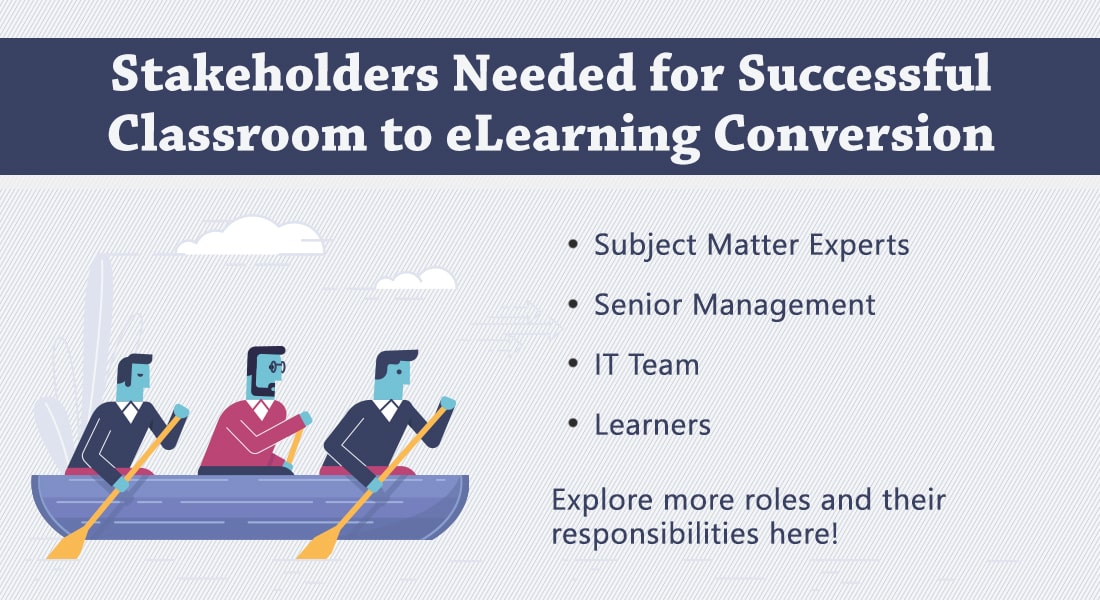 Can you think of pulling off a party all by yourself? Slightly difficult maybe, but not impossible. Now think of getting started with digital learning by converting classroom training material to eLearning. This will need the approval and acceptance of all stakeholders, including learners.
Each stakeholder will have different expectations from the conversion, some apprehensions to be allayed, and concerns addressed.
Classroom instructors for instance might be wary of eLearning, thinking it'll render them redundant.
Subject matter experts (SMEs) might find the idea of teaching complex topics online impractical.
Top management might feel classroom to eLearning conversion will lead to learner disengagement.
However, as a training manager and an eLearning champion, you need to get everyone onboard for successful eLearning implementation.
Start by listing the benefits of classroom to eLearning conversion for each team. Your subject matter experts will need to provide content and review courses. eLearning will only improve the reach of their training and reduce their workload. Line managers won't have to worry about taking employees away from their jobs for a 2-day classroom training program. Once you start eLearning, you can reduce this time by blending classroom and eLearning.
Another effective way is to nominate pilot users from each group and involve them in the implementation. Once they are convinced of the benefits, they'll get their peers onboard. Finally, set realistic expectations, define milestones, and have a clear timeframe so that everyone involved is on the same page and knows what's coming up.
For more insights on the seven types of stakeholders you will need for your classroom to eLearning conversion project, take a look at this infographic.



Before leaving, take a look at some tips to ensure your eLearning courses are aligned with your business goals and can be rolled out with scale and speed.