Benefits Characters Bring to E-Learning Courses
Characters symbolize humans in an online learning and provide the much needed personal touch that is often missing in e-learning. Read on to learn more.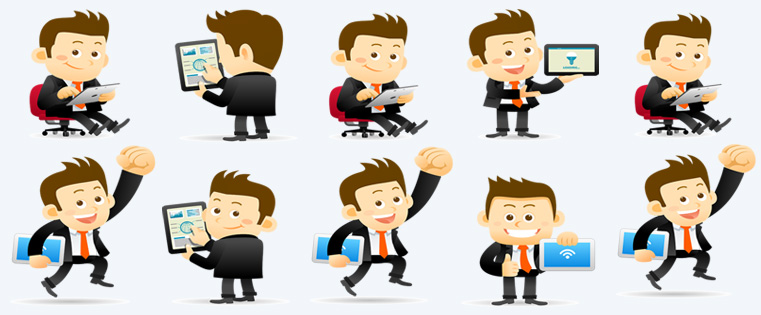 How do you learn better? With or without an instructor? I hear most of you say, "With an instructor!" I agree since we all have spent our school and university days learning with instructors, who acted as our guides, coaches and mentors. They accompanied us on our journey of education and provided regular insights on the subjects, wherever and whenever we needed. But that was some years ago. Enter the twenty-first century: E-learning, in all its glory has taken the corporate training scenario by storm. According to a report by Docebo, the worldwide market for self-paced e-learning reached $35.6 billion in 2011. The five-year compound annual growth rate is estimated at around 7.6%, so revenues in e-learning should reach around $51.5 billion by 2016. Wonder who replaced the instructor? The characters in e-learning courses! They have synonyms such as actors, avatars, guides, learning agents, and so on. These characters symbolize humans in an online learning environment and provide the much needed personal touch that is often missing in e-learning.
Let's explore the value these characters add to e-learning courses:
Characters engage & motivate
Characters in e-learning are engaging as they help learners link to the course content. They succeed in building an emotional bond with the learners. A story woven around these characters usually strikes the right chord with learners as stories attract humans. Also, characters can be interlaced into challenges and games that motivate the learner to do better. You can also use avatars to create diverse inter-activities that make learning fun.
Characters guide learners

E-learning characters take learners through a course by acting as a guide. This guide takes various forms based on the learners' requirement. In some courses, where learners require to be taught with authority, a character that looks and dresses like a trusted authority is used to maintain the seriousness of the subject delivered. In some others, this guide acts as a peer coach with whom the learners make a quick connection as they feel they are at the same level. In yet other courses, the guide assumes a co-learner's role. This way, you can choose your e-learning character based on your requirement.
Characters turn away isolation
As known, e-learning is self-directed and there is a possibility of learners getting demotivated as they feel isolated. They may get disinterested and feel neglected and unattended. So, these characters provide company throughout the learning process and help engage learners in the course.
Characters support knowledge retention
Avatars support knowledge retention and help in easy recall of course content. Knowledge is retained only when the learner enjoys his learning and is completely immersed in it. A guided approach helps create a supportive and positive learning environment, thereby enhancing knowledge retention.
We have developed multiple courses for a variety of clients using avatars. For instance, we used an ant for our e-learning course on supply chain management, a record book as an avatar for a records management course. Also, we used an avatar by the name, Mr. Gram, for our course on a check weighing machine and a load cell was our avatar for a course on weigh modules.
Using avatars is a common strategy in e-learning courses as they offer multiple benefits to learners. They guide, engage, motivate, give company, and aid in knowledge retention. According to Jeanette Borzo, by using avatars, companies feel they can merge the benefits of both classroom and online training.
Have anything to share on characters in e-learning? Please add on!