The 9 Key Benefits of Blended Learning in Corporate Training
Blended learning has become a buzzword that has been trending in the corporate world in recent years. Learn about the benefits of blended learning and go ahead and revamp your corporate training strategy.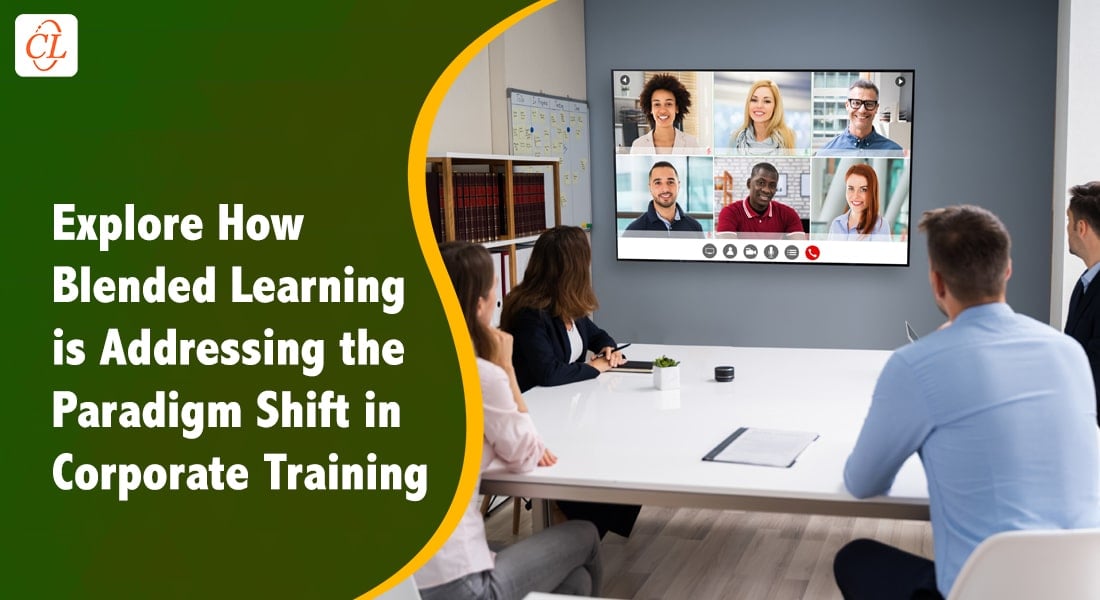 What with digital initiatives transforming the business realm, organizations find that they need to close the skills gap and adopt the latest business technologies, solutions, and practices. However, conducting eLearning courses and classroom sessions can be difficult in the new normal with the emergence of remote and hybrid workspaces. The blended learning approach is a boon in such situations. It offers a hybrid approach to corporate training.
Although eLearning plays a significant role in upskilling the global workforce, it doesn't give employees the interaction they're accustomed to with conventional training models. Similarly, regular in-person training sessions aren't always cost-effective due to the personalities, skill levels and differences in the pace of learning of your learners – not to mention the cost of arranging your trainers' accommodation.
A few key benefits of blended learning in corporate training
Blended learning:
Offers flexibility
Aids in time and cost optimization
Encourages self-paced learning
Improves feedback
Read this post to explore 9 key benefits of blended learning.
Blended learning is a unique approach to training, one that integrates both traditional and modern learning methods.
Let's dive deeper into this unique model and explore its game-changing benefits for modern day organizations.
The Rise of Blended Learning
As you know, there's no one-size-fits-all approach to training employees in new products, technologies, and practices. You can employ several methods such as on-site seminars, webinars, and product-specific training courses. However, each of these methods has its advantages and disadvantages.
For instance, instructor-led training can be expensive due to additional admin, food, transportation, and accommodation costs. Similarly, in-person training sessions can be more time consuming than other forms of training. To add to this, online training sessions alone might not improve each employee's core competency.
These are some of many reasons that trainers are adopting a blended learning approach to reap the benefits of both instructor-led and online methods of training employees in remote, on-site and hybrid workplaces. This blended learning model effectively combines the personalized attention offered by in-person training sessions with the freedom and flexibility offered by eLearning courses.
The purpose of this innovative approach to training is to make learners more adaptable and agile – as both are crucial factors when improving performance on the job. Read on to discover what a typical blended learning solution looks like:
Components of a Blended Learning Solution
Instructor-Led Training Sessions
Instructor-led training adds a sense of familiarity. It typically involves in person or online sessions where a manager, coach or guide engages with employees to discuss new developments, policies, product specifications and market trends.
eLearning
eLearning modules typically include formal, structured courses based on specific needs and performance-based outcomes. Depending on their complexity, these courses are often broken down into a curriculum of shorter courses and they include gamification to improve participation and performance.
Digital Resources
This includes eBooks, HR rules and policies, organizational charts, product descriptions, codes of conduct, instruction manuals and how-to guides. Other formats include microlearning courses that employ short videos, infographics, PowerPoint presentations and even games to improve learner engagement and outcomes.
Key Benefits of Blended Learning in Corporate Training
If you're asking yourself the question, "Should I employ the blended learning approach?", then you need to assess some of the great benefits this innovative approach has to offer:
1. Flexible Learning Model
Blended learning models provide managers and employees with flexibility. For instance, trainers can share and present training material with their learners using digital tools. They can talk about complex, core topics when in person and answer questions by providing some or all training material vis-a-vis multimedia such as videos, PDFs and web links.
Similarly, the emergence of cloud based LMSs (Learning Management Systems) has enabled learners to get more out of their learning from anywhere, at their convenience, and on any device, at their own pace.
2. Enhanced Learning
As blended learning incorporates both face-to-face and digital delivery methods, it can enhance the learning experience and improve the performance of every employee. For instance, extroverted employees thrive better with interactive learning in-person, whereas introverted employees prefer brainstorming in the safety of their private space and on their computers.
The blended learning model is the most comprehensive training solution available today. It includes instructor-led training, workshops, multimedia, gamification and webinars in different combinations and modes.
3. Time and Cost Optimization
According to the 2021 Training Industry Report, training expenditures increased from $23.8 billion to $29.4 billion for lodging, travel, logistics and equipment. Online training tools were among the most popular purchases due to COVID-19 restrictions and offices being shut down. As a result, many businesses cut down their costs significantly by avoiding the hassle of organizing in-person training.
Blended learning combines the low-cost benefits of eLearning with the hands-on experience and collaboration of in-person training to make the entire learning process more cost-effective.
4. Flipped Training Models
In a flipped training model, trainers use eLearning courses to impart skill and knowledge autonomously away from face-to-face environments. Trainers can use this time for imparting theory and core concepts leaving learners well-prepared for in-person sessions after they have spent time learning from their homes or workstations.
Flipped models offer a lot of benefits to both trainers and employees. For instance, trainers spend less time introducing new concepts. Additionally, employees on leave or busy with their daily schedules don't lag behind. Through the flipped training model, employees can become more independent and self-reliant when solving complex problems at work – putting them in a strong position for greater responsibilities down the line.
Trainers can also employ diverse types of flipped models. Popular options include group-based flipping, demonstration-based flipping, and debate-oriented flipping among others.
5. Self-Paced Learning
With blended learning, learners can complete the online part of their training at their own pace. Most blended learning courses include microlearning modules designed to help employees learn new concepts and skills without getting overwhelmed. They typically include short how-to videos, presentations, and gamified assessments to help foster critical thinking.
Another important aspect of self-paced learning is time. With the blended learning approach, employees can learn anytime, anywhere giving them greater autonomy over their learning journey.
6. Continual Learning
Employees are not conventional learners, and most contend with extreme time constraints, which makes maintaining a healthy work-life balance challenging. Blended learning allows trainers to establish a learning schedule based on their learners' needs, so that they can easily grasp concepts and skills to improve their performance.
By employing multiple combinations and modes of blended learning, trainers can control the quality and effectiveness of their courses and allow learners to manage every aspect of their professional and personal lives through continual learning.
7. Easy Feedback
One of the most significant benefits of blended learning is the easy access to feedback and evaluation. Periodic training sessions, tests and projects demonstrate learners' levels of information retention. In addition, thanks to multiple channels of communication, learners can reach out to their instructors for extra assistance.
Moreover, trainers can include a survey or questionnaire at the end of their modules to learn how they can better their courses in the future.
8. Sustained Training
It may take a while for managers and trainers to adapt to blended learning. However, when they do so, they will ensure that the younger generation of employees are more comfortable with eLearning technologies. Another essential aspect of future-proofing eLearning is the simplification of content creation and management.
With the digital explosion, trainers can optimize the acquisition of knowledge, skills and attitudes necessary for employees to adapt to the changing business world.
9. Focused Learning
Finally, a blended learning approach keeps your employees focused on the prize, which is your company's success at the end of the day. eLearning courses assimilate a huge chunk of the training process placing the ball in the learners' courts, thereby taking some of the load off managers and instructors. As a result, training managers can focus on their core tasks and responsibilities and improve their performance at work.
The Bottom Line
Undoubtedly, there may be some leaders and managers who are anxious about incorporating blended learning into their training programs. If you're one of them, then perhaps it's time to evaluate the effectiveness of your existing training approach and determine the aspects that need changing. For instance, if you are relying solely on in-person training sessions, you can try out an eLearning course and see how it works before choosing to invest in it.
Blended learning might sound unorthodox and superfluous. However, it can significantly impact your employees' productivity, capabilities and on the job efficiency for the better. If you want to gain deeper insights into how blended learning can boost employee performance, then you must get your hands on this free eBook.