Fortify your Blended Product Training with Microlearning
Organizations are increasingly opting for blended learning for product training. But if you want that 'little something' to make your blended training more effective, add microlearning to the mix. This blog discusses how best to use microlearning in blended learning.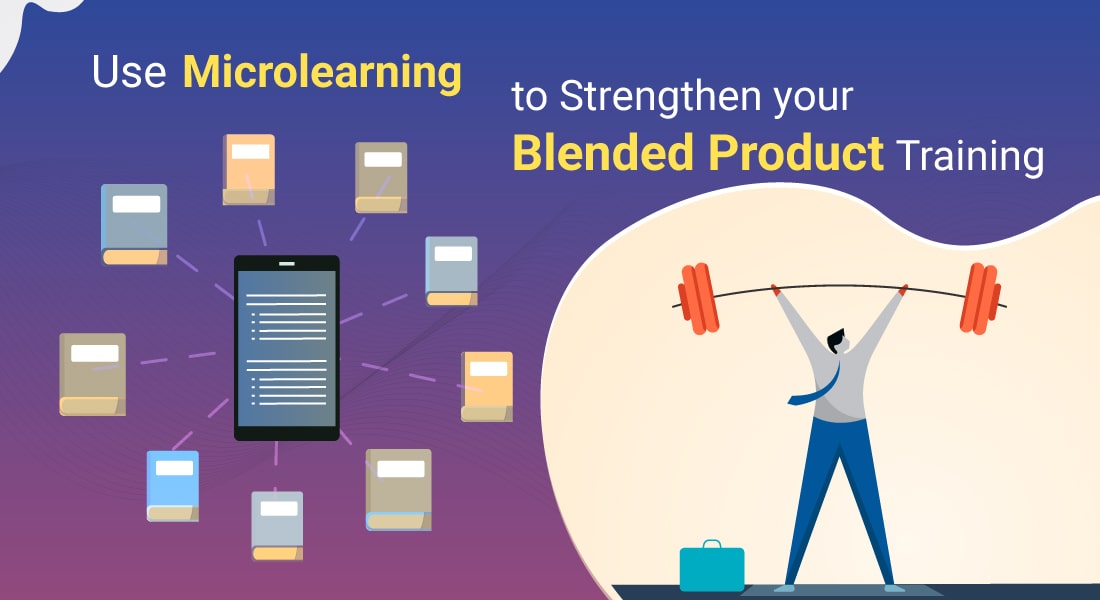 Concerned that your blended learning strategy for product training is not getting the expected results? Worried about your sales figures because your sales team is not able to respond to customer queries confidently enough to close sales? Well, maybe you need to have a relook at your blended learning strategy! And add microlearning to the mix!
Organizations are slowly but surely coming to realise that a blended learning approach is much more effective for employee training than only classroom (or virtual) instructor-led training or self-paced online training.
Blended learning combines the flexibility of anytime anywhere learning with direct interaction with peers and the instructor. And that's why it is the perfect fit for training today's learners.
But simply combining face-to-face classroom training (or virtual instructor-led training) and eLearning may not be enough for effective product training. Maybe what is needed is a little microlearning at important points in the training.
According to a report by Technavio, the product-based sales training market size has the potential to grow by $ 4.21 billion during 2020-2024, and microlearning will be used increasingly to introduce new products, offer sales reps just-in-time training – providing flexible learning and better accessibility.
When should you use Microlearning?
Microlearning in product training can be used all along the learning journey.
Before the training session to introduce the new product and pique learners' interest about its exciting features
During the actual training session to impart critical need-to-know information about the product
After the training to refresh and reinforce the learning, and as performance support just before meeting with clients
Why go for Microlearning for Product Training?
Apart from the fact that short nuggets of microlearning are easy to create and update, thus saving you time and money, they also yield impressive results.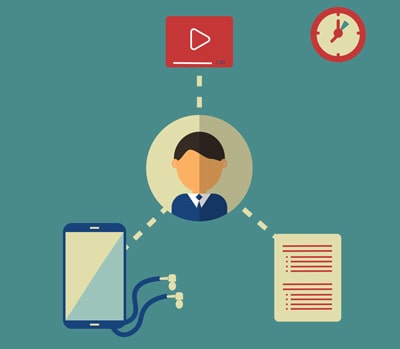 Microlearning helps sales professionals by providing them with information on the field just when they need it, and that they can access on their mobile devices. Moreover, this format is only going to become a more prevalent method for product training in the future as well, taking into account the increasing usage of smartphones and tablets by today's learners. You need microlearning to:
Bring Learners up to Speed on New Products/Updates
Microlearning is especially useful for organizations with a wide range of products and frequent new product launches or updates to existing ones. To appear confident about their new products or updates to existing ones and successfully close sales, sales personnel need to be aware of these even before they come to the market. It wouldn't be feasible, both in terms of cost and time involved, to organize a classroom session or create an online course every time a new product is launched. Short micro modules on these products (or updates) can be created in a fraction of the time and cost, to be accessed whenever required.
Replace Long eLearning Courses or Text-heavy Product Manuals
Learning about the company's products or services is not easy, especially when there are a lot of products. Product manuals tend to be dry, dull, and boring and carry the danger of putting learners to sleep. And even when they don't, employees cannot be expected to remember everything from the manuals (or eLearning courses, for that matter) in one sitting, to be able to communicate with authority with clients. The forgetting curve shows that almost half of all newly learned knowledge is lost within a matter of days or weeks unless it is reviewed or reinforced.
And microlearning is the ideal solution to enable learners to review and reinforce their learning. Because the topic is broken down into small, easily digestible pieces which do not cause cognitive overload, microlearning is, on the whole, more learner and learning friendly.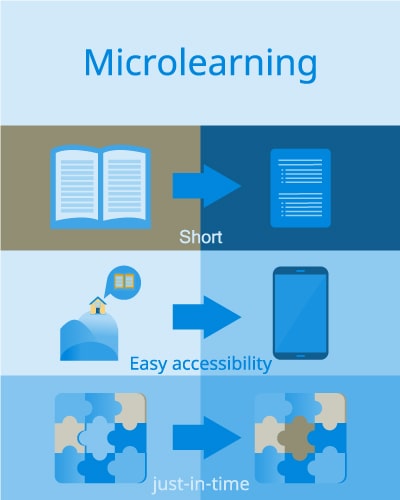 Where can you use Microlearning for Product Training?
Microlearning is the ideal format to cater to the modern learner's short attention span. A curriculum of microlearning modules can be designed in your blended learning, each dealing with one performance-based learning objective – short enough for learners to retain the information and focused enough to improve their work performance.
The flexibility of the microlearning modules as part of a larger learning strategy makes it easy to fit them anywhere in the learning cycle. For product training, microlearning can be used before the training session to introduce a product, to impart critical need-to-know information during the actual training session, and as a tool to refresh and reinforce the learning after the training.
Before the Training Session
Micro trailers/teasers to create awareness about the new features of the product/s
Micro quizzes as icebreakers
Short, engaging videos, infographics, or interactive quizzes to assess previous learning
During the Training Session
Microlearning can be used effectively to provide need to know content, focusing on a single learning point. For instance, each feature of the new product can be made into a separate microlearning module.
Micro videos for demos
Simulations for hands-on practice
Interactive PDFs for nice-to-know facts
Infographics for product diagram and working
After the Training Session
Microlearning modules are ideal to be used as reference tools and job-aids post-training. Pop quizzes can be used to test the employee's knowledge. Because of their small size and availability on mobile devices, they can be accessed anywhere and anytime, and more importantly, where required, making them valuable reinforcement tools. Here's how you can use microlearning after the training:
Strategic games, micro quizzes to reinforce knowledge
Infographics, podcasts, interactive PDFs, process maps for performance support
Leverage on Microlearning
The length and accessibility of microlearning make it easy for sales personnel to access the modules between sales calls, thereby providing quick and useful information before meeting a client, and enabling them to stay up to date on their products.
Your reps can access these training modules whenever they need to, and when it is most relevant to them. Microlearning's small size enables better assimilation of knowledge, and enables longer retention of information. These modules also help in refresher training; reps can always go back and access these modules when they want to refresh their knowledge.
Parting Thoughts
The long and short of this detailed writeup is that microlearning could be a game-changer in your organization if incorporated in your blended product training. So, what are you waiting for? Go ahead and reap the 'macro' benefits of microlearning, and amp up your eLearning strategies like never before.
If you want to know more about microlearning and how to optimize its use in your eLearning strategy, don't miss this free eBook that talks about where and how microlearning can be utilized in your learning journey.