Leveraging Articulate Rise 360 to Solve eLearning Challenges
Wondering if Articulate Rise 360 can meet your eLearning challenges? Find how Rise 360 can solve your online training challenges.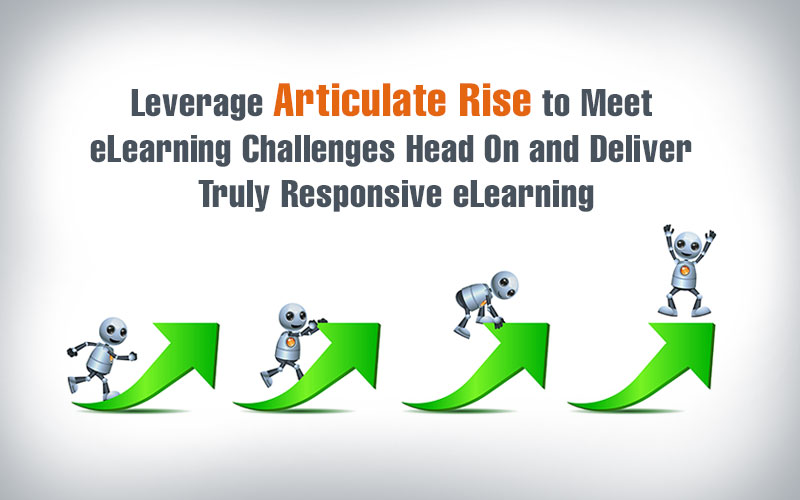 Hi there! Meet Ted, a new training manager who's been entrusted with the task of rolling out safety training courses in his organization as quickly as possible. He also has the responsibility of choosing the right authoring tool that will serve the company's online learning requirements. He is looking for a web-based authoring tool and is considering investing in Rise 360. But he's not too sure of the capabilities of this tool and if it can meet the eLearning challenges he's facing.
eLearning Challenges Solved with Rise 360
Rolling out multi-device learning
Scaling eLearning development
Supporting reusability across courses
Hosting courses on a xAPI-compliant LMS
Publishing courses on the web
Downloading courses for offline viewing
Facilitating easy translations
Does that scenario sound familiar, giving you a sense of déjà vu? If so, read on…
What is Rise 360?
For those who don't know, Rise 360 is a web app that's part of the Articulate 360 package (a set of 9 applications) that can be used to create fully responsive courses (more on that later). With no software to download and no learning curve, you can get started with creating responsive eLearning right in your web browser.
While that sounds wonderful, we still have an important question to answer. Would Rise 360 be able to meet the eLearning challenges that Ted, or other training managers like him are facing?
Solve eLearning Challenges with Articulate Rise 360
Let's cut to the chase and find out what those eLearning challenges are.
1. Rollout Multi-Device Accessible Learning
One of Ted's challenges is to rollout eLearning courses that can be accessed across multiple devices and browsers, allowing learners to learn at their own time, pace, and location.
Articulate Rise 360 would be a great choice to achieve this objective. Why?
There was a time when eLearning developers had to create different versions of the same eLearning course for each device being used to access the course. But with the introduction of responsive learning, creating just one version of the course will be enough.

Rise offers developers a preview of desktop, tablet (portrait and landscape), and mobile (portrait and landscape) versions of the course.
Unlike other responsive authoring tools which take a lot time and effort to tweak the placement of elements in slide-based courses, Articulate Rise offers a website-style layout and not a slide-based layout. This does away with the need for manual tweaking, making Rise 360 a truly responsive tool.
2. Scale up eLearning Development
One of the many challenges Ted is facing is that eLearning courses need to be delivered quickly. Assigned with a tight training budget, he knows he can't afford to go in for highly interactive or lengthy eLearning courses.
Rapid eLearning is the perfect solution when you're looking to deliver training at the speed of need. With the ease of use Articulate Rise offers, it's easy to scale up eLearning to meet your organization's growing training demands. Customizable templates in Articulate Rise can be used to quickly build engaging courses.
And if you're looking to complete a curriculum of rapid eLearning courses quickly with multiple eLearning developers working simultaneously for faster project completion, you might want to consider investing in Articulate 360 Teams.
'Teams' allows multiple eLearning developers to create and edit courses. If you're worrying that involving multiple people will create a problem with version control, relax! Changes happen in real time, so you can be sure that everyone's working on the latest version.
3. Support Reusability Across Courses
Ted wants to reuse specific employee safety videos, images, and content from the current course in another course on OSHA compliance standards (where they are also relevant), and he wonders if Rise supports reusability.
Articulate Rise 360 makes it easier to reuse content. You can copy entire lessons to another course if you wish to. The tool also offers the option to create blocks (components that include text and media to create unique courses) that can be saved as Block Templates for reuse in other courses.

With a tool that supports reusability, your eLearning development costs will come down automatically!
4. Host Courses on an XAPI-compliant LMS
Ted's company has recently purchased an xAPI-compliant LMS and he has to host the course on the new LMS. Can Rise 360 create xAPI-compliant courses?
Rise 360 supports LMS standards such as xAPI, SCORM, and AICC. All that's required of an LMS administrator is to go to the Export settings of the course and choose xAPI from the LMS dropdown list of options. (xAPI is also known as Tin Can).

5. Publish Courses on the Web, instead of an LMS
As part of security regulations, access to the LMS is restricted for non-employees. But, Ted is sometimes required to rollout training programs to customers also. Does Rise support a workaround?
Oh yes! Articulate Rise 360 is equipped to meet such challenges that you might face.
From the Export Type, the LMS admin has to choose Web instead of the LMS option and click Export to get a zip package containing the course files. The extracted zip files can be shared on a web server and the link shared with customers who need to take the course.
The only drawback of not publishing to an LMS is that courses can't be tracked, and learners can't resume courses from where they stopped.
6. Download Courses for Offline Viewing
Some learners in Ted's organization are often on the move, sometimes to locations with limited Internet access. He wonders if it's possible for Rise 360 courses to be accessed offline.
Rise 360 courses can be downloaded as a web package and learners can access the index.html file to view the course. Browsers such as Google Chrome, Safari, and Firefox support offline viewing of Rise courses while Microsoft Edge and Internet Explorer block Rise 360 courses from playing.
7. Facilitate Easy Translations
After the English version of the safety training course is developed, Ted would like it to be translated into two languages – French and German. Is extracting text for translations a problem in Rise 360?
Rise 360 allows eLearning translations into all left-to-right languages and those that use double byte character sets (Chinese, Japanese). It does not currently support translations into right-to-left languages such as Arabic, Persian, and Hebrew.
One challenge that can crop up is when you want videos from the original course included in the translated versions of the course. Rise offers a workaround with its closed-caption support for videos. For instance, if you would like to include a video from the original English version of the course in the French version also, you can have closed-caption text in French to translate the content of the video.
Wrapping Up
Both Rise 360 and Storyline 360 are part of the Articulate 360 package. So, when should you opt for Rise and when do you use Storyline? Here's my two cents on this. When you're looking at extensive customization of courses, it's better to go with Storyline 360. But if you're looking at quick and easy development of responsive eLearning courses, Rise 360 works wonderfully well. Rise also offers the possibility of adding custom interactions designed using Storyline 360 in Rise 360 as blocks.
If you've already partnered with an eLearning vendor, talk to them for resolving the eLearning challenges that you're facing. If you're confused about the process of selecting the right eLearning partner, download this useful resource on outsourcing eLearning development.