3 Smart Ways of Using Technology to Train Your Sales Staff
This blog post shares 3 smart things your sales organization has to do to share learning and knowledge resources in a more intelligent way.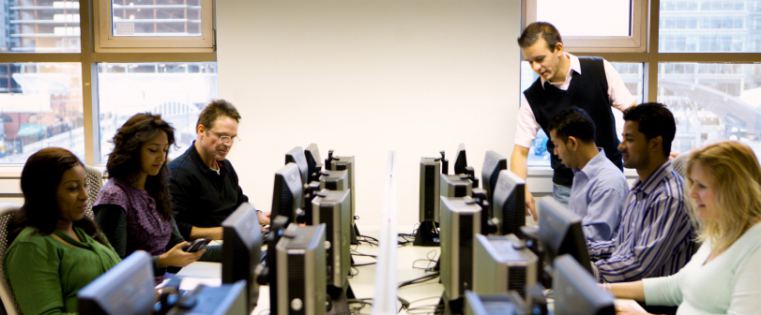 If you've had a conversation about sales enablement, the common word that comes up is "content". The final thing that floats in your mind about the sales enablement is "to increase productivity and sell more efficiently, providing sales reps the knowledge and resources they need".
Most of the sales organizations depend on the right content to prepare for upcoming sales calls and meetings and even to help add value to their sales discussions. So, now it's clear, that content is important for sales. Then a few questions must arise in your mind, How the content created by you is being delivered to the reps? Is that content made available to them? To answer these might be a little tricky. But the real fact is, sales professionals need access, precise, seamless access to information they need, right when they need them. To meet the above, the use of technology must be a big part, including e-learning.
Here are 3 smart things your sales organization has to do to share learning and knowledge resources in a more intelligent way.
1. Self-directed Learning:
In the formal classroom training, the sales professionals must depend on the schedule of the training, the timing, and the content, which generally do not align with their needs. The sales professionals know what they need to know before attending a sales call or meeting, but they are not able to access the information or recall they need to. Due to these constraints, an e-learning would be a better choice where, by taking a little content from the traditional classroom sessions and creating microlearning modules, sales professionals can easily access them anywhere, anytime, whenever they are required, especially before taking up a call or discussing a new product with a new prospect, etc.
For example, if a sales rep is responsible for selling products X and Y to A, the Learning Management System (LMS) suggests the knowledge and training resources to the sales rep depending on his profile and background experience, keeping in view of his specific role and location.
2. Economical Training:
E-learning delivers high quality content at lower costs. If there's any change in the content or you want your e-learning course to be updated, replaced, etc., this allows you to update easily and distribute them, ensuring your sales force are ready to face the current need. In traditional classroom training, we do require a trainer, infrastructure, specific schedule, a training room, etc., which requires a huge investment, whereas an e-learning delivers low cost training without the need of a trainer being physically present.
3. Resources to reinforce learning:
In formal classroom training sessions, trainers think a lot about the concepts and try to reinforce them after the session to ensure learners can transfer that knowledge to job. But, can we really predict that the learners will be able to remember what they learnt in that session? The answer could be NO. E-learning courses can be a follow up of what they have learnt in the training sessions to reinforce. Through these e-learning courses, they can capture and catalog valuable knowledge which can be accessed easily, shared, discussed whenever they need ideas, guidance, or validation.
Finally, the better you train your sales reps, the more revenues you'll generate. Thus, e-learning is one of the effective technologies to offer training opportunities.
Have other interesting ideas? Please share with us in the comments section below.
Happy Reading!