How to Deliver an Effective Process Training to New Employees
Training employees on processes and procedures helps organizations in streamlining operations and developing efficient system in place.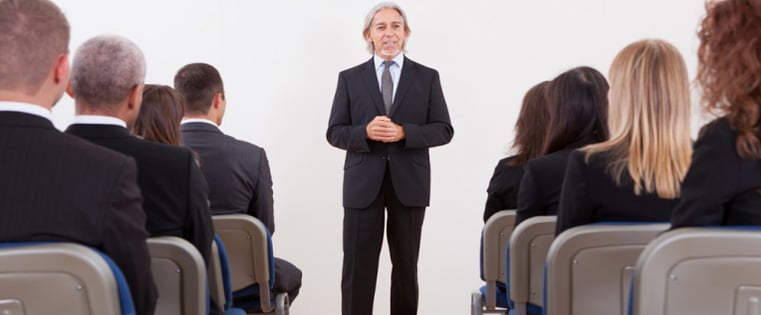 Every company has its own business processes and procedures which enable the company meet its unique quality standards. Process training is a must to new employees who join the organization, irrespective of their level, experience and role in the company. Whoever joins the organization must understand the company's processes and procedures to do their job well.
Process training plays a key role in improving processes and reduces operational costs for the company. For example, if a new employee receives effective process training, his productivity inevitably improves as he understands his role in the process better and knows what standards need to be followed to do his job. This will in turn ensure a smooth workflow between the employee and the organization. Hence it is very important to design effective process trainings for new employees.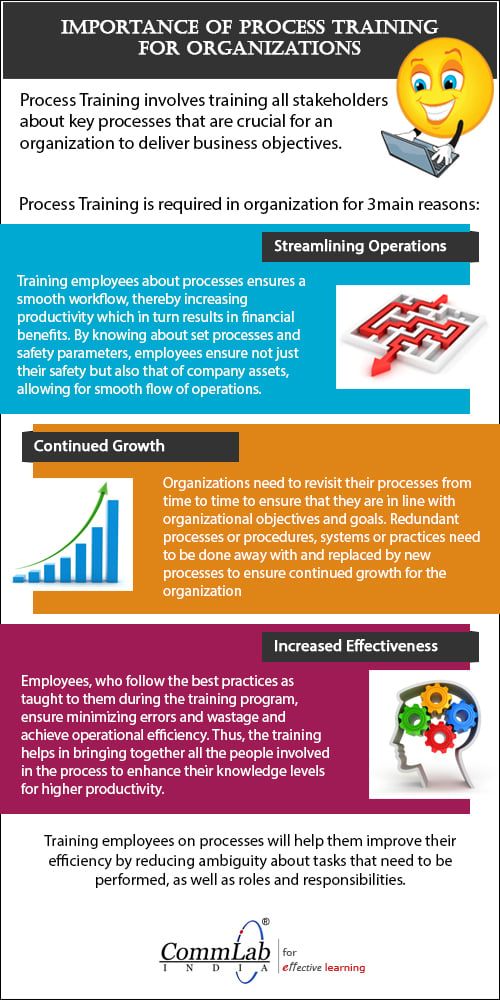 Let's see some tips to design an effective process training for new employees:
1. Have a clear understanding of the output
When process training is assigned to new employees, they should have a clear idea of the instructions while taking the training, the benefits of successfully completing the training and the expectations from them once they complete the training. All this helps deliver the process training with a clear outcome and result, thereby eliminating wastage and increasing productivity.
2. Focus on resources and their background
It is important to consider the background of the employee when assigning the process training. Considering the education, experience, and job role can help in assigning customized training to employees which will in turn help them better understand the processes of the company.
3. Use of diagrams
Process training generally includes a series of steps that need to be followed by employees on a regular basis. If the training contains a lot of theory and technical terms, employees may not understand the process well. Using a circular diagram helps in conceptualizing a process in a circular flow. Circular diagrams are illustrative in nature. If we use circular diagrams to explain process, it helps the employee understand and implement the process in a logical way.
4. Use of Flow charts
Process training can't be easy to understand all the time. Processes in a manufacturing industry are more complex compared to other industries. Typical processes take time to be understood and followed. Especially new employees with no experience may take more time to understand the typical processes compared to employees who have experience in the same industry. If we use process flowcharts, it will provide a diagrammatic representation of critical and complex process and enable employees understand quickly.
Using a flow chart ensures a step-by-step solution to a problem and helps employees understand and implement the process faster.
5. Use of Animations
Using animations is required in process training when there is a complex procedure or design component which is difficult to demonstrate to employees. In this type of process training, an e-learning instructor may use videos, animations with motion pictures or a combination of both. Using animations along with audio and video becomes an illustrative tool and ensures that employees understand the process well and follow it within no time.
6. Check the effectiveness
Each organization must evolve its own processes and work hard towards following and implementing the necessary changes whenever needed. Processes can't be rigid in an organization as change is inevitable. In order to provide effective process training, it is equally important to check its effectiveness with the employees and take necessary actions to deliver training.
Hope you find the tips useful. Please do share your views.
Editor's Note: This post was originally published in December 2011 and has appeared in Learning Design Category whereas now it is updated in Training Solutions Category.