7 Smart Tips to Extend Online Compliance Training for Manufacturing Employees
This blog explains how eLearning or online learning helps in extending high quality and effective compliance training for employees in the manufacturing sector.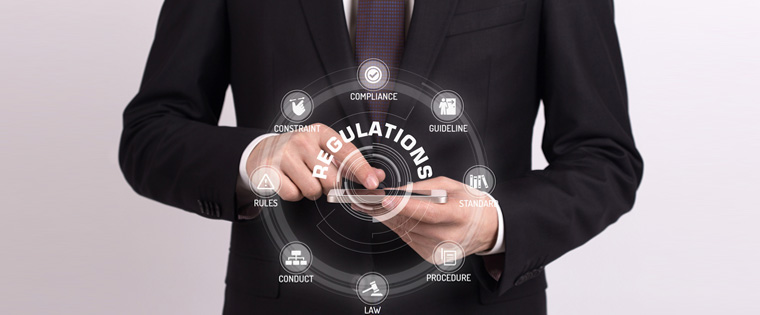 Multinational manufacturing companies face unique compliance challenges. They have to be compliant with – code of conduct, labor wages & hour laws, global laws on export & trade, international regulations on anti-corruption, compliance safety for workers, environment regulations, diversity & inclusion, data security, product quality, and more.
Noncompliance leads to whopping penalties, lawsuits, a big dent in brand reputation, ban and retrieval of products from markets and cancellation of work licenses for manufacturing firms.
Then, how can manufacturing firms ensure that they comply with all the compliance norms under different categories? Extending effective training to employees on the prescribed norms, rules, and regulations helps your company to stay compliant. Now, most multinational companies use online learning to impart compliance training to their employees.
So, let's see how eLearning helps in extending high quality and effective compliance training for the manufacturing sector.
1. Industrial Safety Compliance
Industrial safety is the management of all operations and events within an industry, for protecting its employees and assets by minimizing hazards, risks, accidents and near misses.
For example, in industrial safety training, you have topics such as how to use tools, picking up heavy objects, prevention of slips, trips and falls and related issues. You can train workers on how to use tools with online videos in online learning, picking up heavy objects properly using interactive graphics in eLearning, and for prevention of slips, trips and falls, you can train employees on best housekeeping practices using online learning modules. It's helpful in promoting safety culture at the workplace. You can extend safety training online using video-based learning and deliver on mobile devices.
2. Anti-Corruption Rules
When you talk about compliance training in manufacturing, you have to educate your employees on national and international anti-corruption laws that are in place. This is particularly important for marketing & sales teams and for the export & import department in manufacturing companies.
The US government has passed the Foreign Corrupt Practices Act (FCPA) to deal with issues of the graft. The Corruption of Foreign Public Officials Act, brought by Canada addresses the issues of corruption by companies. Multinational manufacturing companies also need to consider international anti-corruption laws such as the Inter-American Convention against Corruption and the OECD's Convention on Combating Bribery of Foreign Public Officials in International Business Transactions.
Online learning with scenarios that include practical/real situations helps top executives in manufacturing be aware and follow anti-graft regulations without getting confused.
3. Good Manufacturing Practices (GMPs)
Manufacturing firms must adhere to the prescribed GMPs. Failure in doing so may result in product recall, which causes serious financial losses to the company and loss of brand reputation in the market and loyal customers look for alternatives. Therefore, manufacturing companies give utmost importance to impart effective training on GMPs.
Extending online training on new or updated Standard Operating Procedures (SOPs) in the form of microlearning works best for easy application of learning in the workplace. Scenario-based learning is also helpful in showing what's right and what's wrong. In a way, online courses with scenarios present employees with both the right & wrong, and their consequences, leaving the decision to employees.
4. Code of Conduct Compliance
Code of conduct compliance gives clarity about your organization's mission, values, and principles to your employees and stakeholders. Use online learning to deliver code of conduct training for an employee to apply them effectively at the workplace. Incorporating game-like elements helps this training to be engaging, interactive and makes learning a fun-filled experience. Adding videos to online training helps employees learn the code of conduct concepts faster, retain the information and apply it to the regular work.
5. Export & Trade Laws
Export and trade laws ensure that goods or products entering and exiting one nation from the other are in compliance with the national and international laws. These laws cover antitrust and competition, export control and reporting, and trade regulatory risk management. It also covers important export issues such as Anti-Boycott and International Traffic in Arms Regulations (ITAR).
Online training on export and trade compliance equips your employees on how to ensure compliance with trade laws when exporting goods and services. You can also train the manufacturing workforce on risk-prevention best practices and incident resolution. Online training with interactive games, real-life scenarios, and practical tips on compliance enhance the employee learning experience.
6. Environment Regulations
Environmental sustainability is a state in which the demands placed on the environment can be met, without reducing its capacity to allow people to live well, now and in the future. It's needed for organizations to conduct their manufacturing activities in a responsible manner.
Adopting eco-friendly processes and imparting effective training on the 'green' initiatives for manufacturing employees help improve environmental sustainability.
Online learning helps manufacturing organizations provide effective environmental sustainability training by incorporating short videos of the CEO/senior management explaining the benefits of sustainable development. Using Lifecycle diagrams in eLearning courses, provide a better overview of the different processes with steps, and using infographics to explain topics, slideshows, flip-cards, and hotspots help employees understand different concepts clearly.
7. Labor Wage & Hour Laws
Online training on Federal Wage & Hour Law is for all employees at all levels and covers essential wage and hour laws, including the Fair Labor Standards Act (FLSA). This helps manufacturing organizations reduce risk by ensuring that employees understand their responsibilities under the law.
It educates the employees on the necessary guidelines on overtime, hours worked, off-clock-work, time reporting, time card falsification, and much more. They can also get guidance on exemptions and union-related issues.
Hope, the issues discussed help in imparting effective online compliance training to employees in the manufacturing sector. Extending eLearning on diversity & inclusion, data security, and product quality adds value to your manufacturing compliance training.