How do you Blend ILT, E-learning, & M-learning for ERP End-user Training?
We need to blend different training methods for effective ERP end-user training. But what training methods would you blend and how? Let's see.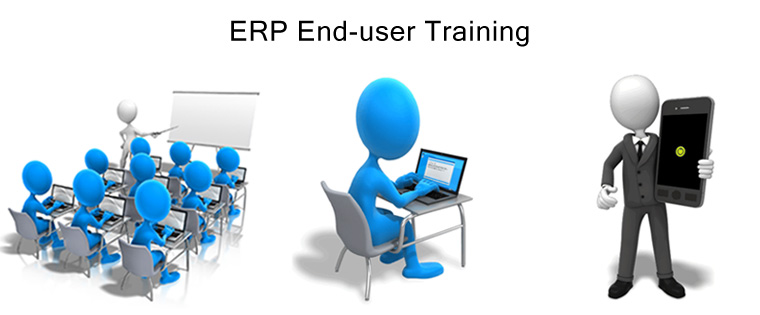 You might agree that end-user training is one of the important aspects for the success of an ERP implementation. You might have also read many blogs and articles online claiming that a particular training method is the best to train end-users on the new ERP. But do you really think only one training method would be enough to train end-users on a system that is vast, complex, and comes with many applications integrated in it? No? So you agree with me that you need to blend different training methods for effective ERP end-user training. But what training methods would you blend and how? Let's see.
Classrooms Sessions for ERP Demonstration
Why does the organization need this change? Why do its employees have to adopt it? These are a few important questions your employees would like you to answer first. Without directly jumping into the e-learning material, a senior level manager can address these queries in a classroom. The manager can share a few successful and failed ERP implementation examples and how they can affect the organization's future.
After addressing these questions, the tutor can demonstrate the different features of the ERP system; he can demonstrate the functions of the ERP based on the different roles of the end-users. Such a learning experience ensures employees feel taken care of during the transit.
E-learning for Hands-on Training
Once you are done explaining the features and demonstrating the functions of the new ERP system, end-users need hands-on training. But the software would still be undergoing customization. So, end-users will not have access to it. How can you provide hands-on training in such a situation? The answer could be using online software training simulations. But how?
It's easy. You only have to record the steps involved in the functions using a rapid authoring tool, publish it to the format you need, and upload it to the LMS. End-users can access these online software training simulations anywhere and anytime via computers or laptops – either at their workplace or at home. As these simulations mimic the ERP system's overall look and feel, they ensure a risk-free environment. Hence, end-users get hands-on training experience of working on the ERP system, prior to go-live.
M-learning to Reinforce
The task does not end by demonstrating the functions and delivering online training. For better retention of learning, you need to reinforce the training, time-to-time. But no one would be interested in going through the e-learning again and again. So how to reinforce learning? It's simple. You can deliver short reference videos, job aids, reference guides, and many more reinforcement elements on mobile devices. As everybody today carries a mobile device, end-users can access the reinforcing elements anytime and anywhere they want – at the workplace, while travelling, at home, or whenever they need. Such a learning experience ensures end-users get access to the information at the point of need.
Just like a glass of blended raw vegetables helps you stay fit, the blend of these training methods helps end-users successfully retain the functions of ERP. It also ensures effective and continuous ERP end-user training.
Want to know more about training your employees on the ERP system? Get in touch with us.