Outsourcing the translation of your e-learning courses? Get the prep work right
Are you thinking of outsourcing the translation? To know more about it checkout this blog.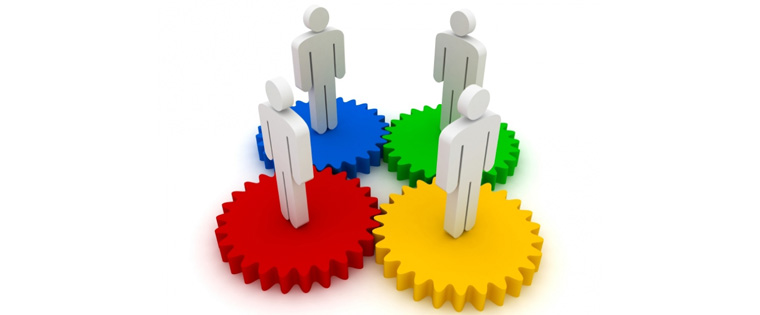 Are you considering translating your e-learning courses? Are you thinking of outsourcing the translation? As an e-learning vendor with 15 years of experience and translation expertise, we at CommLab suggest you outsource your translation services to a vendor who has the required expertise to produce multiple language versions of e-learning courses.
Outsourcing the translation of your e-learning courses will not only save costs but also give you access to a pool of translators with domain expertise. The vendors will have set processes in place that ensure quality. Resources are available with the vendor to meet tight deadlines.
E-learning vendors in India can provide you offshore e-learning translation services that meet your requirements.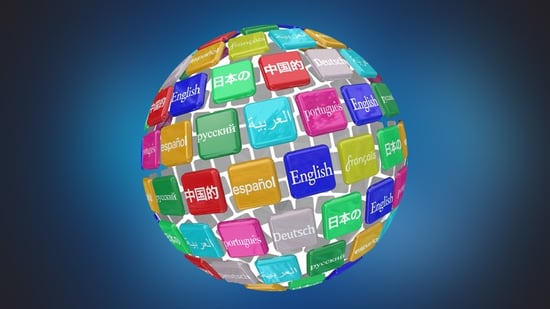 Advantages of outsourcing to Indian e-learning partners
When you outsource your translation needs to reputed off-shore e-learning organizations in India you benefit in many ways here is how:
Leverage the benefits of experience and a set process:
When you outsource to a vendor with experience in e-learning, you are assured that your course will be handled by professionals with years of experience. For instance, an e-learning vendor with more than 15 years of experience would have handled numerous e-learning projects and have the expertise in translation. They will have set processes in place which ensures better quality of service.
Allocate resources to your core business:
Translation of courses requires the services of experienced professionals. Even if you have employees qualified to translate your e-learning courses, asking them to do the job will shift their focus from their core responsibilities. This can have an impact on your business.
When you outsource the translation of your course into multiple languages, which Indian vendors offer, you can concentrate on your core business. Of course, the language experts in your company can review the translation and act as SMEs since they are experts in the subject.
Cost:
India offers an advantage in terms of cost compared to translation services offered by other countries. The cost of translation by an Indian e-learning vendor for the on-screen text of a 30 minute online course is approximately 500 USD. E-learning vendors in India can offer you the best cost-quality proposition for translating courses into multiple languages.
Quick turnaround time:
When you need to quickly rollout an e-learning course to your multinational workforce, Indian vendors can deliver a quick turnaround for your projects. A 30 minute online course without audio can be translated in 3 to 4 days. Outsourcing to experienced vendors will ensure reduction in translation time because they have proven procedures in place.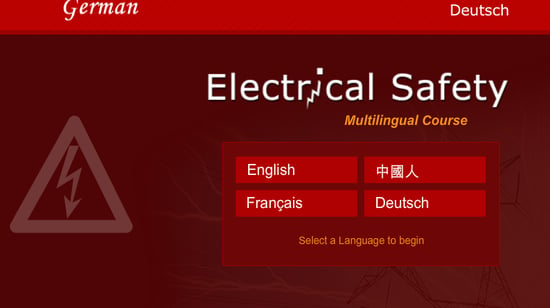 The translation process followed by an experienced e-learning vendor like CommLab is systematic and leaves little room for mistakes. At CommLab we follow a process of first getting a translated prototype approved by the client. Then the translation template with onscreen text and audio of the entire course is sent to the translators. This is then sent to the proofreaders designated by the client for vetting. The confirmation on pronunciation of terms is also sent to the proofreader.
Once the proofreader approves the script, the audio part of the course is sent to narrators. After this the storyboard is sent with audio to the client. Once the client approves the storyboard the sign-off is done. Here is a visual representation of the process: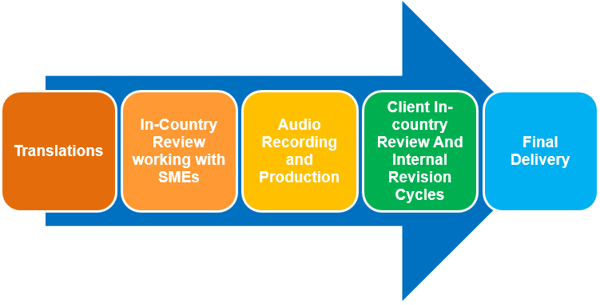 During the translation process principles such as culture-neutrality, basic use of audio, use of universal images, and quality processes are adhered to ensure the translation meets quality requirements.
Indian vendors offer a lot of benefits when you want to outsource your translation projects – experience, set processes, lower cost, and quick turnaround. You save time and money and can focus on the other aspects of your business and better ROI of your training investment. What do you think? Do share your views.