Coordinating Translation of E-learning In -House? Think Again
Thinking of translating your e-learning in-house? Think again.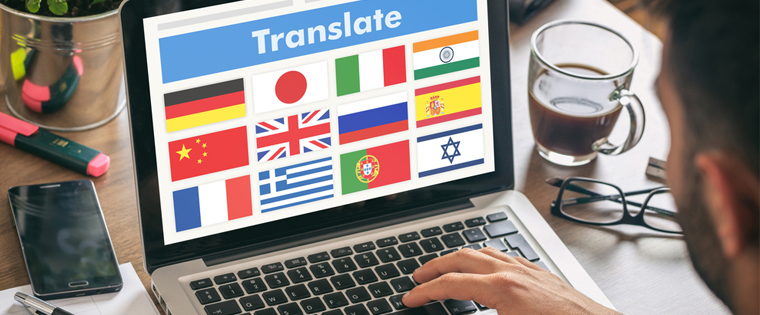 As a global organization, you will have employees working not only in different time zones, but also in different linguistic and cultural zones. This means that you need to create an equal training-ground for your entire geographically-diverse workforce. English might be a global language, and it is very widely spoken and understood. But, when it comes to learning, people from certain countries, might not be completely comfortable with the English language. Translation of your e-learning program is essential for its global success.
Many organizations that set out to translate their e-learning program make the mistake of trying to handle it in-house. Translating an e-learning course goes way beyond just changing the language of the subject matter. Remember that even after translation, your e-learning course should pack the same punch that it did in the source language. Numerous foreign employees who may have a completely different way of thinking as compared to the source audience will access the translated versions, hence you cannot afford to go wrong with any aspect of the process. Since translation of e-learning courses is such a crucial job, your in-house team may not be up to the task. Below are a few challenges translation presents, that makes it a strenuous job:
For translating courses, e-learning professionals should have a native-like command of the target language. Meaning, easily available translation software solutions will not work.
E-learning courses are filled with industry-specific jargon and terminology. This means that translation professionals should also have an appropriate amount of subject matter expertise to be able to meaningfully translate the course.
To make a course ready for a foreign audience, you need to go a step further than just change the language. You need to localize it. Localization essentially means changing colloquialisms, scenarios, quotations, and symbolisms to better suit the target audience. As these elements derive heavily from people's way of life, an audience from a different country might not be able to relate to this. This can only happen accurately if the insight of a native language speaker is considered.
You don't have to translate just one e-learning course, but rather the entire e-learning program, which will comprise of multiple courses. This makes translation a long and tedious process, spread over a long period of time.
When done in-house, you will need to coordinate and follow-up with several people, keep track of deliverables, dates, and make sure that the project doesn't miss its deadline.
Managing a team that is skilled enough to overcome all the above challenges can be a daunting task. Instead of taking on this additional headache, you should consider outsourcing the entire process to an e-learning translation agency. Below are some of the benefits that you get when you hire a professional translation vendor:
Translation vendors usually have a pool of translators for a variety of languages and possessing expertise on various subject matter. This ensures that multiple people work on your project, giving it a more polished output. No matter which language you need to translate your learning to, a good translation vendor will make it happen. In addition, you can be sure that all your industry specific terms are preserved in the target language.
Translation vendors usually have set processes in place. They approach translation in a step-by-step and layered manner, taking your approval at every stage, and ensuring a highly refined final product. If the output is straying away from your expectations at any point, you can call them and express your concerns.
They would possess a translator memory tool for your projects for future references. A translation memory tool can be defined as a linguistic database that captures translations as you work, for future use. Your e-learning courses contain a lot of similar, if not identical, language and messages, recurring phrases, and statements. The translation memory tool stores these phrases for repeated usage. Translation memories can aid the localization process, and dramatically improve quality, efficiency, and return on investment.
Outsourcing your translation needs is cheaper than hiring an in-house team. Once a course translation is completed, your in-house team might find themselves sitting ideal, causing unnecessary expenses. If you hire an external vendor, you only pay them for the amount of work they are doing. Hiring a vendor is also hassle free as you don't need to keep track of the many gears that turn during the translation process. You will have only one point of contact who will conveniently resolve all your worries.
Coordinating the entire translation process in-house might seem like a good idea, and it might even work out well for a single course. However, if you take a step back and consider the entire scope of this operation, you will realize that it is a highly-specialized task best left to professionals.