All About eLearning Translations and its Challenges [Infographic]
eLearning translation is crucial for effective learning and yet, often not given enough thought by organizations. From planning well to ensuring frequently used terms are defined correctly, a lot goes into ensuring effective eLearning translations. Take a look at more details.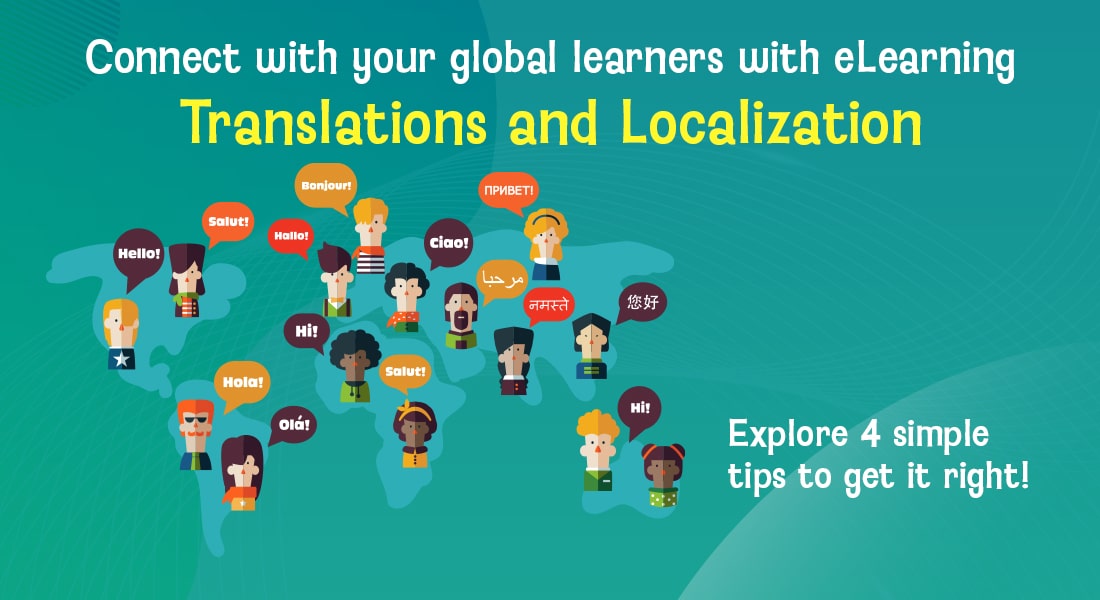 What are eLearning Translations?
When you convert an eLearning course from its original (master) language into the "target languages", it is known as eLearning translations.
If you develop courses in just one language, you may fail to reach a significant percentage of your learners. This is why eLearning translations is an important component in the success of online learning for organizations. eLearning is only effective if learners understand and apply what is learned back at work.
And the key to ensuring optimal learning and retention is culturally appropriate eLearning translations that are technically accurate.
Making eLearning Translations Work
By translating eLearning courses for your learners into their preferred languages, you show that you care and create an inclusive environment. However, when designing your master course, it's important to follow some best practices that make eLearning translations effective.
eLearning translation may involve one or more of the following:
Translating text
Translating audio and subtitles
Localization – While translation means offering an eLearning course in another language, localization means adapting the course to the target learners.
eLearning Translations – Challenges
The world seems to become smaller all the time. Many organizations have employees working all around the world. Plenty of products are shipped from one part of the world to the other, on a daily basis. Sales reps need to sell and service them in different locations. This makes it necessary to train every person involved in the process – right from procurement to after-sales service – in the languages they are comfortable in. And this is where eLearning translations come in handy!
But there are a few challenges too:
How do we ensure that team members around the globe learn effectively?
How do we increase the accuracy of content without relying on an in-person instructor or translator?
When a very small community of learners prefers a particular language, how is it possible to deliver content to them?
Is it easy to get classroom trainers who are native speakers of the languages your employees prefer?
Do we have to deal with multiple vendors for eLearning translations?
eLearning translations is a one stop destination for your content to be translated into your preferred languages. Want to know how to make it seamless? Take a look at this infographic for more information.



Parting Thoughts
Want to know more about eLearning translations? Here's an eBook that will help make it happen! It will not only ensure effective training for your global workforce, but will also reduce your burden of managing training within stringent budgets.