6 Common Pitfalls to Avoid in eLearning Translations
eLearning translation can be tricky because of the pitfalls caused by localization and cultural and linguistic issues. In this blog, we outline the common mistakes of eLearning translations that you can easily avoid!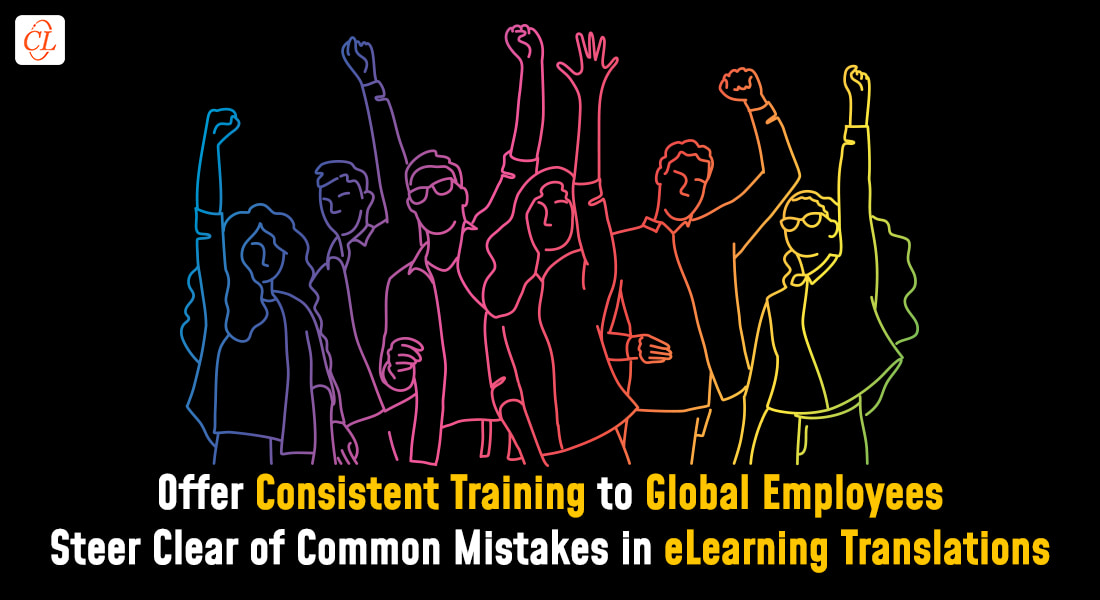 The world has entered a new phase of digitalization, with corporations and organizations adapting to the digital revolution in several ways. Perhaps the most significant way has been the advent of remote work models and eLearning. It gives companies the freedom to hire the right employees from any part of the world to address all kinds of business requirements and goals! eLearning helps you keep up with your competitors, and it appeals to multilingual employees and customers. Still, how do you ensure that your global recruiters attract skilled and driven candidates who'd stay onboard for years to come? The key is to incorporate eLearning translation into your training development process.
Looking Forward to Translating Your eLearning Courses?
Here are a few common pitfalls to avoid:
Not leaving space for edits
Not assessing the learner properly
Ignoring the need for localization
Read on to learn more about the common mistakes courseware developers make during the eLearning translation process!
To offer courses in the employees preferred languages, you can reach out to a broader spectrum of global learners and also improve the effectiveness of your training programs.
eLearning translation is a complicated subject because of the process of translation and localization and the precision and care that needs to go into each translation course. There are several mistakes that nearly everyone undertaking eLearning translation for the first time make.
Do you want to avoid falling into the trap of making regular mistakes when going about eLearning translation? Continue reading this article to get real and learn how to deal with them!
What is eLearning Translation?
The term eLearning Translation is self-explanatory. It occurs when you take eLearning course content in one language and translate it to a different one. You can recreate one course with one base language and translate it into several diverse languages, depending on your target learners.
Regardless of the course you're designing or translating, it's much deeper than just written content. eLearning translation includes translating cultural appropriateness, pictures, videos, design, and everything that comes with designing an excellent course. It extends the process to fitting the course with the target language with utmost respect.
What's even more important is that while being culturally careful, you also need to make sure that you don't lose the essence of the knowledge imparted through the original course. No content should end up getting lost in translation.
Pitfalls to Avoid in eLearning Translation
eLearning translation is a very complicated subject and can get trickier if you're not careful when starting up. To save you the inconvenience of starting an eLearning translation course and getting stuck in between, we recommend you keep these common pitfalls in mind and avoid them in the future.
1. Zero Pre-planning
Just like any extensive project, you mustn't start eLearning translation without proper planning. You need to start by checking your eLearning course for translation opportunities, create a blueprint of the course, and proceed further.
The planning stage is particularly important because it helps you weed out issues you might face along the way. You need to find out where you might face challenges when executing the translation course.
It's very important for any eLearning translation process to be extensive. You need to put in the time and effort to choose the proper instructional style and course structure.
2. Language Inconsistency
One of the biggest problems with any eLearning translation course is it can have linguistic inconsistencies. This is because there might be multiple people translating an eLearning course. Each one leaves their own mark on the course.
Linguistic inconsistencies can break the flow of content while also making it hard to absorb the information. When multiple people work on the same content, there's a huge possibility that they leave out pertinent information or add in content which isn't carried forward by the other translators.
Therefore, it's essential to have only one team or translation partner who translates the whole course, instead of involving multiple translators for the different sections.
3. Ignoring Cultural Differences
Cultural differences play an important role when evaluating the effectiveness of your eLearning translation course. After all, a word in one language could hold a completely different meaning when translated to another. It's important to keep in mind that localization is a vital process in determining the quality of a course.
When translating a course, you should always keep cultural differences in mind. After all, no matter how good the course is, you won't want to use one that is culturally inappropriate! Unique linguistic communities have their own culture, and utilize various idioms, phrases, images, and colors signifying diverse messages. So, it's crucial to research thoroughly, and use appropriate language and create respectful content.
4. Failing to Focus on Audio
With dwindling attention spans, audio and video have quickly become the star performers of eLearning courses. You need to pay particular attention to producing these and specific forms of multimedia.
While translating eLearning courses, make sure you place extra emphasis on audio and video synchronization. You need to localize eLearning content in such a manner that it pleases the target learner while also offering the information you want to impart without inconsistencies and incoherence.
Make certain you leave plenty of room to incorporate translated text, specifically in videos, as the translated content can often be extensive.
5. Using Embedded Text
Embedded text has a certain possibility of creating issues in translation. It can be tough to translate embedded text in images, charts, and graphics. You must steer clear of them right at the start.
However, if you need to include embedded text in your course, make sure that you create it in all preferred languages of your target learners. When there's embedded text in multiple languages, the process of editing and changing the text is less complicated when done in the source file.
6. Not Leaving Design Space
While designing new courses, make sure you leave enough white space so that when you do so, the translated content doesn't feel too text heavy and haphazard. This happens very often when you translate scripts, such as Mandarin to German.
Inadequate white space is a huge issue when translating courses, because text-to-design incoherence causes issues with the flow of the content.
Summing Up
There you have it! A few of the most common mistakes you could make when performing eLearning translation. We have compiled this blog to help you plan your eLearning translation course beforehand. This way, you don't have to regret not knowing what you could have avoided. You can learn from other's mistakes and ensure that your first experience translating eLearning content is a successful one!
Do you still have doubts that you want to clear on the topic of eLearning translation? Get this eBook for answers to all your questions!