How to Pause and Resume Slide layer timeline in Articulate Storyline 2
This blog shares how to pause and resume the timeline of slide layers in Articulate Storyline 2.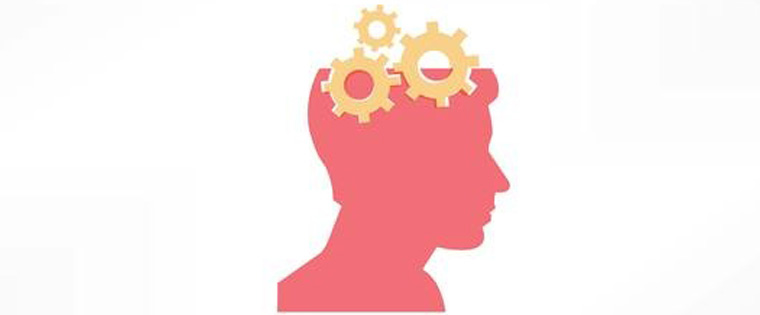 Articulate Storyline 2 provides many features to develop e-learning courses efficiently. It can be customized easily to meet diverse learning requirements.
Recently we received a unique requirement from our client. Let's see what it was.
In a click on tab interactivity with 3 tabs, the learner can jump to the next slide only when all the tabs are viewed. If the learner clicks the Next button to jump to the next slide before visiting all the tabs, an alert message pops up informing the learner he/she needs to complete the slide. Now when the alert message appears, we were asked to pause the audio and animation in the slide layer and they were to be resumed only when the learner closes the alert message.
We tried using the resume saved state option to resume the audio and animation, but that option does not replay the contents the next time we visit the layer. Meeting this requirement is a tough task in Articulate Storyline 1, but is easy in Articulate Storyline 2, thanks to the triggers available in Articulate Storyline 2. The process requires very simple triggers, since Storyline offers dedicated built-in triggers to pause and resume the timeline of any slide layer.
Let's go through the process steps.
Step 1:
Insert a slide with the desired number of tabs and assign triggers to open the respective slide layers as shown in the screenshot.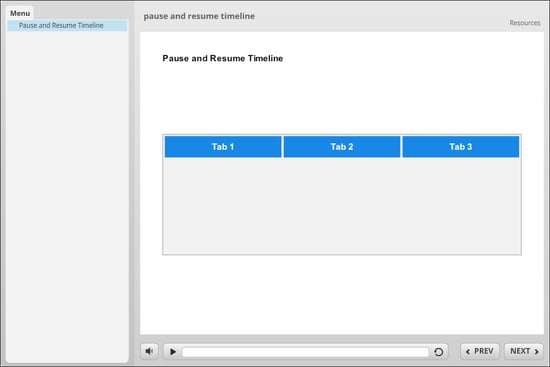 Step2:
Create a slide layer named alert and adjust it to open when the Next button is clicked before all the tabs are visited.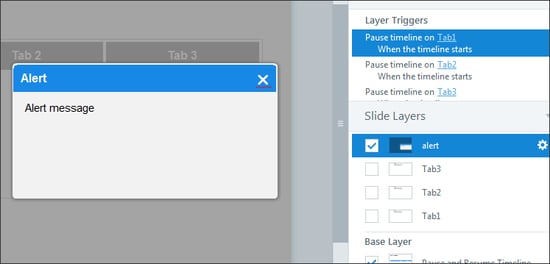 Step3:
Create the following triggers in the alert layer of all the slide layers to pause and resume the slide layers contents.
Pause Timeline Trigger: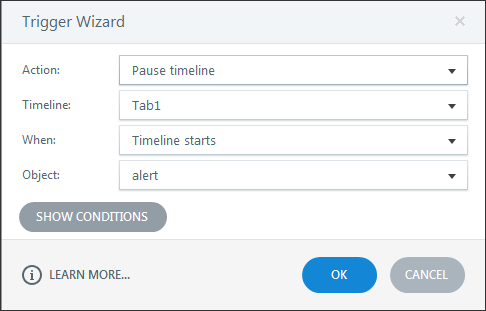 Resume Timeline Trigger: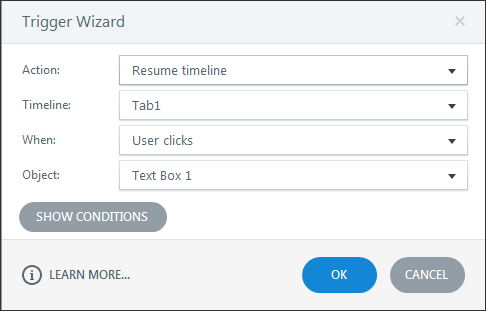 Due to these triggers, the slide layer's timeline will pause whenever the alert message pops up.
But when you close the alert message after clicking more than one tab, you may find some unwanted events. This is because of the trigger resume timeline; the recently viewed slide layers will resume (if more than one is opened) and the audio of both layers will play simultaneously.
Step4: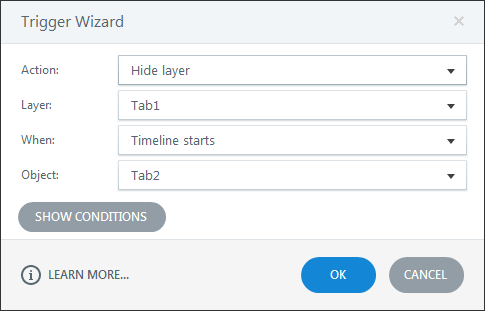 We need to create one more trigger in all the slide layers (except the alert layer) to overcome this issue.
This will ensure other slide layers are closed when a certain slide layer is playing.
This is how we met our client requirement of pausing and resuming the timeline of slide layers using Articulate Storyline 2.
Have you come across such requirements in Storyline? Do share your thoughts and views with us. Get in touch with us today with your unique learning requirements.