Facing These Challenges with Mobile Learning? Check Out the Solutions
This blog highlights the challenges associated with mobile learning, and some technological advancements to overcome them.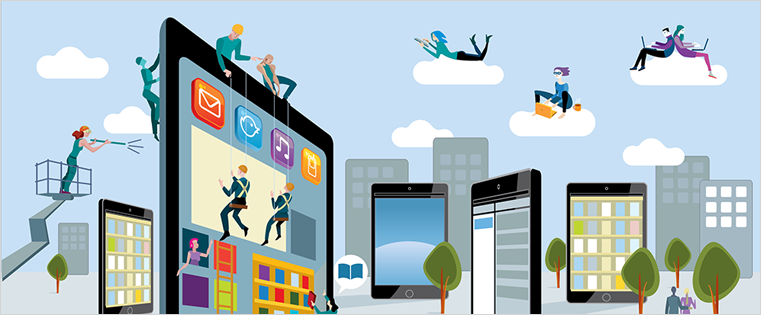 In the last few years, no other technology has evolved and advanced as much as mobile phones. Mobile phones are changing every aspect of our lives. From the way we shop to the way we travel to the way we exchange information. With such massive potential, mobiles were believed to change the way we learn as well. Learning through mobiles can give learners an unparalleled convenience. With courses available at their fingertips, learners can grasp small bits of information in their free time.
Even though it's flexible and convenient, mobile learning has numerous technological and social drawbacks that prevent it from being a fully accepted method of education. Although there have been some breakthroughs in the mobile learning, it is yet to create a measurable impact. Below are some of the major challenges faced by mobile learning and some upcoming ways to tackle them:
Data Privacy and Security
Mobile learning urges people to use their own devices to undertake the training course. As unmonitored mobile connections increase, so do the chances of security threats. Training programs might contain company sensitive information or expose the company's network to the outside world, significantly increasing the risk of data theft. Before starting a mobile training course, organizations need to address the security challenges associated with all mobile traffic on devices.
Solution: Mobile internet security protocols are improving by leaps and bounds and will soon be as secure as a computer. You can also make it mandatory for the learner to have a pre-installed anti-virus software to further secure your data.
Content Compatibility
Content created for classroom training or e-learning rarely works for mobile phones. File sizes and formats that are compatible with a computer often lead to performance problems for mobile devices. The task of refurbishing or recreating content for mobile phones can disrupt your training program. Since phone sizes and hardware capabilities defer widely, multiple formats of the content have to be created, which can only add to a great deal of confusion.
Solution: Use of authoring tools like Lectora Inspire make it easy to curate content for multiple devices and platforms. Also, identify the need for a mobile learning module early on during the development phase and plan your content accordingly.
Less Attention Span
You can scroll through social media, listen to music and shop online through your mobile phone. Multitasking might save you a lot of time, but when it comes to effective learning it only acts as a deterrent. It can keep the mind from focusing on the topic and retaining information. The ongoing social and entertainment activities on mobiles can dilute the importance of your course.
Solution: Make the user interface as engaging as possible. Use multimedia elements wisely to factor this limitation making the course attractive and captivating.
Small Screens, Big Pains
Continuous reading of text on small screens can endanger your eyesight. Continuous use of small handheld devices can cause eyestrains and headaches. The way we use smartphones is bad for the overall body. Constantly using phone with your neck down can cause cramps in the neck muscle and spoil the overall posture of your spinal cord, which may cause severe health issues in the long run.
Solution: The screen size of mobile phones is increasing, at the same time the display quality and viewing angles are also getting better. Virtual reality add-ons can neutralize the small screen limitation while providing a unique immersive environment. Additionally, care must be taken that learning modules for mobile devices are short and do not require extended viewing times.
Questionable Impact
Developing specialized multimedia and content for m-learning can prove to be an expensive affair. However, justifying this expense can prove to be difficult. Integrating mobile phones into your current learning program can challenge the capabilities of your strategies and offset immediate returns on investment. While e-learning has pre-defined ways to measure the impact of the training, mobile learning still lacks that. Lack of clarity on the results delivered can often act as a deal breaker on whether or not to use m-learning.
Solution: M-learning can be increasingly used for performance support trainings rather than main courses. These short courses act as reinforcements for the main training, greatly improving knowledge retention. M-learning can be the perfect medium to deliver these courses.
M-learning promises to increase the impact of your training programs, despite its associated challenges. It gives learners unmatched flexibility and access. When we design content that is mobile friendly, we need to change the way we write and develop, as what looks good on a computer won't look the same on a small phone. So, all things considered, mobile learning provides a valuable support to the main learning course, but will still take some time to become the primary medium of training.