5 Exciting Features of Lectora 17 to Enrich E-learning
Find out what Lectora 17 has to offer e-learning developers.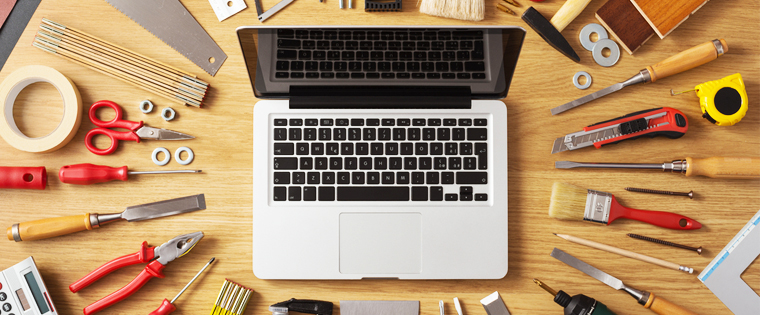 Lectora, by Trivantis, is the go-to solution for e-learning developers whenever they need to develop courses rapidly. This tool makes the conversion of legacy courses easy and the good news is Trivantis released the latest version of Lectora, Lectora 17 in December 2016. The latest version is packed with exciting features; let us look at them in this blog.
1. BranchTrack Scenario-based Simulations
This new feature in the latest version is a result of Lectora's partnership with BranchTrack to create scenario-inspired learning. This new feature can help create, import, and edit scenario-based exercises using the BranchTrack application.
With this feature, you can build branching scenarios and navigation automatically. With a couple of clicks, you can create a new scenario with a character and background. You can select how the character is feeling, what it wants to say, and more.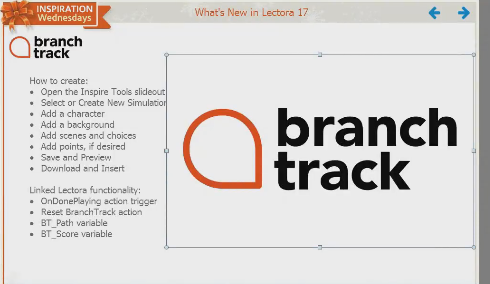 What's more, these scenarios are WCAG and Section 508 compliant!
More importantly, this feature allows you to track learners' selections during the exercise and assess them.
2. New Releases of Camtasia® and Snagit®
The latest versions of these products are included in this newly released version of Lectora. Camtasia 9 allows you to create recordings as you work with applications on your computer. With this tool, you can record videos using the video camera in your computer. The tool also allows you to add synchronized audio and zoom or pan effects to the video.
Snagit 13 in Lectora 17 makes the capture and editing of images easy. With this tool, you can add highlights, shadows, and other effects to your images.
3. Seamless Play Publish Feature
When the Seamless Play option is selected, the title will flow smoothly from page to page. Traditionally, transition between HTML pages is characterized by screen wipe which is referred to as a 'white flash'. With Seamless Play, this does not occur.
In earlier versions of Lectora, the transition from one page to another looked like this.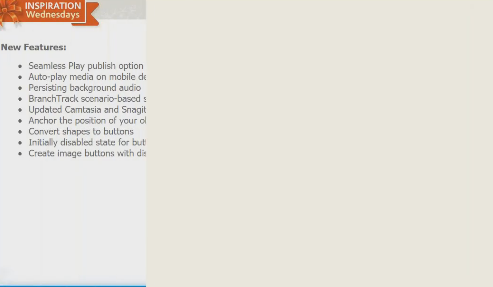 With Seamless Play, the transition between pages is smooth looks like this.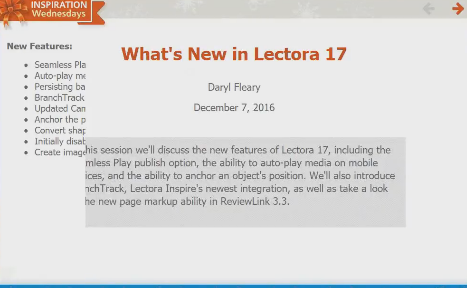 Another advantage of this feature is the background sound will play continuously, even during transition from one page to another.
When a course is published using this option, media files will honor the Auto-Start selection on mobile devices, that will allow the simplified use of page narration and videos for these devices.
4. Anchor Position
This feature gives developers the ability to fix the position of elements on a scrolling page, in a mobile device. The Anchor Position feature allows you to lock down an object's location on the page. The objects that can be locked include:
Headers/footers
Logos
Navigation
Images/diagrams
Videos
This feature will allow you to determine whether the object will maintain its location on the page and be visible even if the page is scrolled down.
5. Responsive Course Design Features
We know that Lectora is hailed for its responsive course design (RCD). The new feature of RCD in this version includes converting existing titles to RCD with just a few clicks. You can then make design-specific adjustments to make the title look perfect.
The feature will enable the course to auto-fit any mobile device. The same applies to page layouts as well. Another exciting feature is the RCD device inheritance feature. Anything you do on the Desktop view will be inherited to the Tablet, and anything done on the Tablet will be inherited to the Phone, saving development time.
Lectora 17 comes with many positive, developer-friendly features, but you need to choose your rapid authoring tool based on your course requirements. There are many choices of tools and features they offer, making it tough to choose the one. To help your decision, download our e-book How to Select the Right Rapid Authoring Tool. Here you will find details of five widely used rapid authoring tools with a comparative analysis to help you make an informed choice.