9 Tips to Help You Transition from Flash to HTML5 [Infographic]
If you need to salvage your Flash-based courses and convert them to HTML5, you need to act fast. Get some quick tips to transition from Flash to HTML5 in this infographic.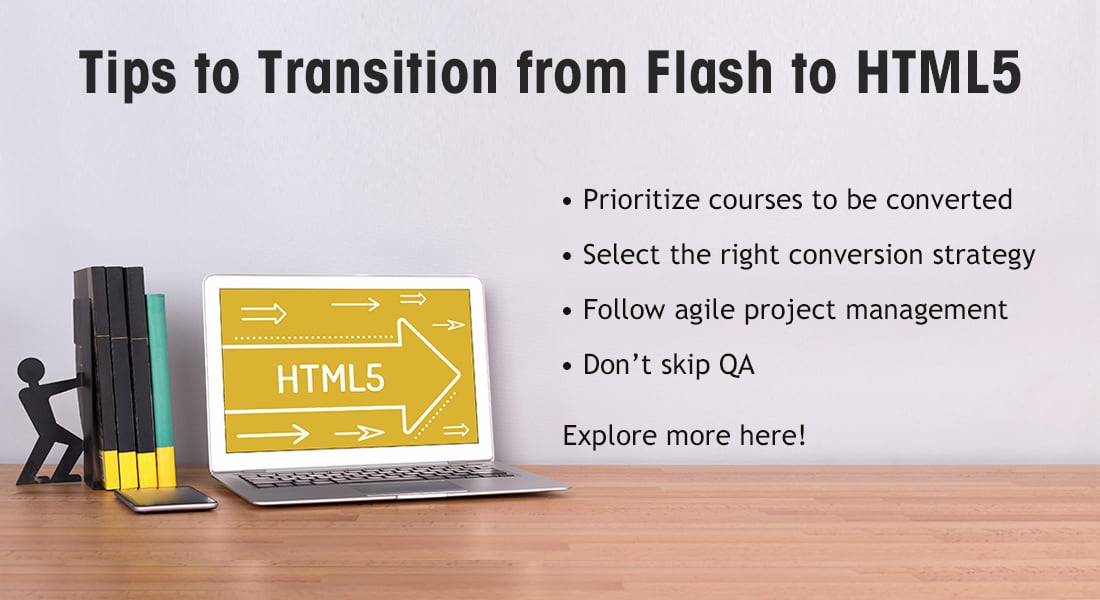 It's true that the Adobe Flash player will reach its end of life by Dec 2020. Many organizations have already made the transition from Flash to HTML5, while some are yet to get started.
For those who are yet to get started, begin with a quick audit of your existing Flash-based courses. Do they merit conversion? If the courses are no longer relevant, then it doesn't make sense to convert it into HTML5. But what if the courses contain information that's relevant to learners? By all means, proceed with the conversion. If you do not have resources in-house to convert Flash courses to HTML5, seek the help of an experienced eLearning vendor.
Check this infographic for 9 tips to transition Flash-based eLearning to HTML5.



Converting Flash to HTML5 is also a good opportunity to make content updates to your courses, get them translated into multiple languages or offer them as mobile-compatible courses accessible on mobile devices.
What do you plan to do with your legacy Flash courses? Let us know through the Comment section. And if you need help getting started with an effective Flash to HTML5 conversion process, here's a go-to e-guide on the conversion process.