Outsourcing your Flash to HTML5 Conversions? 5 Questions to Ask First! [SlideShare]
If you have to convert a library full of Flash-based eLearning courses to HTML5 and have no in-house expertise to do it, it's time to outsource! Here are 5 questions that'll help with your outsourcing Flash to HTML5 conversion.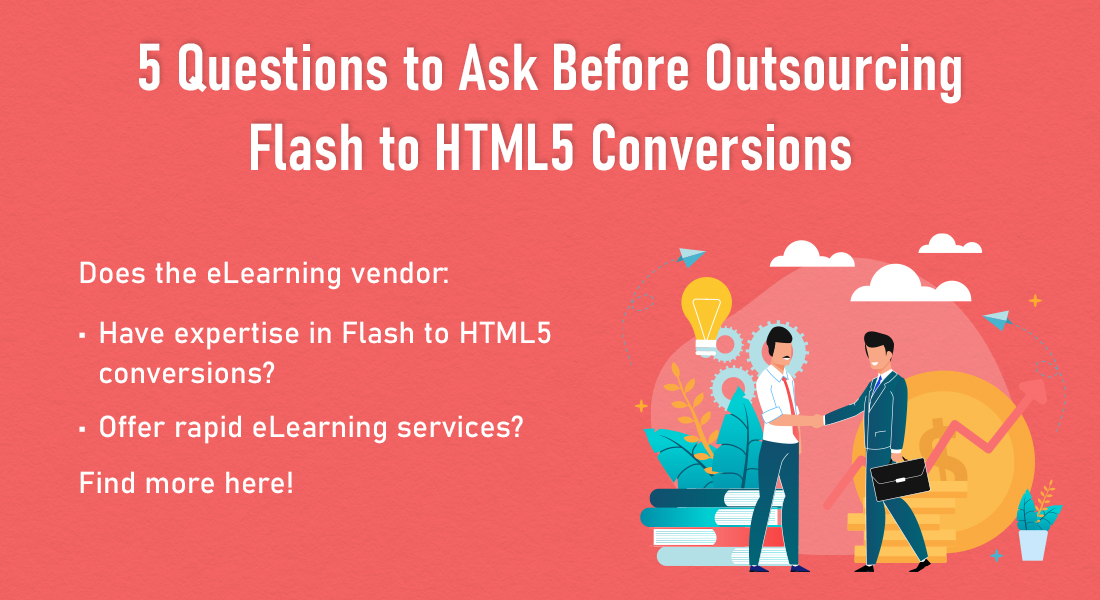 Now that Adobe has forced organizations to convert their Flash eLearning courses to HTML5, how far are you in the process? If you haven't really started, it's high time you did! Are you worried that you couldn't possibly convert all your Flash eLearning courses to HTML5 within your budget and time?
Find the right eLearning vendor to outsource your Flash to HTML5 eLearning conversions and you'll be sorted!
Outsourcing your Flash to HTML5 conversion comes with a myriad of benefits:
Access to a qualified team of experts – instructional designers, courseware developers, project managers.
Use of the best rapid eLearning authoring tools – Storyline and Rise 360, Lectora Inspire and Online, Captivate, iSpring, Elucidat, and more.
Time and cost savings – with the robust processes and planning of the vendor, there's less chance for rework and delays.
…………..and many more!
If you do not have in-house expertise for Flash to HTML5 eLearning conversions, outsourcing the task makes sense. However, since this will be your first encounter with outsourcing Flash to HTML5 conversions, I am sure you have hundreds of questions going across your mind!
So, here's a SlideShare that'll help you decide on the right Flash to HTML5 eLearning vendor. Find answers to these 5 questions and you won't go wrong!