Plain Conversion or More – What Does Flash to HTML5 Conversion Have in Store? [Infographic]
Flash to HTML5 conversion – a hot topic in L&D circles right now. While many know of the urgency for conversion, not many know that Flash to HTML5 conversion solves several problems apart from compatibility. Think missing source files, unwieldly interactivities…. read to know what's covered.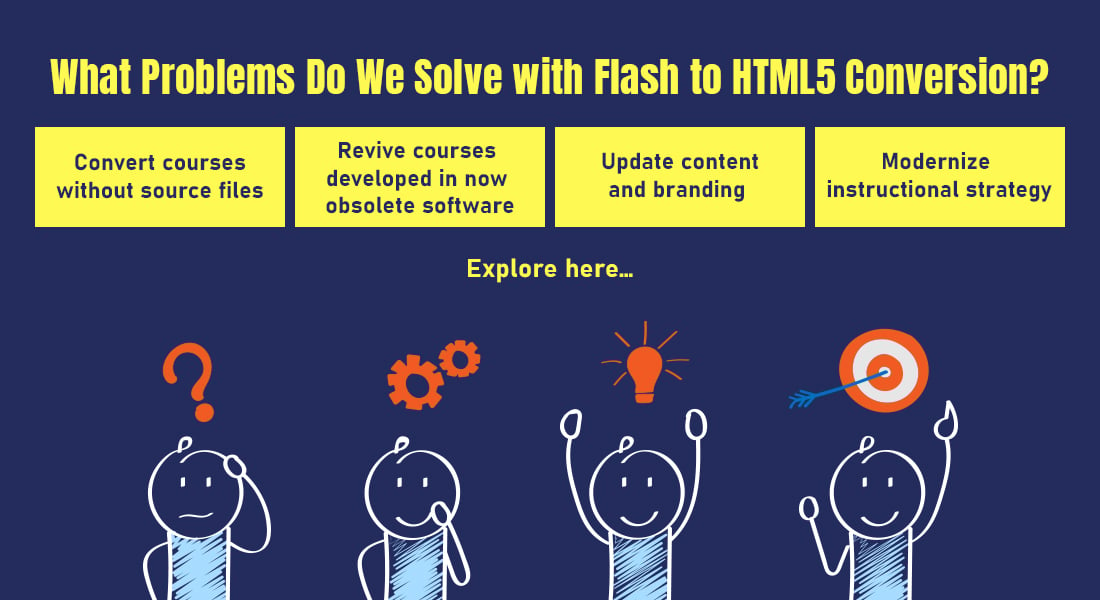 If you are in the L&D world, chances are you are hearing about Flash to HTML5 conversion a lot. While it's a good opportunity to revive legacy courses and extend their utility, Flash to HTML5 conversion has a lot of hidden opportunities too. A classic case of having your cake and eating it too!
What are those opportunities and how do we achieve them? If you are looking for the answers, here are some clues – replicate Flash-like interactivities, update content and branding, modernize instructional strategy, and more.
Your legacy courses will need varying degrees of revamping and that's why there are 4 Flash to HTML5 conversion strategies – which not just convert Flash to HTML5, but also take care of other requirements.
So, brainstorm with your team to identify what updates are needed and go through this list to check what's possible. You'll be surprised to see all your needs here, and more!
Convert Flash courses without source files to HTML5
Revive Flash courses developed in old versions of authoring tools
Replicate Flash-like interactivities using authoring tools
Replace non-mobile-friendly interactivities with modern, intuitive ones
Update courses with outdated content, visuals, or branding
Reconfigure lengthy legacy courses to microlearning
Update courses instructionally by incorporating new-age learning strategies
This infographic will give you a bird's eye view of all the problems that can be solved through Flash to HTML5 conversion. And in case you would want to explore more, don't miss the exhaustive insights we've put together on this topic.