Looking Ahead: 5 Evolving eLearning Trends for 2018 and Beyond
This blog discusses 5 eLearning trends that'll hold sway in 2018 and beyond.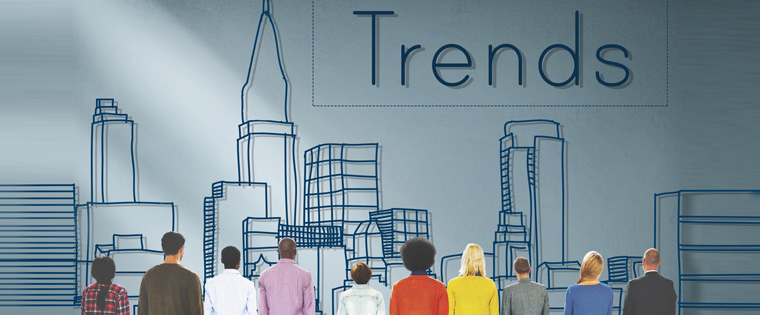 E-learning has occupied every phase of our lives and this is a known fact. From toddlers playing educational games to brain simulation courses for the aged, all have evolved from online learning. Technological developments and research in instructional design are changing the face of eLearning at faster a pace than we can imagine. Knowing what's trending and what lies ahead will equip you for the future.
So here are five eLearning trends for 2018 and beyond…!!
1. Artificial Intelligence Has Arrived
Experts have been discussing for a long time about the eventual arrival of Artificial Intelligence (AI) in eLearning. However, the reality is that AI has already arrived. For example, search engines and other websites recommend relevant and related content based on our preferences and activities. Though now it's in its infant stage, you can see its potential and impact in the near future.
Now smartphones have become very smart to give suggestions on planning your travel based on the latest traffic situations in your route. Applying the similar potential to the eLearning sphere is not difficult and those days are not far away. Very soon your eLearning systems can notify the recent amendments to regulatory compliance acts by the government and suggest relevant training based on the updated regulations. You are going to witness the increasing role of AI in your day-to-day life, work, and training. So get ready for it.
2. Big Data & Learning Analytics
Learning analytics is measuring, collecting, analyzing, and reporting data about learners and their contexts, to understand and optimize learning and the learning environment. It's the latest evolution in the eLearning domain and is connected with the Learning Management System (LMS).
Learning analytics help you analyze the impact of the training programs and online courses of your organization. They check whether the online training meets the learners' expectations. They also examine how your learning and development budget is being spent.
When data on learners' learning patterns are analyzed, organizations will know what to change or improve in their online training programs.
Learning analytics can track and evaluate data on:
The reach of online courses
Course completion rates
Time taken for course completion
The effectiveness of online training programs
3. AR and VR Supported Learning
Virtual Reality (VR) sets, Apple watches, smart watches, Google Glass, Oculus Rift, and other wearable gadgets will change the future of eLearning. These technologies can take simulations to the next level – mostly 3D simulations. VR in online training allows e-learning developers to create more engaging and realistic learning experiences. Now the prices of VR headsets have come down drastically and will decrease further due to rapid technological developments. Likewise, the prices of other wearable devices will also decline to an affordable level in the near future.
VR technology is useful in corporate training to teach high-risk tasks at workplaces through 3D simulations. This helps employees engage in the digital learning experience and practice dangerous tasks in a risk-free environment.
Augmented Reality (AR) in computer-based training enables employees to try tasks beforehand and equip themselves for real work-life situations. This technology helps employees train on using new devices and new systems such as ERP. You can also extend this to driving, pilot training, product demonstrations, virtual sales pitch practice, and more.
4. Learning Becomes More Social
Social learning is not entirely new. However, many new ways of social learning have emerged in the recent years. Organizations focusing on social learning have increased gradually. Experts believe that social learning has now matured to address the common concerns such as tracking, recognition, and security.
To engage millennial workers active on social media, organizations are increasingly looking at social and collaborative learning. As technology grows, social learning has had a significant impact on various processes, from recruiting to training and talent development. You can implement social learning in your organization with a blended learning approach. Arranging peer contacts, introducing flipped classrooms, role-play games, online discussion forums, and social media are some ways you can try in this mode.
5. Reign of Micro & Mobile Learning
According to MarketsandMarkets forecasts, the Global mobile learning market is likely to grow up to $37.60 billion by 2020.
As per the China Internet Network Information Center (CNNIC), 195 million people in China use their smartphones to access mobile learning content on a monthly basis.
Microlearning is bite-sized learning that offers short learning nuggets of three to five minutes, to meet a specific learning requirement. Though it is used for formal training, a major share of micro is informal learning, with a focus on performance.
Microlearning assets are designed for and delivered in various rich media formats. Their brevity and accessibility on multiple devices including smartphones, iPads, tablets, desktops, and laptops make them an ideal fit for just-in-time learning. Organizations use microlearning for formal training as well as for learning on the job. It's also ideal for distracted or busy corporate learners, and the attention-deprived generation.
The five trends discussed will improve your employee performance and organization's productivity through learning. Though these trends keep evolving as technology grows, they will mature and yield fruits in the due course of time. So investing in them and applying to eLearning is a wise decision..!!