The Top 5 Text to Speech Software for eLearning
High-quality audio narration enhances the instructional value of eLearning. How can we add effective audio to our eLearning courses, without burning a hole in our pockets? Here's a list of the top 5 TTS software you can use!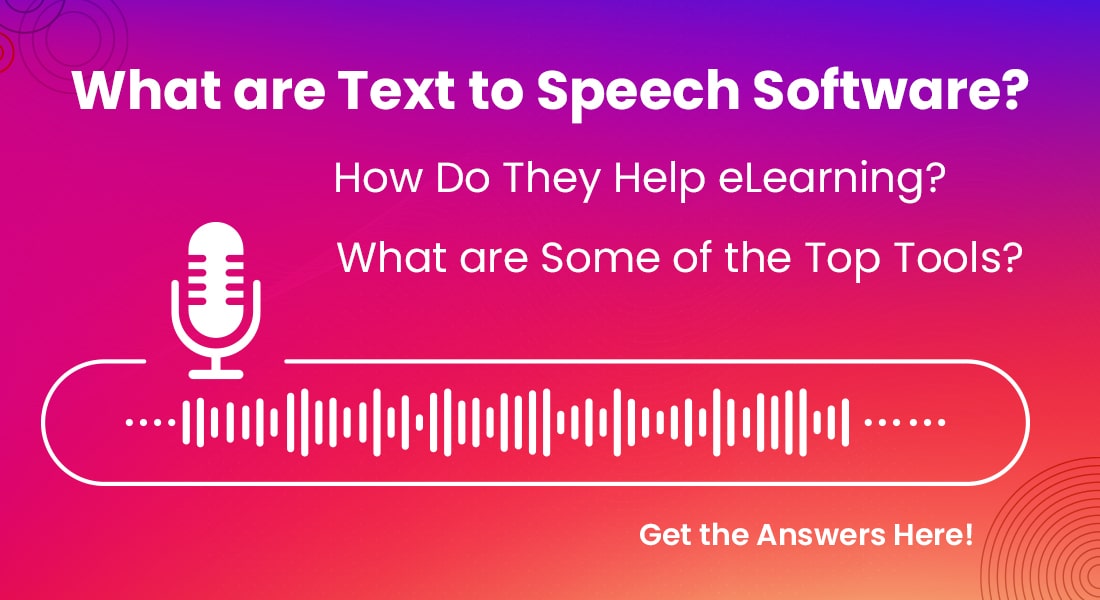 A well-trained workforce not only benefits the organization (by helping achieve the organizational goals), but also helps the learner survive in this ever-changing marketplace. One way to motivate employees and get them to attend training is to make the sessions effective and engaging. And with eLearning, the sky is the limit. From adding audio, videos, and quizzes to using simulations, scenarios, and interactions, there are so many ways you can make the courses interesting.
While images, videos, and simulations add to the visual appeal, high-quality audio narration enhances its instructional value. It boosts learning retention and overall, adds to the eLearning experience. However, can we add effective audio to our eLearning courses, without burning a hole in our pockets?
Well, with technology, the answer is a 'YES'. With text-to-speech (TTS) software, converting text to natural sounding voices is just a few clicks away. TTS tools reduce the time and cost associated with 'voice over narration'. Here is a list of the top 5 TTS software you can use in your eLearning courses.
Top Text to Speech Software You Can Use for eLearning
1. Amazon Polly
Amazon Polly is the answer to all your narration woes. With the ability to turn text into natural sounding human-like voices, this simple yet powerful tool fully engages employees during online training sessions. Polly's deep learning technology seamlessly converts text into speech within seconds and stores it in a standard audio file format or integrates the audio file into the desired eLearning course.
Audio Narration for eLearning Made Easy
5 Top Text to Speech Software
Amazon Polly
Speech Studio by Microsoft
WellSaid Labs
iSpeech
NaturalReader
It supports numerous international languages besides English (in both male and female voices), enabling the development of eLearning courses in their preferred languages to learners. In addition to the built-in voices, Amazon also offers a customization option for you to create a voice that is unique to your brand.
Along with natural-sounding audio, you can add speech-synchronized facial animations or karaoke-style word highlighting. Moreover, you can also optimize audio quality, customize word pronunciations, select the bandwidth, and adjust the style, pitch, rate, duration, and loudness of the speech.
These audio flexibilities when integrated into eLearning course narration, help employees grasp information better and internalize concepts faster. The software offers a host of other features to enhance your employees' learning experience. It is available as a pay-as-you-go tool, but you can try its free tier plan to experience its features first-hand.
2. Speech Studio by Microsoft
Microsoft's Speech Studio is another option to make your course audio sound highly natural. Powered by deep neural networks, this software creates audio that is almost impossible to distinguish from human voices. Speech Studio has over 270 in-built voices and variants to choose from. Using the right voices and their variants available in the tool helps offer immersive learning.
Additionally, the tool provides voices in 110 languages exposing learners to numerous speaking styles, word pronunciations, accents, and intonations among others. Voice customization is yet another feature offered by the tool that allows you to create a voice that is unique to your brand and makes you stand apart from the crowd.
Want to use Microsoft Speech Studio to convert text to speech in your eLearning courses? Just create Microsoft and Azure accounts (both of which are free), and opt for a 30-day free Speech Studio subscription. If you like it (and I'm sure you will!), simply upgrade to continue using the service.
3. WellSaid Labs
If you've been searching for an enterprise-grade TTS software, you can now stop looking. WellSaid Studio (the TTS tool from WellSaid Labs) uses AI technology and machine learning to help you convert text to speech with the click of a button in real-time. And the best part is that the speech is natural sounding just like as a human voice.
You can choose from a pool of different voices in numerous languages with different styles, genders, and emotional tones. Moreover, you can also customize voices exclusively for your brand in the language of your choice, with a unique pitch and personality using the WellSaid Avatar feature. The life-like synthetic voices produced by the tool help provide an eLearning experience worth listening to.
WellSaid Labs' TTS tool comes with a built-in team collaborative feature that helps you work with your team to convert text into natural-sounding voices for your eLearning courses. You can gather feedback, edit, and publish compelling employee training courses faster. The software offers many monthly/yearly pricing plans; you can start with a 1-week free trial before you take the big leap.
4. iSpeech
iSpeech TTS software converts text into high-quality speech. It does not require any software or hardware installations on the system as it is hosted on the cloud. Automated by web service, it converts text to speech within seconds and returns the audio file in an MP3 format.
iSpeech comes with an intuitive TTS conversion interface using which you can manually upload text files from Word, Adobe Acrobat, HTML, and RSS feeds. Using the tool, you can convert text to audio files for audiobooks, presentations, and corporate training videos, among others.
As the software is platform agnostic, it works both on the mobile device as well as the desktop. You can convert text to various in-built voices, bit rates, formats, frequencies, and playback speeds. The tool also supports numerous languages. iSpeech has a pay-as-you-go pricing model, but before you choose to go for it, you can try out its free trial version to get a feel of the service at no cost.
5. NaturalReader
NaturalReader is a versatile TTS software that not only converts text to synthesized AI voices for professional training purposes but also caters to dyslexic readers and foreign language learners. Available in five variants – Online, Software (desktop-based), Commercial, WebReader and EDU – it is extremely useful to generate audio for a variety of use cases. While WebReader (a website TTS widget) and EDU (for kids with learning difficulties) serve specific purposes, the other three variants help convert text to speech for eLearning.
The tool boasts of an exhaustive library of natural sounding crystal-clear voices (100+) that can boost user engagement during eLearning sessions. NaturalReader also supports different text documents such as PDF and Docx. Its built-in OCR technology can convert text from scanned documents, eBooks, and other digital texts into MP3 audio files.
The tool supports many international languages too. In addition to adjusting the speed, pitch, tone, and emphasis, you can manually adjust pronunciations for certain words and phrases with the pronunciation editor. NaturalReader could be your go-to tool to get started on TTS through its free trial. You can cherry pick from its multiple premium subscriptions (for each variant).
Parting Thoughts
There you have it – 5 TTS tools that make your eLearning courses engaging in an economical way. However, if you are planning to get started with eLearning, there's a lot to do. But the good news is, you can get started with your existing classroom training material. For insights on the conversion, watch this webinar recording now!