eLearning Authoring Tools in Corporate Training [Top 5 Benefits + Examples]
eLearning authoring tools are all you need for developing effective training material. Wondering how they contribute toward the effectiveness, let me tell you there are plenty of ways. In this blog, I've mentioned the top 5 benefits of authoring tools.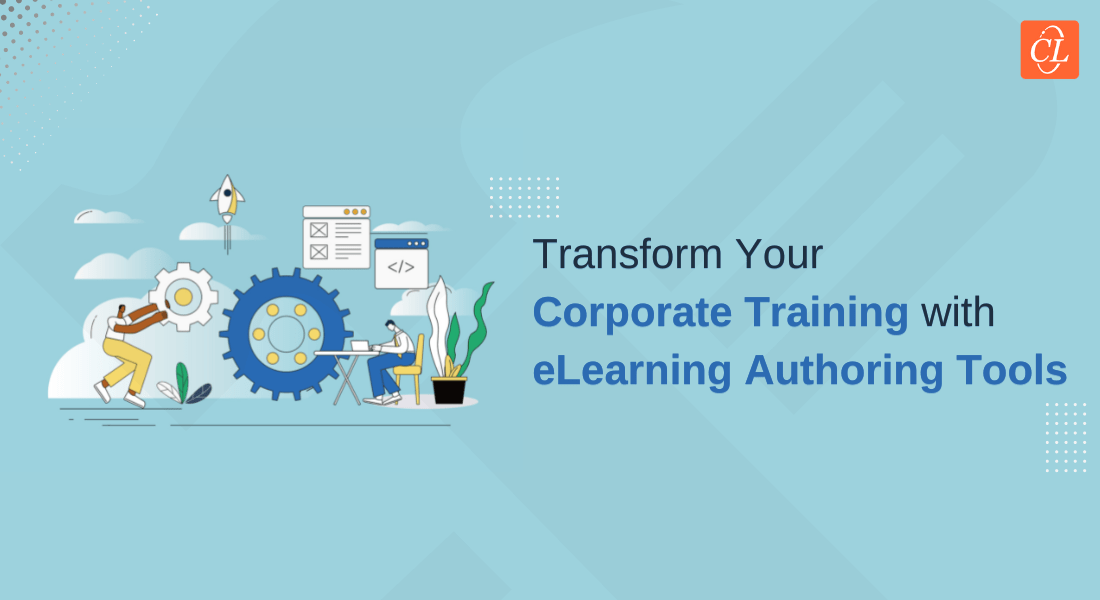 Did you know that the eLearning market is projected to reach $400 billion by 2026?
That's a HUGE industry size!
With that said, have you ever wondered how online courses are created? Well, all thanks to eLearning authoring tools. They play a critical role in making it possible for organizations of all sizes to create high-quality digital learning experiences. From simple quizzes to complex, multimedia-rich courses that incorporate video, audio, and interactive elements, with eLearning authoring tools, everything is just a click away!
So let me give you an idea about the power of eLearning authoring tools. They are what make it feasible for instructional designers and trainers to develop and deliver engaging, interactive eLearning courses. Moreover, they also ensure that training is more accessible to learners from all around the world, thereby enabling them to acquire new skills and knowledge.
Transform Your Corporate Training with eLearning Authoring Tools!
Here are the top 5 eLearning authoring tools benefits at your service:
Provide flexibility
Boost interactivity
Facilitate customization
Foster cost-efficiency
Ensure accessibility
eLearning authoring tools are definitely worth exploring. So why don't we start with the benefits first?
Psss… (A list of the top 5 eLearning authoring tools is also provided)
Let's go!
Top 5 Benefits of Using eLearning Authoring Tools in Corporate Training
Whether you're a seasoned instructional designer or just starting to discover the world of eLearning, there's an authoring tool out there that can help you bring your vision to life. From Articulate 360 to Adobe Captivate to Lectora, there is a wide range of options to choose from. Each tool comes with its own unique set of features and capabilities. With the right eLearning authoring tool and a little bit of creativity, the possibilities are truly endless! Let's learn more about the top 5 benefits of leveraging eLearning authoring tools to design effective eLearning courses.
Provide Flexibility
eLearning authoring tools offer you the flexibility to design, develop, update, and even modify the eLearning courses as per the learners' or organizational needs. Let's say you need to add more information to the existing training material on a specific topic, you can easily update the course content using eLearning authoring tools. The best part is that you can do so without disrupting the entire learning process or spending a lot of time creating everything from the scratch.
For example, if you want to train your sales representatives on a new product launch, you can easily develop an online course using eLearning authoring tools. You can provide a detailed overview of the product and update the existing training course with new information as the product becomes available.
Boost Interactivity
Interactivity is the heart and soul of effective eLearning courses. And that's what eLearning authoring tools ensure. They provide interactive elements that help you design immersive, learner-centric training material which keeps the learners engaged and motivated throughout the course. You can use interactive elements such as quizzes, simulations, and gamification that enhance the learning experience and make it more enjoyable. This facilitates better information recall and retention.
For instance, you can design an eLearning course for your customer service team using eLearning authoring tools and can incorporate the element of simulation. It will allow you to provide your learners with a chance to practice handling customer complaints in a safe and controlled environment, thereby giving them the confidence to tackle such situations in reality.
Facilitate Customization
eLearning authoring tools allow you to customize eLearning courses according to specific learner needs, preferences, and skill levels. This ensures that learners get personalized training that meets their unique learning requirements.
To make things more clear, here's an example. You can customize an online course on software training based on the learner's level of expertise, providing different levels of training content and challenges to ensure that all learners are challenged and engaged.
Foster Cost-efficiency
Who wouldn't love to save a few extra bucks as long as it doesn't compromise the quality of the training material. Right? Well, eLearning authoring tools are your friends. They assist you to save time and money by reducing development and delivery costs. They also enable remote collaboration, scalability, and provide reusable templates and components, thereby helping you save the cost.
To put things in perspective, here's a scenario. Imagine if your organization wants to train its employees on a new company policy. What will you do? With eLearning authoring tools, you can quickly develop and deliver a relevant course that contains all the essential details about the new policy so that everyone is on the same page. This will ensure a smooth implementation of the policy. Moreover, with eLearning authoring tools, the process becomes cost-effective and time-saving. Even better, it is easy to scale up to train a large number of employees.
Ensure Accessibility
No matter how good the quality and content of your eLearning course is, if it doesn't reach the target audience, it's futile. Wait! Don't stress. eLearning authoring tools offer you a bridge to reach your learners and augment the impact of your corporate training. They enable you to provide your learners with access to eLearning courses anytime, anywhere, and on any device. This ensures that your learners can access the training material whenever they need it, which is particularly helpful if you're training remote and internationally dispersed teams.
Let's consider the following example: You need to train a remote team of software developers on a new programming language. When I say remote, it's not just different cities but also different countries. So classroom training is definitely out of the picture. Virtual instructor-led training could have been an option but time zones are a challenge. That's where eLearning authoring tools come to the rescue. You can design and develop multi-device compatible eLearning courses that can be accessed by your team members from anywhere in the world, using any device, at any time.
As promised, here's a list of the top 5 eLearning authoring tools to help you toward a good start!
Articulate 360
Adobe Captivate
iSpring
Lectora
dominKnow
Well, NOW is a good time to explore each tool in detail!
To Sum It Up!
Take your training to the next level with eLearning authoring tools. They provide a range of benefits that can enhance the learning experience, save time and money, and improve learner engagement and motivation. So jot down your requirements and match them with various outstanding features provided by each eLearning authoring tool to find your perfect fit. Here's a handy guide to help you pick the best authoring tool that facilitates effective eLearning course development. Check it out right away!