Creating a Virtual ERP Tour for End-users with Articulate Storyline
How do you ensure end-users get the necessary hands-on experience of working on the ERP system? May be Articulate Storyline could help you. How? Read on to learn more.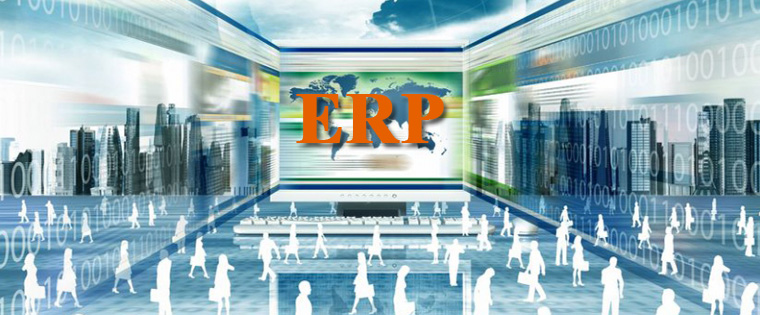 Let's admit. ERP end-user training is more performance-based than knowledge-based. You cannot just cover all the content in a few classroom sessions or e-learning courses and expect them to use the new ERP to its fullest potential, can you? They need to get acquainted with the different features and functions of the software so that they know which function to perform in a given context. Also, they need to know each step in the process to avoid making mistakes. But mind you, during the end-user training phase, the new ERP system would still be in final stage of customization and end-users will not have access to it. While this is so, how do you ensure end-users get the necessary hands-on experience of working on the ERP system and its environment?
May be Articulate Storyline could help you. How? Read on.
Software Application Simulations
Software application simulations are models that show end-users how to perform a particular task on a software application and let them practice the demonstrated task. They mirror the look of the software and provide a risk-free environment to end-users so that they get hands-on practice. Earlier they were developed using Adobe Flash and the development process was quite complicated and time consuming. But now, there are quite a few rapid authoring tools that specialize in creating software application simulations and Articulate Storyline in one of them. It comes with a built-in screen recorder and breaks the recording into step-by-step activity with just a click.
It gives you the output of three phases which (combined) is referred to as the Watch-Try-Do method. In the Watch phase, learners can watch the function being performed in a video tutorial. In the Try phase, they are given a chance to try the function under guidance in the form of written instructions. In the final phase, that is Do, learners are asked to perform the function all by themselves. In case they repeatedly fail to recollect a step during the Do phase, they will be provided a hint.
Such a virtual ERP environment lets end-users get acquainted with the various features and functions the ERP before Go-live and commit fewer mistakes.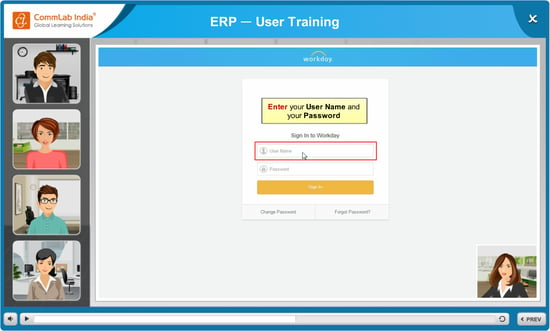 Test Environment
A test environment is the virtual representation of the work processes in the organization after Go-live. It gives end-users an idea of how the work environment is going to be when they start using the new ERP. This virtual environment would be 2-dimensional with simple callouts, and without animations (you know, like in a comic strip).
You can give end-users' different context-based scenarios based on their roles in the ERP system. They have to make decisions and perform the necessary ERP function in these scenarios. It's like a role-play where every individual can perform tasks in the virtual environment they are supposed to execute in the real world. Such an environment helps end-users get accustomed with the real environment after Go-live of the ERP and better understand their roles and responsibilities on the ERP to make fewer mistakes on the live one.
Articulate Storyline's built-in characters would help you create such scenarios easily. These characters are of different ages, genders, races, and professions. The variety in characters extends your boundaries in creating context, profession, or region-based scenarios; you can also change the expressions and poses of the characters to suit the context you would like them to be in.
Such a virtual ERP tour works well for performance-based training programs and ERP end-user training is definitely one of that kind. While software application simulations help learners practice the functions of the new ERP, contextual scenario-based simulations help them apply the learning and help you assess their understanding. What do you think? Let us know through your comments.