Adobe Captivate 2019: Is It the Right Authoring Tool for Your Online Training?
The authoring tool Adobe Captivate 2019 offers a lot of flexibility for developing modern courses, which are learner-centric. This blog covers a few features of Adobe Captivate 2019 and why you should consider it for your online training.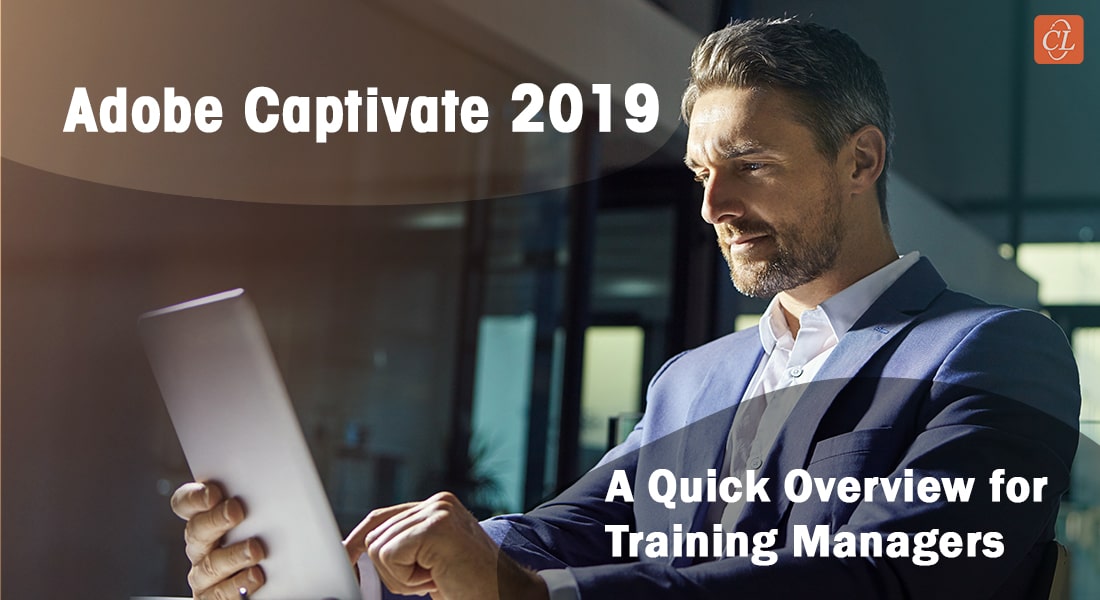 Yes, Adobe Captivate 2019 can be the authoring tool you are looking for – to address your online training needs! A powerful, industry-leading, easy-to-use authoring tool, it allows you to develop both simple and highly interactive eLearning courses. Whether you are a beginner or a pro, Adobe Captivate 2019 will meet all your online training needs. Its intuitive interface helps developers develop courses without additional coding experience.
Adobe Captivate 2019 offers a lot of flexibility for developing modern courses, which are learner-centric. And it's definitely worth considering if you aren't already using it.
Here are a few features of Adobe Captivate 2019 and why you – as a training manager – should consider it for your online training.
Features of Adobe Captivate 2019
Comprehensive Assets Store for Easy Course Development
Developing an eLearning course can be quite time-consuming and complicated. Adobe Captivate's Assets Store has many sample project templates – all of which are ready to use. Just select from the wide range of interactive templates.
The Assets Store offers high-resolution characters with a wide range of poses and expressions to integrate directly into your courses.
Adobe Captivate 2019 – An Overview
What it offers:
A library of assets
Responsive courses
Multiple publishing options
Adobe Captivate offers over 75,000 assets, including icons, images, audio, videos, interactions, 360° visuals, scenarios, and people cutouts – everything you need to make your courses resonate with your learners. Also, you can find a lot of themes with all the elements and layouts that you need for your eLearning courses. You just need to change the texts and adjust the colors.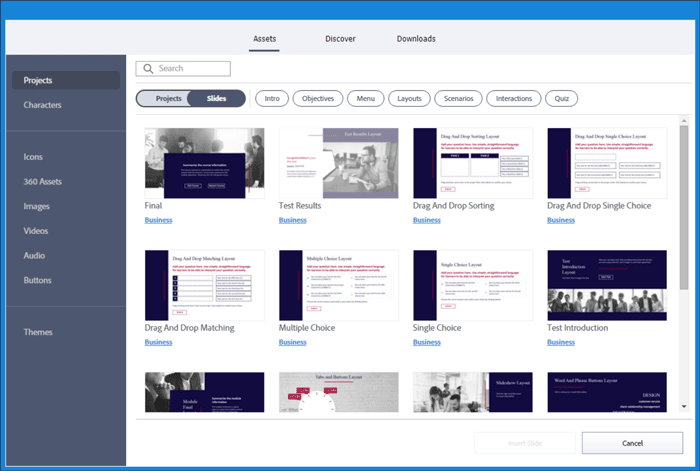 Easy Software Simulations
One of the most effective ways to bring learners up to speed in skill-based tasks is through simulation-based courses. Users get a first-hand experience of using software applications without any real-world repercussions. Captivate has introduced a new capability that generates simulations for all devices, seamlessly, making it very easy to deliver high-quality eLearning.
This tool offers four simulation modes you can use to design a variety of simulations.
Demonstration mode: Use the demonstration mode when you want to demonstrate a procedure. In this mode, there's no scope for interaction, but users can view the screen recording.
Training mode: In the training mode, each slide displays a series of actions that the user must perform to complete the procedure/task.
Assessment mode: The assessment mode is used to test users' skill in using the software – you can decide on the number of allowed attempts and passing score. The user is not scored for failed attempts.
Custom mode: This mode helps you get the best of the other three modes. It is ideal for creating training or demos that also include an assessment.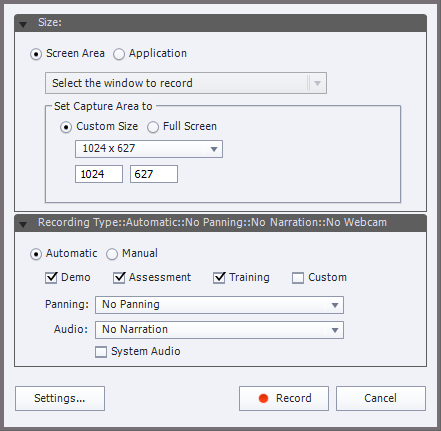 Seamless Responsive Learning
Adobe Captivate 2019 gives you a simple, intuitive way to create responsive eLearning courses fast.
A responsive course adapts its layout according to the dimensions of the device. Learners interact with content using touch gestures on a mobile device or mouse-and-keyboard combinations on a desktop. There's no need to manually update your course every time you update content. Text and images are realigned and readjusted based on the screen resolution – both for size and position.
Adobe Captivate helps you create truly engaging, interactive, device-friendly content. Responsive eLearning courses can be developed quickly with Captivate's enhanced editing features. The responsive layout of Adobe Captivate's Fluid Boxes allows it to play seamlessly across devices, keeping your content clear and consistent on any device.
Adobe's Typekit offers seamless integration of fonts and ensures your course is readable across devices. It reduces the efforts of developers and allows them to focus on the content.
In this era of mobile learners who move seamlessly from desktops at work to tablets and smartphones in their personal time, designing a responsive course with Adobe Captivate 2019 gives you the much-needed edge over your competitors.
High-quality Translations
Nowadays, eLearning courses are not limited to a particular region or country, but are delivered across the globe. They are translated into different languages so that people from different geographical regions can access high-quality courses irrespective of their native language.
The Adobe Captivate 2019 Translation and Localization feature allows you to export your project as a downloadable file for translation. This file, typically a .doc or .xml file, includes all of the source language text from the original project.
This file will then be translated by a native language translator, and imported back into the Captivate file to be localized for multiple languages. This will help you reach out to employees in every corner of the world.
Section 508 Complaint Output
The 'Enable Accessibility' feature in Adobe Captivate properties will make certain elements accessible to assistive technology. Learners who view the output on tablets or smartphones will need to 'enable accessibility' through their device's settings (Settings>General>Accessibility).
Adobe Captivate 2019 supports Section 508 compliance by enabling you to create content that meets Section 508 standards and can be viewed by people with disabilities.
Flexible Publishing and Sharing Options
eLearning courses developed in Adobe Captivate can be published to the Prime Learning Management System (LMS) or any other LMS in a few clicks. Adobe Captivate 2019 provides the ability to publish a course in multiple formats, including HTML5 and Flash SWF, as well as video and executable files. Adobe Captivate 2019 also allows you to publish courses as Android or iOS apps.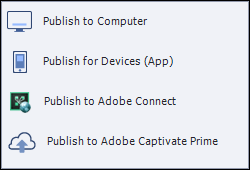 In Summary
Finally, if you're looking for an authoring tool that allows you to develop interactive, learner-centric eLearning courses with the help of a visual interface, Adobe Captivate 2019 is a tool you can't ignore. Hope these features will motivate you to try Adobe Captivate 2019 for your future eLearning projects.