5 Advantages of using Adobe Captivate 9
Wondering what Adobe Captivate 9 is all about? Check out this blog to know what makes Captivate one of the top choices for developing e-learning.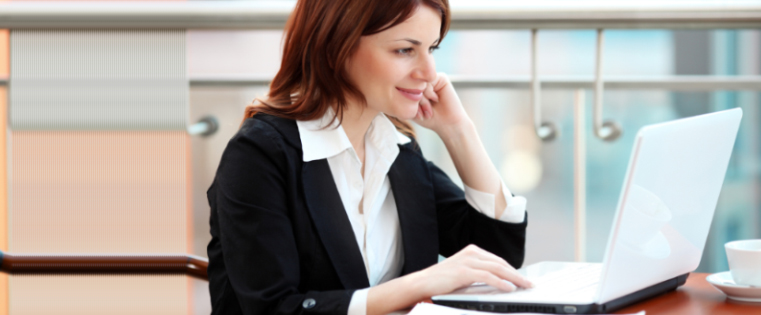 Adobe Captivate has been a top choice for creating dynamic and engaging e-learning for quite some time now. Creating top-notch software simulations/tutorials has always been its biggest strength. With every version, Adobe makes improvements and also has some neat additions to the tool which make it easier to develop e-learning courseware. And its latest version, Adobe Captivate 9, is no different.
Wondering what Adobe Captivate 9 is all about? How can it help you craft good e-learning? Let us see what it offers.
An integrated library of 25,000+ characters and templates
Adobe Captivate 9 comes with a repository of characters and templates that simplify e-learning development. This library has a wide variety of assets such as cutout people, games, interactions, scenarios, course starters, and more. Give your e-learning a personal touch by using relatable human characters with gestures and in poses. Place them against relevant backgrounds to make your online course look more realistic. You can simply import your preferred assets right from within the tool and use them in your course in a seamless manner.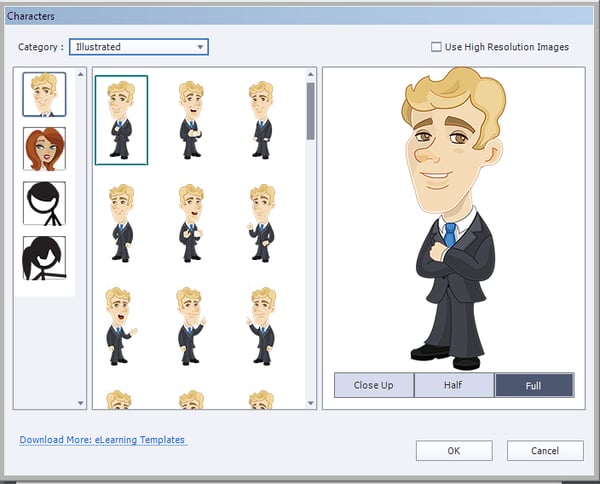 Best-in-class screen capture capabilities for software simulations
Like I mentioned earlier, Adobe Captivate is the ideal choice for creating software simulations. Its screen capture capability allows you to create robust software simulations with multiple learning modes in a single recording session.
You can create a single e-learning course that will play seamlessly across devices of all sizes and forms. The tool detects the screen activity in the recording window and then automatically adjusts to its size, creating a "screen capture" that can run smoothly on Smartphones and tablet PCs.
A wide range of attractive quizzes and question types
We all know assessments play an important role in successfully evaluating a learner's knowledge. And with Adobe Captivate, you get a host of options to develop assessments and tests, the way you want.
You can develop attractive, intuitive quizzes by customizing the quiz templates available in the tool. Creating question types such as matching, short answer, and fill-in-the-blanks is easy. Make learning fun with drag-and-drop interactivities, games,and quizzes.The tool allows you to create learning modules that can run on any device. Choose from a variety of relationships between drag items and drop targets to implement learning outcomes more visually.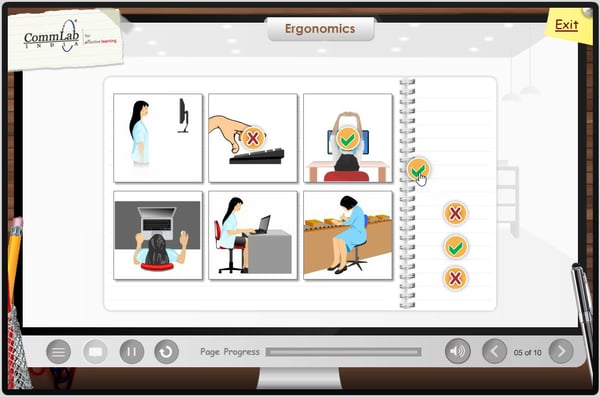 Here's an example of the templates you get in Adobe Captivate.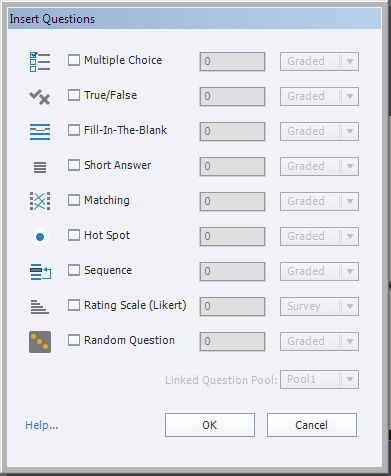 Publish courses to multiple formats
Adobe Captivate gives you the option to publish course content that can run on any device. HTML5, SWF (Flash), iOS and Android devices, also the leading Tin Can-(xAPI), SCORM- and AICC-compliant LMSs are the formats supported by Captivate.
It facilitates the rapid authoring of interactive HTML5-based m-learning content. For example, you can use the PhoneGap build to publish Captivate courses as native iOS or Android apps, making it one of the few authoring tools in the market that support m-learning.
Here's a video on using Adobe Captivate to create m-learning apps.
To know more about making the most of this feature, check out this informative blog.
Accessibility support
Have you ever thought of how somebody with a disability experiences the online courses you develop? Does your audience consist of people who are color blind, deaf or visually impaired?
Using Adobe Captivate, you can develop demos and simulations that are compliant with Section 508 and Web Content Accessibility Guidelines (WCAG) 2.0, which call for making your online learning content accessible to all, irrespective of their physical capabilities.
The rapid authoring tool helps you ensure the content you're developing is accessible through a standard keyboard. Functions such as ALT Text/Text Alternatives, Tab Order, Captioning, Skip navigations make it easy to provide a variety of keyboard shortcuts for your simulations.
With Adobe Captivate, you can create e-learning courses which can be accessed on any device. Its in-built library of characters and templates makes creation of courses a cakewalk; it has a powerful screen-recording capability that enables you to record the screen to create software simulations of high quality; it allows you to publish your e-learning to multiple formats including HTML5 which can be used to create m-learning apps.
Do you wish to add to this list? Please do so in the Comments section.