5 Reasons to Seek a Learning Partner for Blended Learning Implementation
To implement blended learning the right way, a good partner is needed who can understand your training goals and offer solutions accordingly. Learn five reasons they are crucial to make your blended learning project effective.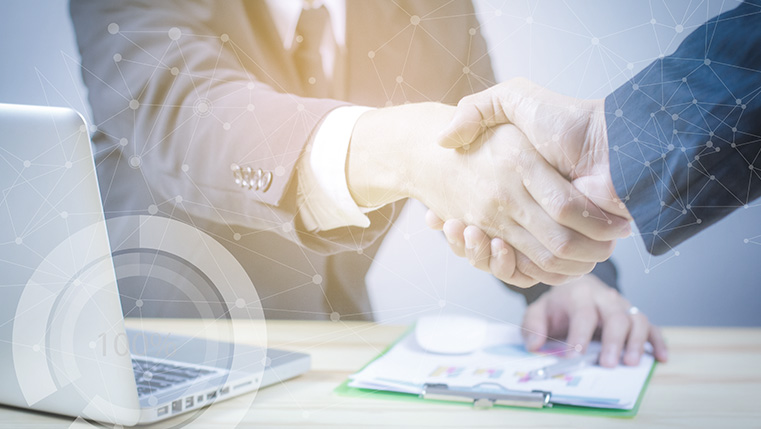 Blended learning is combining the classroom (or instructor-led) training and online learning, literally bringing the best of both worlds to realize various training goals. A decade ago, blended learning was not considered a viable option. But thanks to the mobile revolution and the leaps eLearning has taken in recent years, this approach is more in use than ever.
Online learning technology has created an opportunity for organizations to take advantage of a flexible learning environment that is no longer tied to brick-and-mortar schools. To implement blended learning the right way, a good partner is needed who can understand your training goals and work solutions accordingly. This blog will lay out five reasons organizations need to pair up with a learning partner to achieve the blended learning goals.
1. Easily Convert Classroom Material to Online Learning
Before diving straight ahead into implementing blended learning, the first thing that any learning partner would do is to analyze your existing classroom/instructor-led training (ILT) material. The analysis of these materials fetches an idea regarding what components of ILT can be easily migrated to work in an online format and what components can be retained in the ILT format.
In many instances, the existing material that is in the form of PPTs can be easily converted to quality online learning courses using PPT-to-eLearning conversion tools. These tools help courseware designers retain all the functionalities of the PPT (including the animations) and convert them into SCORM-compliant eLearning.
2. Let Learning and Design Experts Do the Heavy lifting
When you partner with a learning expert for your blended learning endeavor, you are handing over the project to industry experts who specialize in instructional design and rapid authoring tools. Following are the functions a learning partner undertakes:
Analyzes what components cannot be met by online learning and devises a separate plan for them in your overall blended solution.
Organizes your training content according to your specific, tailor-made requirements and devises creative instructional strategiesaround them.
Conducts a thorough content, audience, and task analysis to maximize the potential of the delivery formats available at your disposal.
Assigns robust project management processes and point of contacts to ensure a smooth and stress-free implementation.
3. Use Their LMS Support for a Seamless Integration
Good learning partners are not restricted to eLearning development alone. Most of them offer learning management system (LMS) services that come in handy for several reasons. An LMS is a software application that can not only host, administer, and deliver eLearning but can also manage and provide support for classroom training. Here are some of the advantages of using an LMS for blended learning:
Conduct pre-ILT session activities i.e., host pre-training e-learning sessions on the LMS to fill in any knowledge gaps before the commencement of classroom training.
Provide access to ILT materials such as course materials, handouts, and how-to guides in the digital format for a 24X7 access.
Deliver microlearning modules to reinforce learning and provide access to online job-aids to enhance the performance of your learners.
Conduct knowledge assessments online after the ILT program. Doing so enables you to track the performance of your learners in the assessment and generate reports which can be helpful for measuring training effectiveness.
4. Create Moment-of-need (JIT) Learning Resources
Join hands with a learning partner to create meaningful moment-of-need learning resources for your blended learning project. When learners resume their work after classroom training, it is likely that the skills they have learned will fade with time. To ensure learning stays put in their minds and reinforce training, learning partners create short training materials that are readily available to your learners on their mobile devices – in the form of PDFs, interactive demo videos, FAQs, glossaries hosted on the LMS.
This is achieved by expert instructional designers carefully analyzing both your audience (learners) and the content at hand to produce small nuggets of information, offering them performance support at the moment of need.
5. Implement Game-based Solutions to Make Learning Fun
Gamification focuses on using online game mechanics such as points, badges, levels, challenges, and leaderboards to create a compelling and engaging experience. Examples of game mechanics in blended learning scenarios include using game-based online assessments that replace the monotonous multiple-choice questions and fact-based quizzes.
Game-based assessments offer possibilities such as virtual situations or branching scenarios. For instance, in the context of compliance training, game-based assessments can be used to assess how players respond to the choices available in the context of the gamified compliance course.
Gamified E-learning Assessments – 15 Examples from CommLab India – A Global eLearning Company
Blended learning is where the classroom meets technology. For your training to enjoy the best of both worlds, find a good eLearning partner with considerable experience in learning and design. One who is capable of devising creative yet meaningful strategies and offering additional technical support for your blended learning to flourish.