Outsourcing Online Corporate Induction Training Is Worth It: 4 Reasons
By outsourcing induction training development, an organization can avail certain advantages which have time and again proven valuable both to the company and the employees. Read the post for those benefits.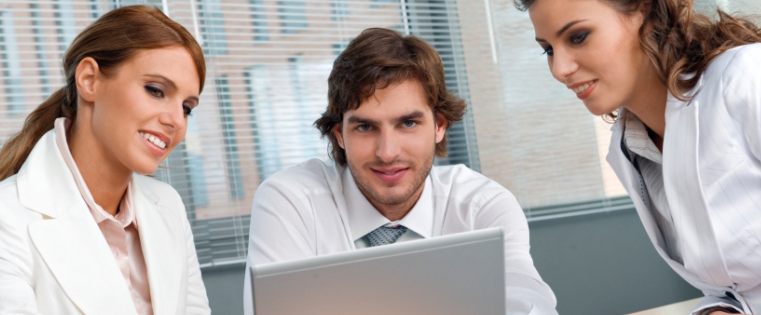 New employees at an organization begin their first day with a lot of excitement and stress. They come with a zeal to excel at their work, but in the absence of guidance, they do not know where to begin. Induction training harnesses their inhibitions, first-day-at-work fears, and helps them perform better. Induction trainings conducted in classrooms are monotonous, often tedious, and information-heavy.
Induction training and other development programs are an important part of any corporate organization that hires employees on a consistent basis. They are the cornerstone of a company's success. Hence, many organizations outsource e-learning development for training their new hires. By outsourcing induction training development, an organization can avail certain advantages which have time and again proven valuable both to the company and the employees (learners). Let us now see what these benefits are.
1. Tried and tested ID strategies; expertise in learning & design
Developing a corporate induction training requires specific expertise and a keen understanding of learning design and adult learning principles. One benefit of outsourcing your corporate induction training development is gaining access to the vendor's expertise in the domain. E-learning vendors are domain experts, their in-house team consists of learning and design experts equipped with specialized skills in corporate training development. Even better, these vendors employ tried and tested instructional strategies that have been proven effective.
A vendor's expertise, however, is truly shown in their ability to customize corporate training materials. Their expertise lies in creating engaging and interactive content for new hires from text-heavy and dry content and, managing to convey a positive image of the company. Instead of a one-size-fits-all solution, a good vendor customizes the corporate new hire training according to your training needs.

2. Rollout courses easily on time, across locations
Today, companies look for solutions that are not only engaging and effective, but also those that reduce the cost and time of conducting corporate induction training. They expect new hires to learn new knowledge and acquire skills in as less time as possible. E-learning courses are delivered in days, thanks to the various rapid authoring tools that vendors use. They use the latest authoring tools to create induction training materials in a quick fashion so that you can rollout courses on time, across locations.
Quick turnaround time does not really mean compromising on quality. The interactive nature of e-learning is kept intact, making it easier and less time-consuming for learners to understand and learn standard processes, procedures, and business practices. Another big advantage of outsourcing corporate induction training is the scalability. Similar to what I mentioned earlier, vendors have the expertise to scale up the development process as needed.
3. Vendors leverage your existing LMS infrastructure
If your company already has an existing Learning Managements System (LMS), you can use it to host new hire/induction training materials. If you are unaware of what an LMS is, it's a software application that allows you to administer, monitor and deliver courses. It's an easy-to-use repository, that gives 24X7 access to learning resources. It saves time and money at the same time improves new hire learning performance by including reference tools. They can access courses online and offline, anytime, anywhere (on smartphones and tablets) freeing them from rigid traditional training schedules. An LMS can also build your brand identity among new hires when customized according to your branding guidelines.
An LMS allows you to deploy courses to as many new hires you want to train, and combine the training with assessments, surveys and quizzes that give you insights into how well your new hires have absorbed the induction training material.
4. Outsourcing induction training is cost-effective and boosts ROI
One aspect that makes outsourcing cost-effective is: it enables organizations to develop a "module" that can be effectively integrated into the training, use for a certain period of time, then safely exhaust it from the environment when its useful life has expired.
Your new hires may either be seasonal or fixed. Outsourcing allows you to turn training development costs from fixed to variable. You only contract as needed, which means you can scale up or scale down the induction training development according to your requirements. Outsourcing training materials for induction training often means you only pay the provider based on the number of courses created. This makes it easier to control budgets, affording you a new level of flexibility.
Induction training helps new hires get up and running, and allows them to be productive from day one. The training they receive needs to be developed carefully and must be done at the expense of learning and design experts. E-learning vendors have stronger skills when it comes to creating training materials. After all, that is their specialty. The amalgamation of expertise, creative methodologies, and the apt use of newest technological tools makes outsourcing corporate induction training a great choice. Value, along with cost, is the new watchword.