6 Strong Reasons to Outsource Digital Learning to CommLab India [Infographic]
Combine the benefits of digital learning and outsourcing by choosing CommLab India as your outsourcing partner. Check out the infographic to know more.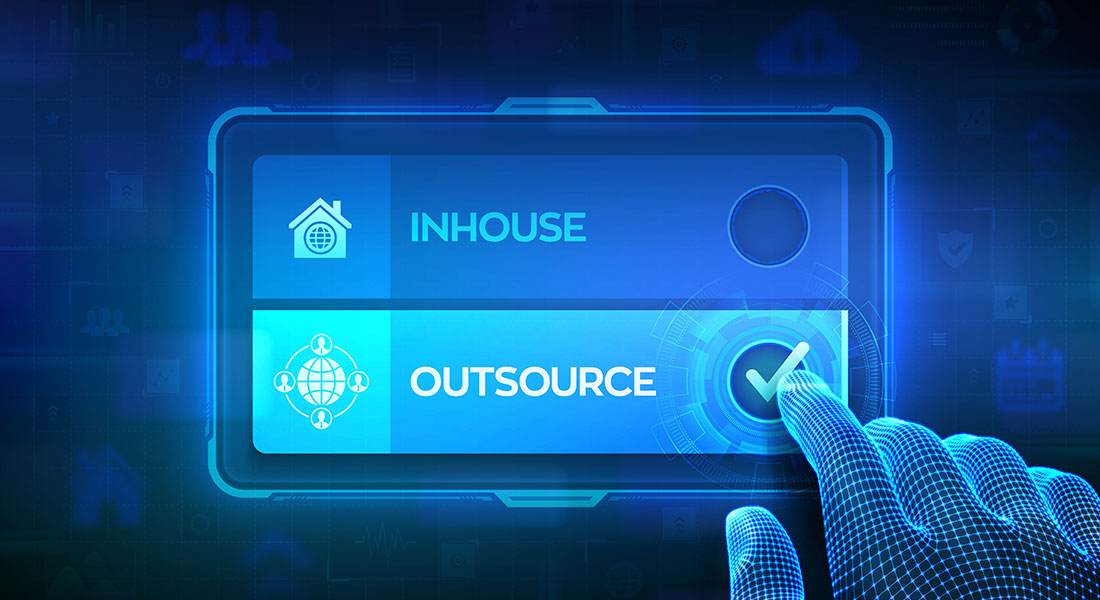 If we were talking about corporate training a few years back, some of the things to come to your mind would be conference rooms, PPTs, manuals, instructors, and disengaged employees. But with the digital age coming in and accelerated by the pandemic, the world of business and corporate training has seen a significant shift. Corporate training is no longer limited to conference halls. Rather learning can take place even on the go and according to the convenience of the learners. In fact, it's a more interactive and engaging learning experience. However, creating high-impact, relevant digital learning materials and availing all these benefits can be a little tricky.
But in today's modern era, there's a solution to almost every problem. There's one for designing and developing top-notch digital learning courses too. And it's outsourcing digital learning. In this blog, we'll go through the concept of digital learning, learn about the benefits of outsourcing digital learning, and then finally understand why outsourcing digital learning to CommLab India is the right choice.
Without any further delay, let's begin.
What is Digital eLearning?
Digital learning is the use of technology for training employees to promote engagement and convenience. It's a game-changer in the world of corporate training as it has shifted the learning experiences from mundane to extraordinary. Digital learning takes care of various important elements such as interactivity, personalization, and accessibility.
Advantages of Digital Learning in Corporate Training
Enables scalability
Ensures cost-effectiveness
Promotes accessibility and flexibility
Facilitates performance metrics
Top 5 Benefits of Outsourcing Digital Learning
Cost Savings
In comparison to in-house course development, outsourcing digital learning reduces costs significantly as the outsourcing vendors already have established infrastructure and resources. This includes content development tools, learning management systems, and a team of experienced professionals. So when you outsource digital learning, you save various expenses associated with hiring, training, and retaining an in-house eLearning team.
Access to Expertise
Hiring and maintaining subject as well as eLearning experts in-house can increase the cost multifold. At times, some projects may even need special training. But with outsourcing, you can easily skip such hassle and enjoy the benefits of digital learning as vendors have a team of experts who bring expertise and experience to the table.
They stay up-to-date with the latest trends and best practices in instructional design, content development, and technology. This ensures that your learners receive high-quality, engaging, and effective learning experiences.
Faster Development and Deployment
By outsourcing digital learning, you can expect quicker development and deployment of training solutions. The outsourcing partners are well-equipped to handle rapid project turnaround. This is an added advantage when you need to address rapidly changing training needs or regulatory requirements.
Scalability
Every organization wishes to grow and establish its legacy in the business world. With such impressive aims, training needs also vary. To match such diverse requirements for maximum efficiency, outsourcing digital learning is a better option as the outsourcing vendors can quickly scale their services to meet your demands. This ability to scale and adapt to changing circumstances without the burden of managing an in-house team is a major benefit.
Focus on Core Competencies
Imagine an L&D professional who is working on strategies, designing training courses, and also translating them. Well, that's stretching them thin and it only has a negative impact on the quality of the content and the employees' well-being too. You can save your employees from such situations by outsourcing the digital learning content. This will help your employees focus on their core competencies and grow in that direction to deliver better results.
6 Strong Reasons to Outsource Digital Learning to CommLab India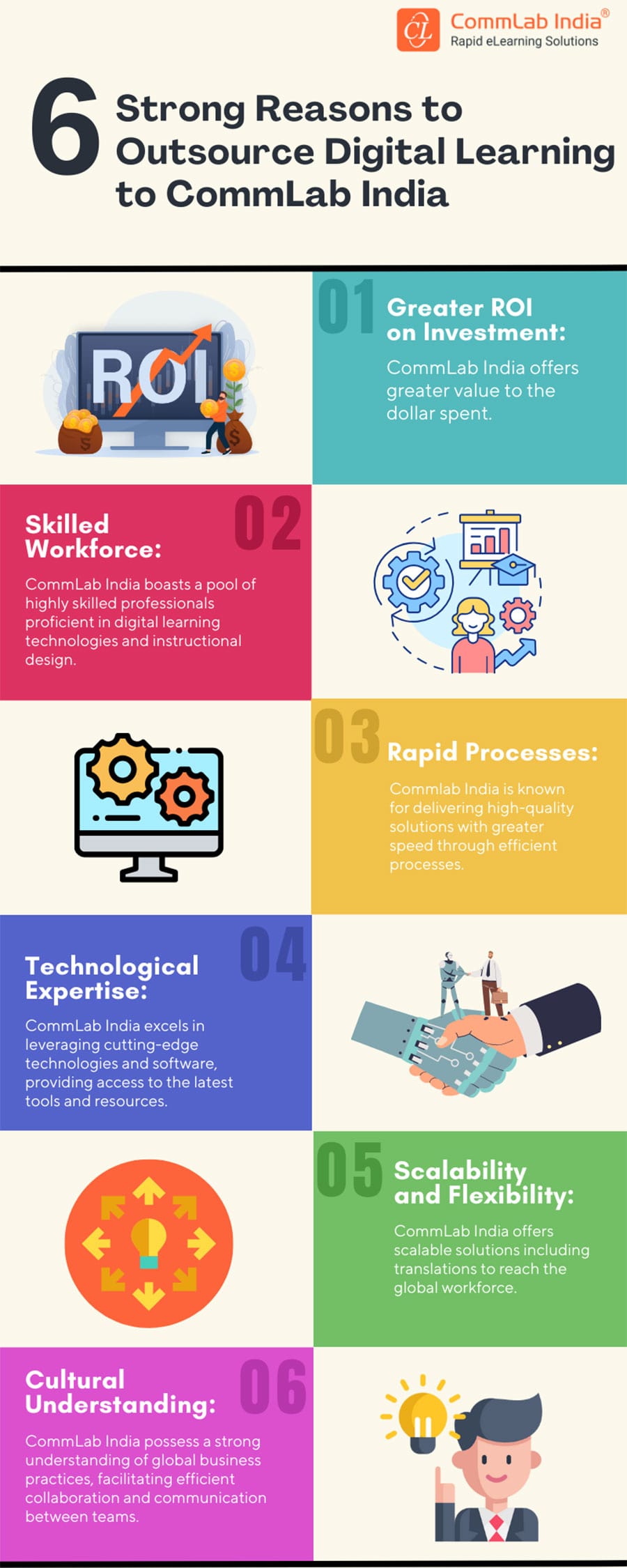 To Sum It Up!
Outsourcing digital learning is the way forward for organizations wanting to stay ahead of the competition. It offers various benefits such as cost savings, access to expertise, faster development, scalability, and the ability to focus on core competencies. However, choosing the right outsourcing partner is the backbone of all learner-centric, effective digital learning courses. So make sure you choose a vendor with relevant expertise that aligns with your goals and values. This will help you tap into the full potential of digital learning and enhance the training experience for your employees. Don't forget to check out our free eBook to learn how L&D and business can align for better, desirable results.