Traditional or Rapid Way for Creating Asynchronous E-learning?
This blog post shares ways to convert existing ILT materials into interactive and engaging eLearning.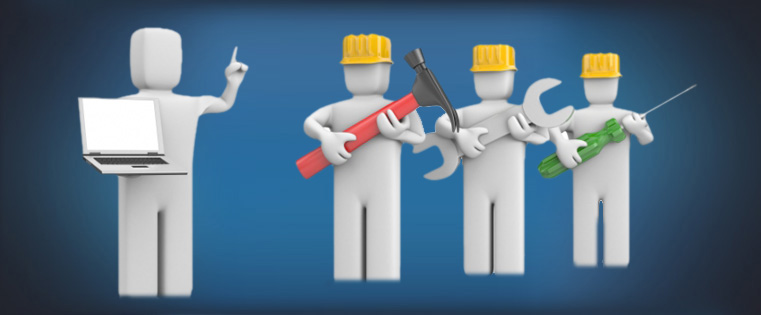 Hi everyone, I am back with some interesting blog matter, which is a sequel to "How to convert your existing Training Material to eLearning?" If you have not read my previous blog, click here.
So now that you have understood the difference between asynchronous and synchronous training, let's see in how many ways a training manager without much technical knowledge can convert his existing training materials to an engaging eLearning course that can be hosted on your organization's learning portal.
There are two ways to convert your existing ILT materials into a highly interactive eLearning. They are the Traditional Way and the Rapid Way.
Traditional E-learning
Traditional eLearning will be developed by using traditional eLearning tools; these tools can be called power user tools. Courses produced by traditional eLearning tools will be production intensive and highly interactive. Some of the popular traditional eLearning tools are Adobe's Flash and Dreamweaver.
Development of eLearning in traditional method takes long with the development cycle of around 3 to 5 months.
In this method, storyboards play an important role and help in avoiding rework during the development cycle. The content in the storyboard will be defined for each screen and includes graphics, media elements, and text. Using the storyboards, development team will bring to life the eLearning course. Typically, the team includes instructional designers, graphic designers, programmers, and multimedia developers.
The costs involved in the development of courses through traditional methods will be higher than rapid development as designers have to visualize the concept before they actually present it in the course. The increase in developmental time is compounded by several rounds of approvals and feedback implementation that is required in the process.
Rapid E-learning
If you are looking for the development of multiple eLearning courses, then Rapid eLearning can be an ideal way. This is very cost effective. There are lots of eLearning authoring tools that can be used in the rapid development of courses. Anyone without prior programming knowledge can develop a highly interactive eLearning. Some of the tools can be Lectora, Articulate Storyline, Articulate Studio, Adobe Captivate, Adobe Presenter; they enable learning professionals and instructional designers to convert their ILT material into instructionally sound learning material, within a short duration. While traditional eLearning course may take months to develop, rapid eLearning courses can be developed in a few weeks.
The success of eLearning will be dependent on how well you define the strategy for converting the instructor-led courses to Web-based training. One thing you must remember is that if you convert a bad ILT material, you will get a bad online course.
Hope you enjoyed reading; please do post your comments below. Happy reading!