The Essential Guide to FLOWSPARKS – The Flexible eLearning Platform
FLOWSPARKS is an authoring tool that offers Learning Formats, an in-built LMS, and integrations – to deliver an engaging digital learning experience. Discover why FLOWSPARKS is the most flexible eLearning platform on the market.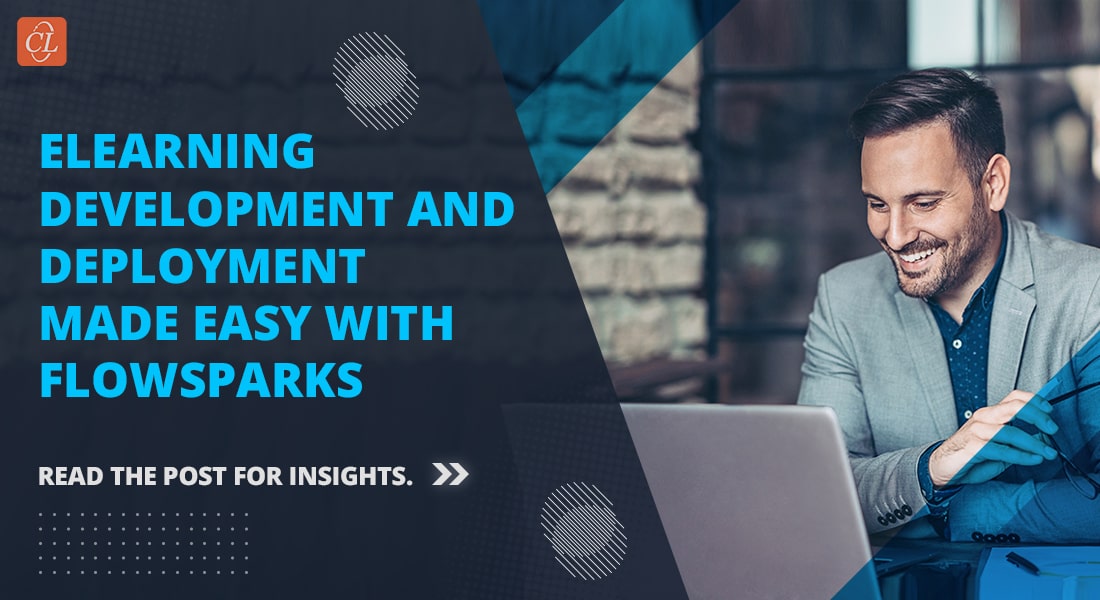 Let's face it: designing an eLearning course, developing, and deploying it to the LMS (learning management system) can be a time-consuming process. What if there was a tool that allowed you to do everything in one place?
Authoring tools are software used to create eLearning courses. You can use them to design templates, create assessments and videos, and add interactivities in your courses. When authoring tools came into the picture, they became the game changer because they allowed instructional designers to quickly create professional-looking eLearning courses, armed only with the most basic computer skills. This meant that businesses no longer needed to spend large sums of money on software programmers and coders.
Among the many authoring tools in the market today, Articulate Storyline 360 and Rise 360, Adobe Captivate, and iSpring Suite Max are the most popular. With their built-in templates and interactivities (among other features), these tools have made the design and development of eLearning courses much simpler than before. One such authoring tool is FLOWSPARKS. Let's look at what this tool has to offer.
An Overview of FLOWSPARKS
Learning Formats Supported:
THEBIGGERPICTURE
ONTHESPOT
FLASHCARDS
SMARTVIDEO
What is FLOWSPARKS?
The 'FLOW' in FLOWSPARKS stands for 'Flexible Learning in an Online World'. FLOWSPARKS is an eLearning authoring tool that can be used to design, develop, and rollout eLearning courses rapidly, and to deploy content in different learning formats (THEBIGGERPICTURE, QUICKSCAN, FLASHCARDS, SMARTVIDEO, etc.). It provides many assets – buttons, links, and animations – to make courses more engaging and visually rich.
Unlike other eLearning authoring tools, FLOWSPARKS provides better authorization and authentication through SAML 2.0 (Security Assertion Markup Language 2.0) and LTI (Learning Tools Interoperability), which identify learners accessing the course. FLOWSPARKS also provides an LMS that effectively distributes, administers, and tracks eLearning to measure performance.
FLOWSPARKS provides a whole range of services, and it is critical you understand what it offers before deciding on the eLearning authoring tool for your organization.
What Does FLOWSPARKS Offer?
FLOWSPARKS offers an Authoring Tool, an LMS, and Integrations.
1. FLOWSPARKS' Authoring Tool
FLOWSPARKS's authoring tool offers many predefined templates that make your courses highly interactive. These templates, also called 'Learning Formats', help organize content in the courses. They include:
THEBIGGERPICTURE
ONTHESPOT
FLASHCARDS
SMARTVIDEO
THEBIGGERPICTURE: Looking to introduce a new concept or create awareness about a topic? Then, 'THEBIGGERPICTURE' is the format to choose. The BIGGERPICTURE is all about creating awareness and providing background to new and complex concepts – by providing a short and concise helicopter view about the WHY, WHAT, and HOW of a topic.
THEBIGGERPICTURE starts with a short introduction stating the central message briefly and clearly. After this comes a video quote from different stakeholders on the importance of the topic. Facts and figures can be used to explain what the subject is all about.
And a self-scan with feedback helps create awareness on the relevance of the topic to learners' daily tasks. By the end of this learning format, the learner is aware of THEBIGGERPICTURE of the topic.
ONTHESPOT: ONTHESPOT is an innovative and powerful learning format that allows you to create, adapt, and distribute eLearning courses. Use it 'on the spot' to describe or depict real-world situations for your learners to assess. You can give learners unlimited time to assess the scenario and answer the questions. Or put them 'on the spot' by setting a time limit for them to answer.
The format starts with an introduction explaining the purpose of the activity. Scenarios are then presented with the help of text, images, or both. If you have put learners on the spot with a time limit, they need to respond before the time runs out. Feedback is displayed after each answer. After completing all situations, learners will be able to see how well they did, along with a summary of the key messages.
FLASHCARDS: FLASHCARDS can be used to provide employees important information they need to know by rote – safety instructions, product specifications, legislations, etc. FLASHCARDS are a predefined template that help you quickly create several multiple-choice questions on the topic. Learners' mission will be to defeat the cards by answering the questions correctly and quickly.
In case of an incorrect answer, the question goes back to the pile and appears later after the feedback is shown. This helps reinforce the learning.
SMARTVIDEO: SMARTVIDEO is used to develop interactive videos. Add interactivities like questions or additional pop ups in the video so that learners can get the insights from the video extensively and move forward in the course.
2. FLOWSPARKS' LMS
An LMS is a software application used to track, report, and deliver eLearning courses. FLOWSPARKS' LMS supports SCORM 1.2 for accessing eLearning courses in any available browser on any device.
It also supports SAML 2.0 and LTI that will prevent unknown users or learners from accessing courses. Instead of a password, learners are given a certification in the XML format with their name to access the course. This is available on any device and can be accessed from anywhere.
3. FLOWSPARKS' Integration
FLOWSPARKS provides an add-on flexible FLOWSPARKS-suite. This can be a perfect and customized fit for your organization's learning ecosystem – to create eLearning, provide access, share results, gain insights, and curate eLearning modules from several sources.
FLOWSPARKS supports all kinds of standard integrations such as SCORM and LTI. You can also easily integrate with HR systems, LMSs, Learning Experience Platforms (LXPs), the Learning Record Store (LRS), web shops, apps, and more, using its own API. Some common integrations include:
Microsoft Active Directory
Docebo LMS
Oracle HR system
That was all about the services provided by FLOWSPARKS. Shall we now look at the benefits of using FLOWSPARKS?
Advantages of FLOWSPARKS
1. FLOWSPARKS is a SaaS Solution (Software as a Service)
We can conveniently access all FLOWSPARKS' services from any device, at any time. We only need to log in to the platform to start working. Nothing needs to be installed. You may access the platform from anywhere, and only the most recent version will be available for you to work on.
2. FLOWSPARKS is Fully Responsive
All templates and courses will become fully responsive once they are added in FLOWSPARKS. That means the content would adjust itself and be compatible with any device, be it a laptop, an android device, or an IOS device, etc.
Wrapping Up!
FLOWSPARKS allows you to create eLearning quickly and easily. FLOWSPARKS is the way to go if you want a simple way to create an optimal digital learning experience. Its flat-rate pricing starts at $6000.00 per year. They do not provide a free trial period. Although it may take some time to become acquainted with the software and the various features it offers, the learning curve is relatively short due to its user-friendly interface.
Every company in today's economic environment has three basic goals: sell more, enhance operational efficiencies, and maintain compliance. eLearning has evolved as the most effective training medium to overcome the limits of traditional classroom training, with workforce dispersed all over the world. To unlock the power of eLearning, get our free eBook "eLearning to Achieve Business Goals."
This blog is co-authored by Nikhil Bhogaraju.