Why is Rapid eLearning the Right Choice in Corporate Training? [Infographic]
Have no doubts! Rapid eLearning is indeed the right choice in corporate training. Find out what makes rapid eLearning the right option in this infographic.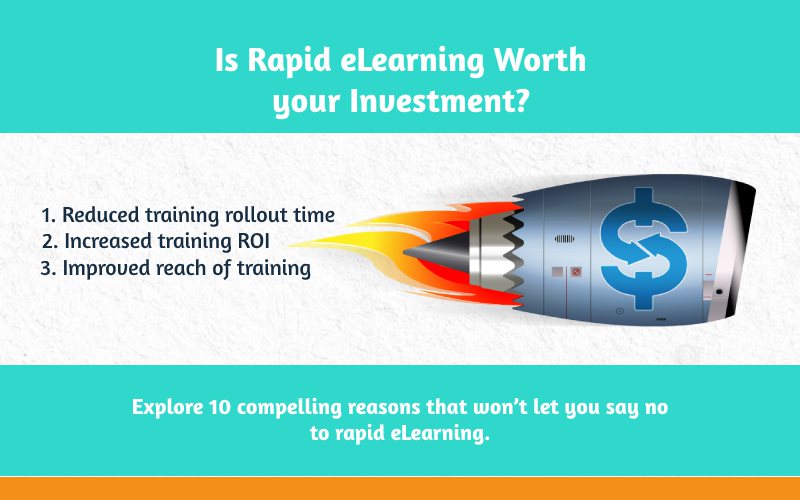 It's unnerving to think that something as tiny as the corona virus has snowballed into a pandemic that has brought the world economy to a standstill. Where does that leave corporate training? Can rapid eLearning help? Let's find out.
According to a report from McKinsey, roughly half of in-person programs through June 30th 2020 have been cancelled or postponed in North America. In Asia and Europe, it's closer to 100%. Workplace learning is among the hardest hit in these times of the coronavirus.
Explore our initiatives to help the L&D fraternity combat the impact of COVID-19.
Rapid eLearning has proved its worth when it comes to delivering training at the speed of need. The era of waiting for months to rollout an eLearning course is long gone, as rapid eLearning cuts down the time and cost involved in eLearning development. And it does this without compromising on learning effectiveness, making it a welcome addition to the corporate training framework of organizations.
Organizations looking to deliver MAXIMUM impact through training, within MINIMUM time can rely on rapid eLearning to do the needful. And in these challenging times of the coronavirus, when organizations are looking at quicker, cost-effective methods of training their remote workforce, rapid eLearning emerges as a top choice. To find out why rapid eLearning is the right choice in corporate training, check this infographic.


To find out how to quickly rollout rapid eLearning and begin reaping its benefits, go ahead and download our free eBook 'Rapid eLearning Design for Quick Rollout'.