Avoid These Common Mistakes to Succeed in Your Rapid eLearning Development!
Think your rapid eLearning projects are not as successful as expected? Want to boost the impact of your online training projects? Avoid the common mistakes discussed in the blog and you're good to go…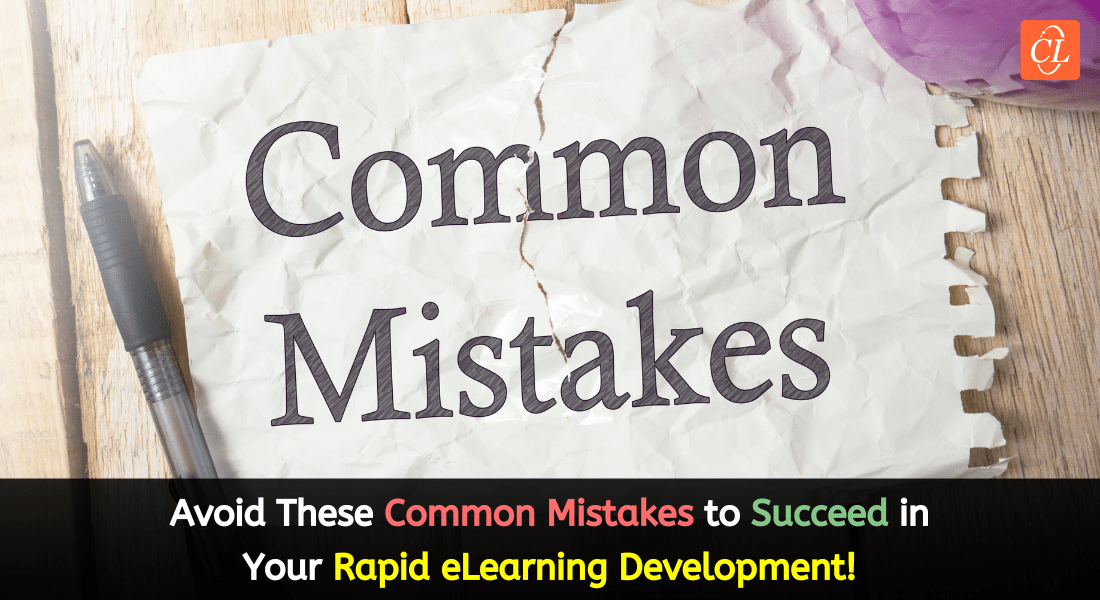 R
apid eLearning development for corporate training is becoming increasingly popular as businesses strive to keep up with the changing nature of the workplace. But in order to achieve success, it is essential to avoid potential mistakes and create an effective eLearning program for your organization.
When it comes to developing a rapid eLearning program for corporate training, there are a few common pitfalls to be aware of. Let us discuss some of the most common mistakes that organizations can make when it comes to rapid eLearning development:
Contemplating Rapid eLearning Development for Corporate Training?
Here are the common mistakes to avoid –
1. Not Leveraging Available Tools and Resources
2. Not Defining Clear Objectives and Outcomes
3. Not Considering the Learner Experience
4. Not Providing Adequate Support and Resources
5. Not Evaluating Success
Common Mistakes in Rapid eLearning Development (and how to Avoid Them)
1. Not leveraging existing tools and resources
One of the most common mistakes that corporates make when developing rapid eLearning programs is not taking advantage of the existing tools and resources. Rapid eLearning development requires the use of existing tools and resources such as content libraries, eLearning authoring tools, Learning Management Systems (LMS), and more. These resources have an unmissable impact on the final outcome. For instance, the use of rapid eLearning authoring tools can help in developing effective and impactful eLearning courses without high-level technical capabilities. They are also key in enhancing the quality of the content and also boost the learners' engagement.
Similarly, an LMS makes content delivery much easy. Organizations can host their online training and manage the entire learning experience through it.
2. Not defining clear objectives and outcomes
Another mistake organizations make with rapid eLearning development is not defining clear objectives and outcomes. Before beginning a rapid eLearning development project, it is important to define the goals of the program and establish specific objectives to measure the success of the program. Setting goals and objectives helps in setting the direction and tone to be followed throughout the course, and helps maintain consistency throughout the training material. At the same time, the practice also helps in improving the quality of learning, and helps identify and meet different learner preferences.
3. Not considering learner experience
It is essential to consider the learner experience (i.e., user experience) when creating a rapid eLearning program. This includes making sure the content is easy to understand, the navigation is simple to use, and the overall look and feel of the eLearning module is engaging enough to keep the learner hooked to the learning experience.
4. Not providing adequate support and resources
Another common mistake that corporates make when developing a rapid eLearning program is not providing adequate support and resources to their learners. However, it is important to provide all possible support resources so that the overall learning journey becomes more accessible to the learner. This includes providing access to a help desk, a chat assistant, or a customer service representative, offering technical assistance, and providing timely updates regarding the program.
5. Not evaluating success
Finally, it is important to evaluate the success of the rapid eLearning program. This can be done by tracking the progress of each learner, as well as tracking the overall performance of the program. The best way to do so is by using learning analytics. Using this data-driven approach, it is possible to track, monitor, measure, and document the learners' interaction with the online training module. This further helps the training managers or facilitators have a comprehensive outlook of what's working and what's not with the eLearning module. All this information can further be used to determine if the learning materials are appropriate or if the learners or the improvements that can be made to the course.
By avoiding these common mistakes, businesses can ensure that their rapid eLearning program is successful. Rapid eLearning development is an important part of corporate training, and with the right strategy, it can be a powerful tool to help businesses meet their training goals.
Parting Thoughts
In conclusion, rapid eLearning development can be referred to as a great approach to quickly deliver corporate training. However, it is important to ensure that the development process is managed carefully and that the right steps are taken to ensure the best possible outcomes. By following these steps, instructional designers and learning developers can ensure that their rapid eLearning development projects are successful and that the training they deliver is effective.
Want to know more about rapid eLearning design and development for a quick rollout? Here is an eBook to help you…