Fantastic 4 of Rapid eLearning: Ultimate Key to Corporate Training Success
Using the 4Rs rapid eLearning is here to revolutionize your corporate learning experience! Read on to know how...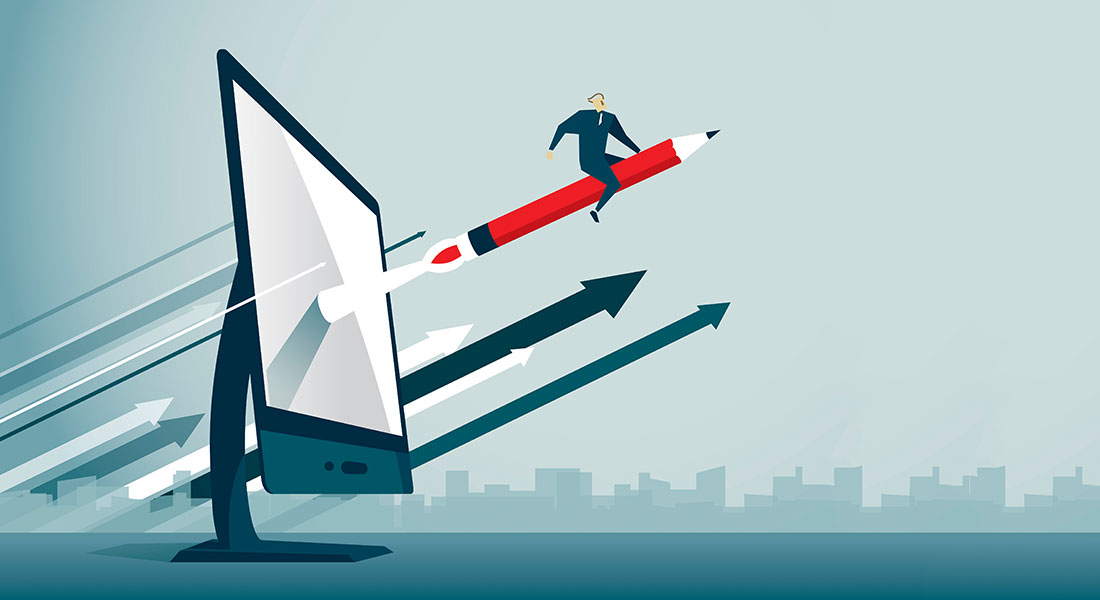 We live in a world where speed trumps all and determines success! The same applies to corporate training where organizations are under constant pressure to develop training materials at speed.... and from this very need emerges rapid eLearning development.Rapid eLearning is a design and development approach that offers training at scale and speed without compromising on the quality. The approach harnesses the power of existing resources and subject matter expertise.
Rapid eLearning and the 4Rs
Solutions to Accelerate Your Training Needs:
REDESIGN ILT to Online Learning
RECORD to Save SME Time
REBUILD as Microlearning
REPUBLISH for Mobile Compatibility
Whether it's converting classroom wisdom into digital brilliance, unleashing the potential of legacy courses on mobile platforms, or ensuring that knowledge transcends borders through seamless eLearning translations – Rapid eLearning stands as the ultimate solution to your diverse corporate training needs."
Benefits of Rapid eLearning
1. Speed Without Sacrifice: Custom eLearning projects can take months to design and develop, but rapid eLearning allows you to design, develop, and roll out courses in weeks – without sacrificing quality.
2. Performance-Centric Learning: Rapid eLearning courses are instructionally sound and built around performance-based learning objectives that align with business goals.
3. Efficiency Through Templates: Rapid eLearning uses existing content and templates, allowing for standardization and cutting down the time required for development.
4. Cost and Time Efficiency: A faster avatar of custom eLearning, rapid eLearning reduces both time and costs associated with development, ensuring a quicker return on investment.
5. SME Collaboration Optimization: With fewer SME touchpoints needed in design and development, SMEs can focus on their core responsibilities while still contributing to effective training.
Now that you know the benefits, you may be wondering how rapid eLearning achieves this and the secret lies in the 4Rs of rapid eLearning. The 4Rs - Redesign, Record, Rebuild, and Republish are the core strategic components of rapid eLearning that help meet each corporate training need.
Let's try to understand each of the component better -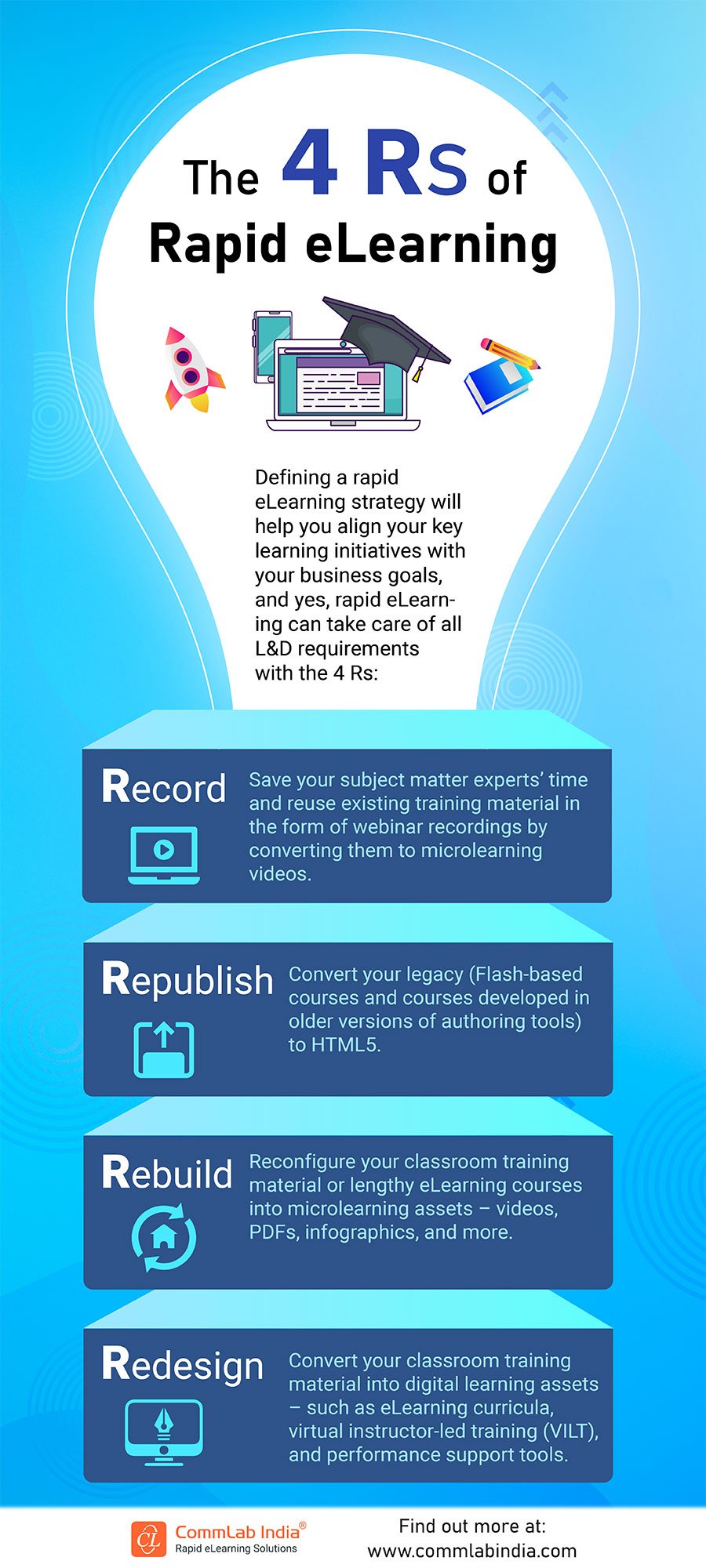 1. REDESIGN ILT to Online Learning
The redesign strategy of rapid eLearning can to used to convert the existing classroom training material into online training formats such as custom eLearning, video-based learning, etc.
2. RECORD to Save SME Time
Non availability of a subject matter expert (SME)! This is one of the biggest roadblocks to rapid eLearning development. It has to be understood that training and reviewing eLearning courses is not the SMEs' primary job nor can they spend a lot of time on it. However, SMEs are the experts in their domain, and this makes their contribution critical for high-impact eLearning! Rapid eLearning's "Record" strategy resolves this problem!
The Record strategy of rapid eLearning development will help you minimize SME touchpoints during the design and development of eLearning to rollout courses at the pace of need.
The 5-Step Process
SME creates a 'quick and dirty' PowerPoint deck
SME adds his voice to the 'quick and dirty' PPT using their smartphone.
The eLearning development partner enhances the deck by applying new-age designs and streamlines the narration script.
SME analyses the script and the slide deck
eLearning partner develops the learning skill.
3. REBUILD as Microlearning
The "Rebuild" strategy of rapid eLearning can be used to rebuild the learning material to something that is more engaging and relevant. For instance, the lengthy eLearning courses can be reconfigured as microlearning assets with the Rebuild strategy. Microlearning is a flexible learning strategy that can be utilized in a variety of ways to enhance individual and organizational performance.
Some examples of Microlearning Assets for Rebuilding eLearning Courses include:
Animations
eBooks
Quizzes
Videos
Digital Flashcards
Infographics
Mobile Apps
4. REPUBLISH for Mobile Compatibility
If your organization has been utilizing eLearning for a while, you may have faced an additional challenge (apart from the need for new training): a library of legacy courses that are incompatible with mobile devices.
They could have been developed with out-of-date software (such as Flash) or older versions of authoring tools. In terms of both content and instructional design, you may want to rework or refresh these courses.
Enter the Republish strategy!
You can revamp your legacy courses (mostly Flash to HTML) using modern-day rapid eLearning authoring tools to make them mobile-compatible and extend their utility.
Hidden opportunities when republishing legacy courses:
Update content and branding
Update interactivities, assessments
Make them translation-friendly
Reconfigure content as job-aids
To Sum Up!
Uninterrupted training is the need of the hour due to remote working. Organizations need to ensure employees adapt to changing processes, offer impeccable customer service, and more. Learner engagement and technical accuracy are important – be it eLearning, microlearning, or digital classrooms. And rapid eLearning can help you with all this. Explore rapid eLearning in detail and know the best practices for quick rollout in this eBook.
Download Now!