6 Essential Components of Problem-Centered Learning in Online Training
Problem-centered learning in eLearning prepares learners to solve principle-based tasks. Check the 6 components of effective problem-centered learning.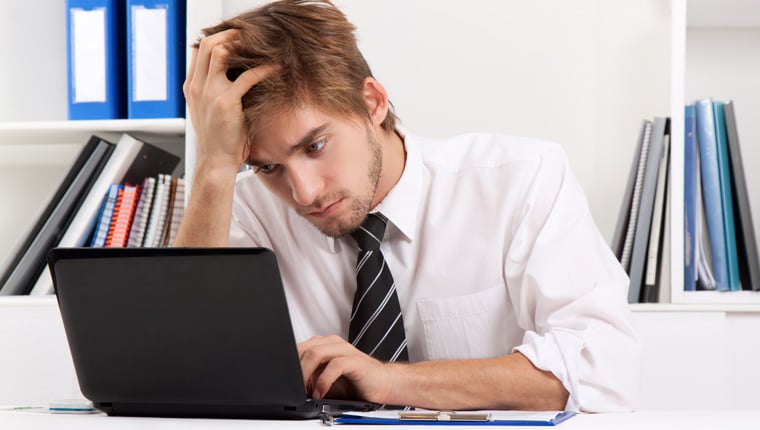 "Define and interpret the client's needs", reads one of the principles of a sales training program. However, to make a successful sale, sales reps have to adapt this guideline to each unique client situation. In an organization, tasks that rely on principles will not have a single correct approach. In such scenarios, you need learners to take appropriate decisions that match the situation. To prepare employees for such situations, we need an immersive learning experience that builds their ability to make correct judgements and take appropriate decisions based on the situation. This is what problem-centered learning (PCL), aka scenario-based learning does.
6 Essential Components of Problem-Centered Learning in an Online Environment
Trigger Event
Case Data
Case Resolution
Guidance
Feedback

Reflection
While traditional courses sometimes end with a case study, a problem-centered course starts with a real-world assignment or scenario, similar to what the learner will encounter at the workplace and help them try and experience the results of their actions in a safe environment.
Ruth Colvin Clark and Chopeta Lyons in their book Graphics for Learning discuss six essential components of a successful problem-centered eLearning course. For the design and development of an effective problem-centered eLearning course, let's have a look at them.
Components of Effective Problem-centered Learning in Online Training
1. Trigger Event
An ideal approach to start PCL or scenario-based approach is to begin with a task assignment that triggers the learner's curiosity and thinking process. A trigger event acts as a catalyst to the learning process and sets the stage for the rest of the course.
For example, let's take the case of personal protection equipment (PPE) training where new hires need to be trained on how and when to use safety equipment. Learners will be exposed to a virtual environment that resembles their actual workplace and asked to take decisions according to the challenge as to what's the right safety equipment.
As the learners find themselves in hazardous situations that can probably occur at their workplace, it will trigger their mind and make them proactive toward the learning process.
2. Case Data
Case data is about the background information that needs to be provided to the learner within a scenario. In other words, it is background data about the situation we have introduced to the learners. To define a case data for your eLearning course, you need to know the conditions under which learners will be working and the resources that will be available to them in their normal work environment.
Let's take the example of a virtual automotive shop as suggested by Clark and Lyons. Here, service technicians are expected to diagnose automotive failure using the test equipment provided to them. As the learner clicks on each piece of equipment, a simulation of a specific diagnostic test runs within the course. To define the case data for this example, one could consider the total number of test equipment that will be available to learners, equipment type, environment of the automotive shop floor, the automotive model learners mostly work on, and more.
Another example can be an online problem-centered learning course to train employees in a bank on how to proceed with a credit card application. Here the potential case data sources can be the client's credit report, monthly income, client references, and client interview.
3. Case Resolution
Case resolution refers to the actions a learner must take within the course to complete or solve the case scenario. To understand the case resolution for a problem-centered learning, we need to identify the job actions of respective learners and determine how to represent them in an eLearning environment.
For the credit card application scenario, a checkbox can be employed for learners to recommend sanctioning or rejecting the credit card. Here, the learner would be asked to make a recommendation to accept or reject the application. The learner's decision would be supported by a report that briefs the reasons for their recommendation.
4. Guidance
Guidance refers to the instructional resources and techniques used within a scenario-based eLearning environment to keep learners on the right track. In PCL, apart from providing learners a real-world work assignment, you can also empower them by providing access to additional resources on the subject matter. This can be in the form of links to PDF documents, email ids of subject matter experts (SMEs), or worksheets with answers to FAQs.
While developing a problem-centered learning environment, we need to consider how and at which stage of the training program learners need to get introduced to these additional guidance opportunities. For example, if the scenario is part of an eLearning program, additional resources such as PDF documents and email ids of SMEs can be offered at the end of the scenario. An instructor-led workshop section where the learners gain hands-on experience can be conducted once the learner completes the eLearning session.
Going back to the example of the credit card application, when learners are asked to make decisions on categorizing applications based on the available resources, you can also provide them additional links to banking principles. This information would support learners who struggle with decision-making and need additional data to progress within the course.
5. Feedback
According to Clark and Lyon, there are two paths to provide feedback in a PCL learning environment. First, if the eLearning course is followed by a classroom session, you can go for a traditional feedback method through an instructor, learner-learner evaluation, or expert comments through online forums. However, a more effective and immersive feedback mechanism is the intrinsic feedback within your eLearning course that allows learner to experience the consequences of their own decisions or actions and reflect on them (like an unhappy customer reaction when a sales reps isn't able to address their problem correctly).
6. Reflection
The goal of problem-centered learning is knowledge retention. Hence, provide your adult learners an opportunity to review their performance or actions and compare them to expert choices. For example, provide learners a summary of attempts performed by them to resolve a challenge as well as the time duration it took them. Now let the learner compare this summary with that of an expert in terms of the proficiency in action and the time taken. This provides a powerful opportunity for learners to reflect on their action and benchmark it with the top performers.
Tying it Together
Thus, a problem-centered or scenario-based learning makes sense when the ultimate goal of your training program is to upskill learners' critical thinking abilities required to solve problems in principle-based tasks. According to Gott and Lesgold (2000), PCL courses can enhance learner expertise by helping them gain skills in a compressed timeframe. Rather than taking weeks and months to build decision making skills, by working through a few simulation-based cases, learners quickly gain the required skills.
Are you looking for more proven eLearning design and development tips that can offer your learners an immersive learning experience? Check this eBook for more insights.