Video Creation and Editing Tools: 5 Popular Tools for Effective Corporate Training
Are you looking for the best video creation and editing tools for your business? Click here to see our recommendations and a buying guide.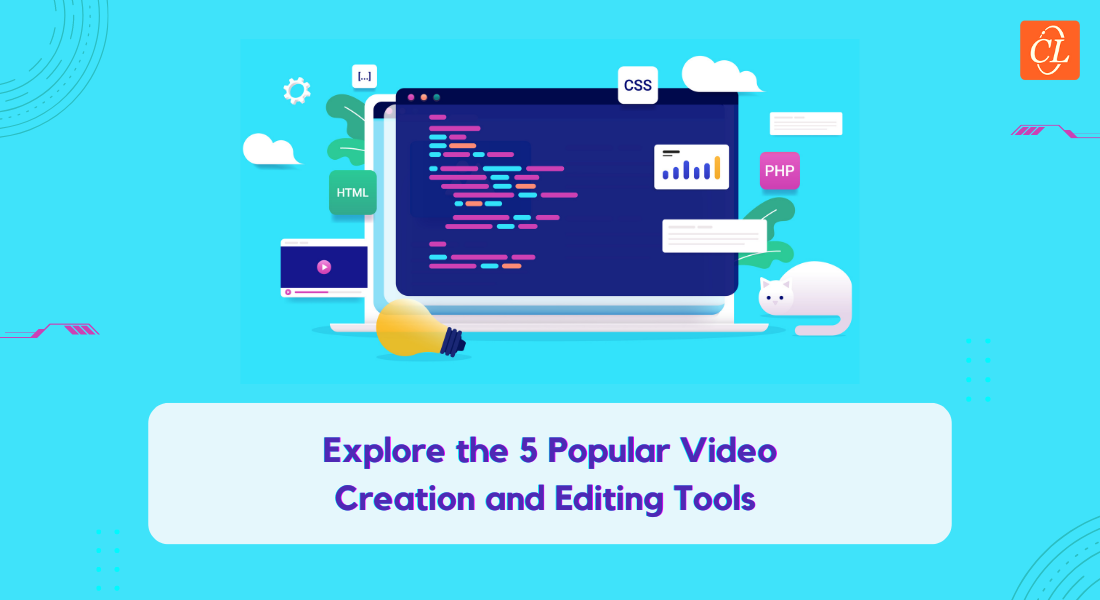 From YouTube to Instagram to LinkedIn, irrespective of the platform and its purpose, videos have become an indispensable part of conveying messages in a clear and appealing way. In today's digital time, videos cater to both visual and auditory learners and are therefore becoming an integral part of our lifestyle. To make the best of this untapped potential, organizations are readily incorporating video formats for various training and learning purposes. It facilitates the training objectives in terms of improved retention, better learner engagement, etc., which leads to better productivity, efficiency, and performance. All these elements contribute to the success and growth of the business. So, choosing the correct video creation and editing tools can help you achieve this goal.
Hey! Do You Create and Edit Videos?
Given below are 5 popular video creation and editing tools worth considering
Adobe Premiere Pro
HitFilm
CyberLink PowerDirector
Apple Final Cut Pro
OpenShot
Most experienced instructional designers and video editors have a list of preferences when choosing the best tools, that they have developed over the years. In our attempt to ensure that you know how to select the best option, we've written this blog and have also included a guide that will navigate you through different aspects that must be considered while choosing the video creation and editing tool. Why keep waiting? Let's begin.
Top Video Creation and Editing Tools to Consider
Virtual Instructor-led Training (VILT), microlearning, eLearning, blended learning, and other formats of training include videos as an important component of interactivity. Having a proper tool for creating a video and editing it can have a major impact on the effectiveness of your training, thereby influencing the engagement and participation rate of the learners. However, a notable challenge with finding suitable video editing tools is that there are just too many options available in the market as there has been extensive advancement in this field recently.
However, each software option has its pros and cons, and we have used these elements to shortlist our recommendations for the best tools.
1. Adobe Premiere Pro
Adobe is the leading graphic design and video editing software that sets an industry standard. If you're a beginner or a pro, it offers one of the most user-friendly options in the market, with various features and system support. It is compatible with Windows and Mac, and it recently introduced an AI tool, Adobe Sensei AI, which optimizes the editing experience. This can benefit your efforts to design the training course material as it automates the repeated process and furnishes the available data for better, customized results.
The product is also incredibly affordable given its widespread use, making it accessible for most businesses. Its only drawback is that it does not have Multicam or VR support, nor can it accommodate 360-degree video editing. Therefore, Adobe Premiere Pro is the best option for you unless you especially need the three features mentioned above.
2. HitFilm
HitFilm is one of the best video creation and editing tools for amateurs and professionals. It is compatible with Windows and Mac and offers a wide variety of some of the most advanced tools for video editing. It is generally a great software, with inbuilt presets, motion tracking, keying, etc.
It is also incredibly affordable and offers bundle discounts if you pay annually instead of monthly subscriptions. The only drawbacks of this software are the steep learning curve and powerful system requirements. Such a system is typically expensive, and it takes longer for someone new to learn the ins and outs of the tool. So, go for it if you have the time and money.
3. CyberLink PowerDirector
CyberLink PowerDirector is an excellent software if you will primarily be working on digital assets, i.e., creating content for social media. It has an extensive royalty-free music library, an intuitive interface, and is easy to use. It is compatible with Windows and Mac; however, its version for the latter does not have some of the features available for Windows users.
Nevertheless, it is an excellent tool, and you should consider it if your video editing work largely consists of the social media content.
4. Apple Final Cut Pro
The Apple Final Cut Pro, as the name implies, is a Mac-specific advanced video editing software. It offers a vast selection of tools and features to ensure editors have everything they need to produce the best quality material. This software is good enough for professionals and amateurs and was used for some of the top Hollywood movies. If you too intend to give your course material a filmy twist, or take up your storytelling skills a notch, Apple Final Cut Pro is worth a try!
It is undoubtedly the best video editor for Macs, and you should choose it if your work falls under its area of expertise.
5. OpenShot
OpenShot is a dream come true for video editors because it is incredible and open-source. It is compatible with Windows, Mac, and Linux and provides users with some of the most advanced features. It will help your training ventures by enabling you to create and deliver high-quality videos without much hassle.
It has a more straightforward interface compared to the other options on this list. However, there aren't as many tutorials for reference, so the editors usually rely on a trial-and-error approach to get the hang of most of its features. Even so, it is an impressive tool and you can definitely consider using it for your business.
A Guide to Choosing the Best Video Creation and Editing Tools
Each of the abovementioned options is an excellent product that can help you design attractive videos and animations to make your training as appealing and interactive as possible. With that said, each software has its own strengths and shortcomings. If you wish to know more about different elements that will help you in decision-making process to get suitable video creation and editing tools, this section is for you.
Given below are the factors that you should consider while deciding on the right video creation and editing software.
1. Assess Your Needs
Firstly, consider your needs. Will you be editing movies, premium shoot videos, or creating animated films? Or will you create smaller digital assets, training content, internal videos, etc.? These two are separate categories with different specifications, features, and competencies. And talking particularly about the training material, will you be creating short videos, long ones, or animations? It might seem something very simple, but not taking these components into consideration can lead you to a tool or software that might be the best-in-class but your requirements don't actually fall into that category. That's right! Buying a wrong tool will leave you with a product that cannot fulfill your requirements or has extra features you don't need. It is better to list your needs clearly and use them as a reference when looking for or reviewing software specifications.
2. User-Friendliness
Each video editing tool is unique and has a guideline to which you need to get accustomed before the workflow becomes smooth. The key is choosing software that is easy to use and has a manageable learning curve. It should include an interactive and easy-to-operate interface that can help you design effective eLearning courses. Getting something too complex will require you to spend days figuring things out, lowering your productivity.
Hence, check the free trials to see which of your shortlisted software is simpler to understand, learn and operate.
3. Budget
Video editing tools can be affordable and expensive, depending on your feature requirements and budget. The best solution is to work out the financials and decide the maximum you can spend on it. After that, review the options and check which ones match your criteria.
Remember that some companies mention monthly charges for subscription-based tools while others mention annual. Keep this detail in mind when deciding how budget-friendly your preferred options are.
4. Video Format Support and Multi-GPGPU Acceleration
Video format support is integral for operations if you will be editing videos recorded on phones, cameras, or drones. It is best to choose a software that offers this support because you may need this feature at some point, and it would be beneficial if it's available in the software you're comfortable using. Also, while creating videos, it is important that the training content videos are multi-device compatible. The employees can access the learning material from laptop, mobile phone, and even television. So, you should opt for software that contains features to support the above-mentioned formats.
5. Special Effects
Videos need transitions and special effects to create their intended impact, but not every software option offers them or is competent in fulfilling the requirement. You'll have check your 'need-board' and review the ones you need and which you can do without.
Try to get the best possible one within your budget because these elements, music, and similar factors will make your videos stand out.
6. Advanced Editing Options
Creating training videos and animations is not child's play. You'll need a tool to optimize designing operations without compromising quality. Your goal should be to seek an option that consists of features like fast rendering, Chroma key editing, efficient color correction, and more. The advanced editing options can be leveraged to modify the video content without having to create it from the scratch.
These features in advanced editing tools can make the video creation and editing process much more convenient and practical. It is also okay not to have all the advanced options since you will only need the ones most relevant to the nature of your work.
Wrapping Up
We understand that creating videos and editing them is not easy. It requires a perfect blend of expertise and the right tool to pave way for an interactive, engaging video. We hope you liked our recommendations for video creation and editing tools and will consider them when buying the products. If you wish to know more about eLearning tools and AI-based trends, we've done the work for you. Learn about the eLearning trends for 2023 and align the direction of your training with the goal to win. Register for our webinar today!