5 FAQs about Online Training Answered
Are you curious to know about online training? Find answers to a few frequently asked questions on online training in the post.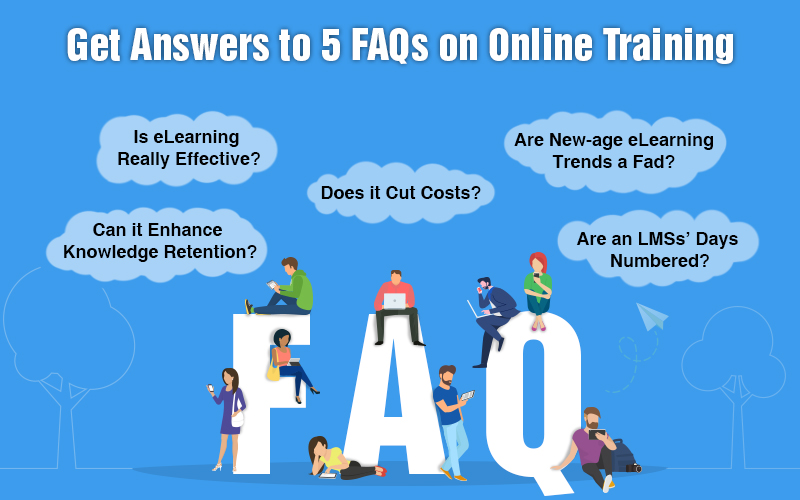 Are you of the opinion that one-on-one interaction with instructors makes learning most effective? That's perfectly understandable. Classroom sessions have long been part of workforce training and having reservations about online training is very natural. But aren't you even a tiny bit curious about this entire buzz about online training and eLearning in L&D? Why not get to know more about the what(s) and how(s) of eLearning so that you can dismiss your apprehensions once and for all?
5 FAQs on Online Training and their Answers
1. Is eLearning Really Effective or Simply an Attempt to Digitalize Training?
Go blended for the maximum advantage
2. Does Online Training Really Save Time and Money?
Yes, the saving's even more with rapid eLearning
3. How can eLearning Enhance Knowledge Retention?
With effective instructional strategies, microlearning, and spaced learning
4. Are LMSs' Days Numbered?
No, they are inventing themselves to stay relevant
5. Are New-age eLearning Trends a Necessity or a Fad?
Exercise caution when deciding if you really need them now
Here are few frequently asked questions about online training which hopefully will address your doubts and present a comprehensive picture.
5 Frequently Asked Questions about eLearning
1. Is eLearning Really Effective or Simply an Attempt to Digitalize Training?
Many people consider online training to be a useful solution in terms of scalability rather than effectiveness. Somehow it is ingrained in us that classroom training with instructors and face-to-face interactions is more effective, even if not very convenient. However, this idea that one training mode is inherently better than another may not be true. Effective learning has more to do with how you build the experience by using the assets you have than whether training is happening in a classroom or online.
According to Catherine Lombardozzi, "Learning theorists and researchers have come to understand that we don't so much 'teach' as we create an environment in which people can learn". Consequently, how effective the eLearning solution will be depends entirely on how good your instructional design strategy is in engaging learners and how aligned your course content is to the learning objectives.
An important point to note is that though online training very effective, in many situations it cannot replace Instructor-led Training (ILT). This is why blended learning solutions with both ILT and online learning in the mix often serve to ensure an effective learning experience.
2. Does Online Training Really Save Time and Money?
It's widely assumed that anything involving technology is inevitably expensive. Though this is a very relevant question within and outside L&D, the fact is, both the amount of time and money depend entirely on the duration of the course, its level of complexity, and the format used.
Videos and audio podcasts are easy to make, don't need much time to produce, and are relatively inexpensive. Game-based designs and simulations on the other hand, involve high level interactivities, take more time to develop, and cost more as well.
In the larger scheme of things, online learning actually is more cost effective than ILT, especially in businesses with a global presence. With online training, you can do away with recurring costs for the training venue, instructor fee, employee accommodation, traveling, and refresher training every few months. Moreover, you can opt for rapid eLearning solutions using authoring tools to save development time by up to 40%.
3. How can eLearning Enhance Knowledge Retention?
Post-training knowledge retention is one of the measures of training effectiveness. So, what is it about eLearning that lets learners beat the forgetting curve and helps retain knowledge? An effective and engaging online training program is a mix of the right instructional strategy – using bite-sized microlearning modules and providing spaced training over a period of time.
Effective Instructional Design Strategies ensure learners stay engaged throughout the course. The most popular strategies are storytelling, scenarios, guided learning, gamification, and game-based designs. Each strategy offers learners a unique experience that'll help them understand and retain the information they acquire.

Microlearning involves small and focused learning modules, each focusing on a single learning objective. The idea underlying this training methodology is that small information chunks are more easily retained than longer eLearning cou Microlearning modules provide specific focused information without beating around the bush. They also avoid the monotony of longer courses.
Spaced Learning offers training at regular intervals across a time period. Knowledge is more easily retained when it is served at intervals to learners with breaks in between, than overwhelming them with too much information at once.
4. Are LMSs' Days Numbered?
No, not at all! LMSs still are an important aspect of eLearning training programs. It's just that they are not the only players in the market now. An increasing number of management systems such as Learning Content Management Systems (LCMS) and Learning Record Stores (LRS) are being used by organizations with or without an LMS. According to the 2018 eLearning Guild report, two-thirds of their respondents used some form of social knowledge management and talent management platform alongside their LMS.
With the emergence of new eLearning technical standards such as xAPI and cmi5, it has become necessary for organizations to opt for LMSs with en-suite LRS or incorporate an external LRS to work along with the LMS. While these new management platforms include many different features, none of them offer tracking, analyzing, and reporting on the scale an LMS does. Moreover, LMSs too are evolving and offering in-built or plug-in options for most eLearning related operations.
5. Are New-age eLearning Trends a Necessity or a Fad?
L&D is abuzz with the 'new-age' eLearning trends – Artificial Intelligence, Machine Learning, Augmented Reality, Mixed Reality, and Virtual Reality. Agreed, these are very high-end technological solutions, but are they really relevant for your organization at the present time?
Whether AI or AR/VR, incorporating these trends in online learning is as complex as it is expensive. And very few of your organizational training needs actually need AI or AR/VR. They also need to be custom designed (needing more than just courseware developers' expertise) and can't be developed using rapid authoring tools.
Adobe Captivate is one among very few authoring tools which can develop courses with low level AR functionality. Artificial Intelligence needs large scale data mining to work and at present, is functional only in a limited capacity in adaptive engines.
While these new age learning trends can seem very pervasive in L&D, at present, most organizational training hasn't evolved enough to need them. Are you now ready to embark on the journey toward online training or do you need more insights on eLearning? Please refer to our eBook for more information.