3 Cost-effective Ways of Implementing an Online Learning Strategy
Let's look at how organizations can cost-effectively make the transition to online learning. Explore 3 budget-friendly options to start online learning.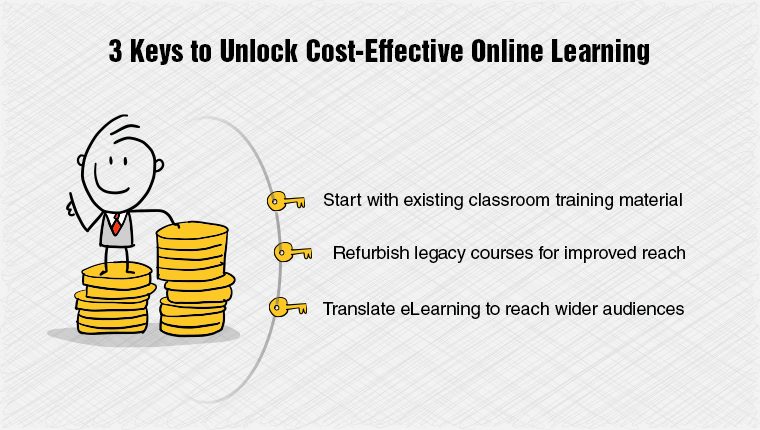 Corporate organizations all around the world have been increasingly turning to online learning to improve employee performance and drive business performance. However, there are still a significant number that are yet to realize the full potential of online learning solutions in addressing various training challenges. There are many reasons for this, one of the biggest being the lack of adequate training budgets to implement a full-fledged online learning strategy.
3 Budget-friendly Online Learning Solutions
Convert existing ILT material into eLearning
Refurbish legacy courses for new-age learners
Use rapid authoring tools for cost-effective translations
When organizations do manage to make the jump to online learning, some of them end up spending way too much than is needed due to lack of knowledge as to what eLearning development actually entails. In this blog, we will look at how companies can easily make the transition from their existing training paradigm to online learning without having to spend too much on money or resources.
3 Budget-friendly Online Learning Solutions for Your Organization
1. Convert Existing ILT Material into Online Learning
If you are planning on introducing online learning to your learners, use the existing material that is available as part of your classroom/instructor-led training. Any manuals, classroom recordings, paper-based assessments, PowerPoint presentations are all good source materials for the eLearning courses.
A common misconception on converting ILT to online learning is that it simply involves adding narration to the PPT deck and you're done! However, converting ILT to eLearning involves much more than that. It needs:
Appropriate instructional design strategies: An instructor in the classroom automatically adds an emotional and interactive element to the learning process, engaging learners. This doesn't happen in online learning, where the learner has to interact with the content itself in the absence of the instructor. Online courses can be made understandable and engaging even in the absence of an instructor by applying good instructional design strategies and principles appropriate for the content.
Note that there is no one-size-fits all instructional strategy in eLearning. If you are outsourcing the conversion process, then the learning and design experts at the vendor's end will devise an appropriate instructional strategy for the content, one that is rightly aligned with the learning objectives of the training and also the audience or learners the training is aimed at.
Engagement & Interactivities: Classroom-based material per se lacks interactivities, as all the engagement and interactivities are provided by the instructor. Adding narration to PPT slides and calling it eLearning does not do much in terms of engagement or interactivity.
Interactivities in online learning offer learners fun and engaging ways to interact with the course, and also boost knowledge retention. This can be done by means of using real-life scenarios with thought-provoking questions, simulations, stories, drag-and-drop interactions, which aim to increase the learner's understanding of the course content.
2. Refurbish Legacy Courses for New-Age Learners
Organizations that have been using e-learning to train their workforce have a different type of problem. They have a lot of old courses (with still relevant content) developed with Adobe Flash and other software tools that are now obsolete. Such legacy courses can be repurposed to accommodate the modern-day learning needs. Why do you need to refurbish these courses, you may ask? Here are three reasons:
First of all, if cutting down development costs is the goal, eLearning development from scratch can be a long and costly affair.
Flash-based courses are not mobile-compatible and this can be a serious deterrent for the modern learner who prefers to learn on the go on their smart devices.
Some old courses might be low on learner engagement and text-heavy.
To rebuild courses created using outdated software such as Adobe Flash: Using rapid authoring tools, Flash-based legacy courses can be repurposed into HTML5-based eLearning which can run on any device, regardless of screen size or dimensions.
To republish courses using a newer version of the software: The source files of online learning courses developed using older versions of an authoring tool can be used to create new courses and made HTML5-ready using the newer version of the same tool.
To redesign courses created using legacy software: Courses need to be redesigned when source files are missing, but raw assets (such as pictures/images, vector graphics, audio/video) are in good shape and usable. These assets can be used to redesign the course in terms of new instructional approach, reconfiguration to microlearning, and more.
With some rapid authoring tools, such as Articulate Storyline, it is possible to recreate Flash-like animations and interactivities with minimum effort to make courses rich and engaging. Not only this, online learning courses can be quickly created using the ready-to-use templates and functional interactivities such as click-on-tabs, drag and drop, media tours, FAQs, etc., that can be customized if needed.
3. Use Rapid Authoring Tools for Cost-effective Translations
When a global organization decides to shift to eLearning, the question of translations pops up as they would want to offer consistent training to learners regardless of where they are located or what language they speak/learn in. A report by Common Sense Advisory predicts that by the year 2027, enterprises will need to translate content into 62 languages in order to reach their learners.
Translating classroom-based training material and disseminating it to a globally dispersed workforce is a complicated process that involves a lot of time and money.
E-learning translations, on the other hand, are a completely different matter. Thanks to the new rapid authoring tools and technologies, it's much easier to meet the demands of your global learners with eLearning translations.
Many eLearning vendors use rapid authoring tools which have translation capabilities inbuilt in the software. This can be extremely useful for companies looking to outsource their eLearning development and translations into multiple languages; because they do not have to look for another vendor to carry out their translation requirements.
Concluding Remarks
For most organizations, implementing eLearning is a big challenge as it involves careful investment and consideration. However, the trick is to realize that they are already sitting on a gold mine (existing training material) that can be leveraged to create new online learning courses.
Once this is out of the way, the next step is to identify a good vendor to partner with, one who will understand your business requirements and most importantly, makes the most of the existing content to devise a cost-friendly eLearning solution. To help you get started, here's a great resource on how to select the right vendor for your outsourcing project.