How to Upskill Your Workforce Through Mobile Learning
Corporate work environment is immensely dynamic and to keep up with the competition, your workforce needs to get upskilled every now and then. Explore how mobile learning can efficiently accelerate the process of upskilling.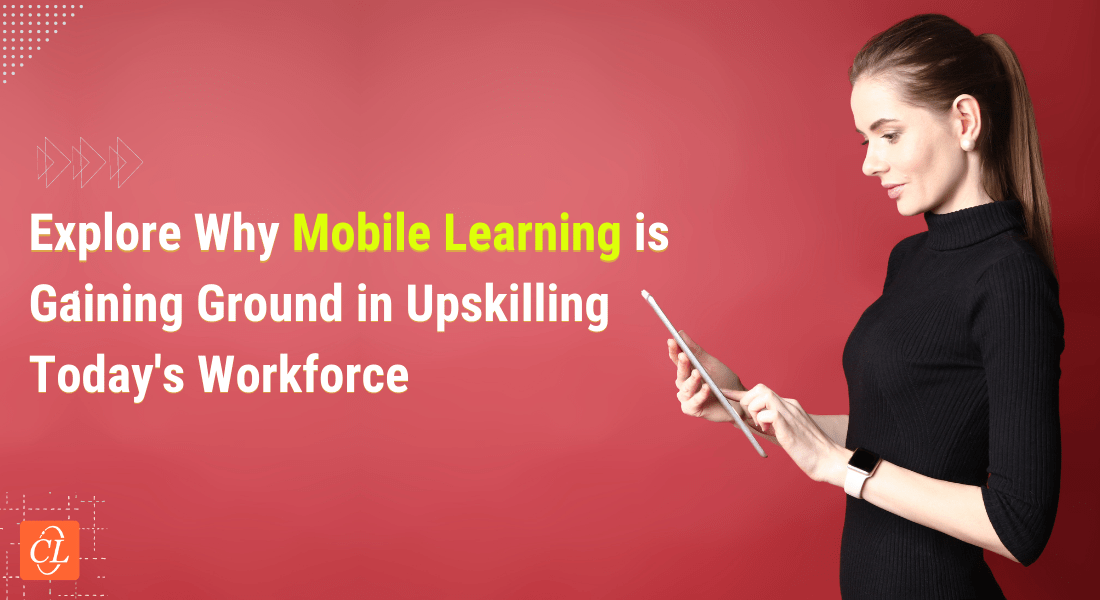 In today's world, upskilling corporate employees is essential to keep up with the ever-evolving technological landscape. Mobile learning is an effective way to do this as it allows employees to learn new skills and knowledge on their own time, from anywhere. With mobile learning, companies can provide their employees with the latest training materials and courses that are relevant to their job roles. This makes it easier for them to stay up-to-date with the latest trends and technologies in their respective industries.
Finding Convenient Ways to Upskill Your Workforce? Try Mobile Learning!
Here are a few things to keep in mind:
Design microlearning courses
Promote social learning
Utilize modern learning strategies
Read on to explore the best practices for its successful implementation.
How to Upskill Your Workforce Through Mobile Learning
1. Design Microlearning Courses
There is a very common mispractice where conventional eLearning courses are made accessible on mobile devices in the name of mobile learning, but that's not really how things are supposed to work. Mobiles have a short battery life and mobile internet is relatively slow as compared to broadband, so microlearning courses are to be preferred for mobile learning for maximized engagement and productivity. Microlearning courses allow your employees to access their training without disturbing their busy work schedule because they are short and provide only the relevant information.
When these tiny chunks of information are accessible on mobiles, it makes learning more flexible and enhances knowledge retention for learners. These microlearning courses can work as beginner courses or for employees who wish to upgrade their knowledge and get upskilled. They can also provide just-in-time knowledge about a certain topic within minutes. For example, a sales employee is not able to access the training resources due to a technical issue, so a microlearning video demonstrating the solution to that particular problem can be a lifesaver.
2. Promote Social Learning
It's always fun when you get the opportunity to learn alongside your colleagues and help each other understand various concepts better and get upskilled. Promoting social learning within the organization can help build a learning culture and change the mentality of employees toward learning and development. From conducting VILT sessions to using social media platforms, there are various ways to facilitate social learning effectively, and mobile learning adds extensively to their productivity. Almost every individual spends a lot of time with their mobiles, and the opportunity to initiate collaborative activities enhances, making the process more flexible and seamless.
Apart from direct social learning opportunities, various assets, courses, or external learning resources can be shared with each other through social media platforms as well to facilitate informal learning. In case of any doubt, the same platforms enable users to either discuss it among other peers in the organization or the people using the platform globally if public access is enabled. Users can post their content on these platforms or even live-stream either publicly or privately and get relevant reviews/feedback about their work.
3. Utilize Modern Learning Strategies
When modern learners are the ones on the receiving end, conventional learning strategies might fail to engage them. To enhance their engagement and make their training fun and exciting, modern learning strategies such as gamification, scenario-based learning, simulations, and game-based learning are to be preferred. These learning strategies help the learners get immersed in their training and retain most of their knowledge. Each learning strategy has its own unique use cases and limitations, and creating a perfect blend of these strategies can be one of the best ways to upskill the modern workforce in the most efficient way possible.
For example, gamification works best when it comes to assessments and enhancing engagement and motivation. Scenario-based learning is the most helpful strategy when employees are required to understand various real-life scenarios thoroughly. Similarly, simulations provide a more practical approach to training by offering an opportunity to work in a sandbox environment and learn to perform their tasks without risk and perfect their skills by attempting them in real-time. Game-based learning provides a competitive environment to the users and helps them enhance their soft skills such as critical thinking, decision-making, and hand-eye coordination.
Some Impactful Tips to Implement Mobile Learning Successfully
Mobile learning is becoming an increasingly popular form of corporate training. With its convenience and flexibility, it provides employees with the opportunity to learn on the go. By leveraging mobile learning for upskilling and reskilling corporate employees, companies can ensure that they have a well-trained workforce that is capable of staying ahead of the competition in an ever-changing business environment. However, for mobile learning to be successful, organizations need to create an effective strategy that takes into account their specific needs and goals. Here are some tips and best practices to implement to ensure the best results through mobile learning –
Cut short your content and use only the main "need to know" information to design mLearning courses to ensure the reusability of your content for instant support.
Keep the design of your infographics, videos, animations, images, or other multimedia assets as simple as possible while not losing out on their quality. You can use various AI tools available on the internet to create these assets if authoring tools aren't your catch.
Opt for truly responsive design instead of adaptive or mobile-first design. This will help you save a lot of time and effort because now you don't have to design a course for mobile and laptop separately.
Use the online review feature provided by your authoring tools suite or external tools such as Review My eLearning and zipBoard to ensure seamless feedback from all the stakeholders.
Prefer using a mobile app to provide offline access to learning resources as there can be situations where internet access might not be so seamless. For example, places such as military headquarters have jammers placed to block external signals or various remote locations do not have access to high-speed internet.
Parting Thoughts!
Mobile devices are truly the game changers in every industry and corporate training is no different. To get the best out of your mobile learning strategy, you can use the latest AI technologies and social media platforms to create and access your training resources. It is extremely hard to imagine our lives without mobile phones at this point, and things are only getting more interesting. In short, there are countless reasons to invest in mobile learning and if you are still confused about its implementation, we can help you out. Access our free eBook to understand how you can implement mobile learning in your organization hassle-free.