6 Noteworthy Benefits of Modern LMS for Seamless Corporate-Training
Learning Management System is a software that helps companies in managing their eLearning content properly and improvise employee performance. LMS has various significant benefits and 6 such benefits are discussed here.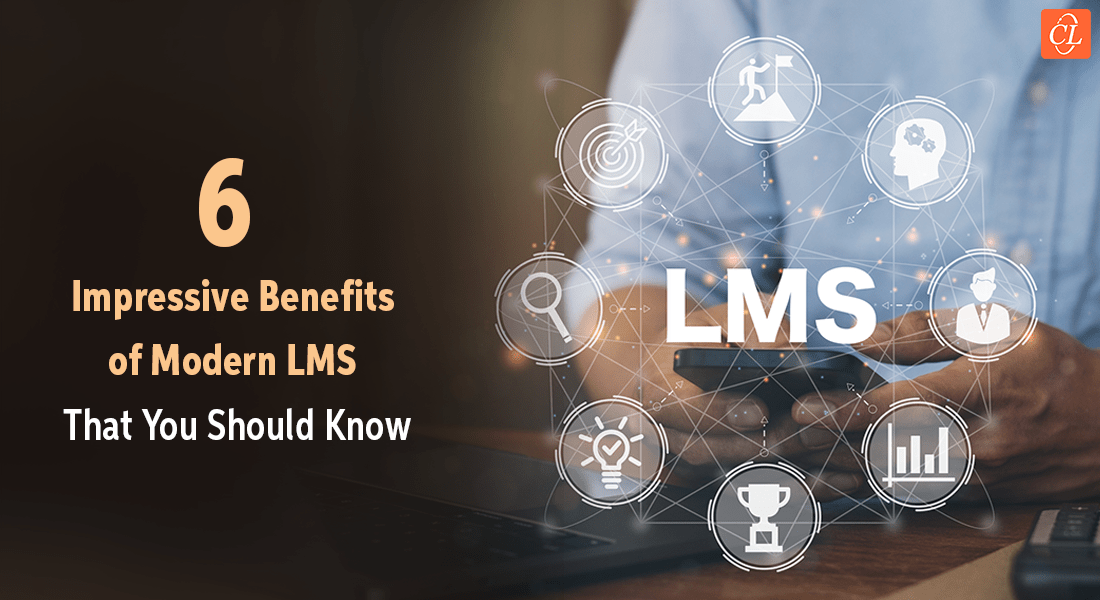 Every type of content needs a platform or a system to be built and managed, LMS (Learning Management System) is a platform for creating and managing eLearning courses or modules. A basic LMS structure consists of 2 elements, a user interface that can be operated by learners, administrators, or instructors, and a server whose job is to perform the general backend functionalities like data storage and record maintenance.
A learning management system is basically a large repository that lets the user store and track data and information in a single place. The primary use of an LMS is for the management of databases such as courses, records, and credentials but specific use cases might vary significantly from one organization to another. A learning management system can be deployed through various options such as cloud-based, desktop applications, self-hosted, or even mobile applications. There are various benefits of a modern LMS and here I have discussed 6 of such important benefits.
Are You Confused Whether LMS is Beneficial for Seamless Corporate Training?
Here are a few benefits of LMS to note down.
Organizes eLearning courses
Provides lifetime access to eLearning content
Tracks learner progress and performances effectively
Read on to understand a few more benefits of an LMS in detail.
6 Noteworthy Benefits of a Modern LMS
1. Organizes eLearning Courses
This is more like a need, rather than to be mentioned as a feature but the accuracy and accessibility can vary from one LMS to another. It's always a good practice to host all your eLearning courses under a single platform in an organized manner to have easy access whenever you want. There are different courses to be delivered to different departments in an organization and it would be a hassle if all the courses are stored and accessible on different platforms.
The LMS solves this issue pretty efficiently as it segregates the different courses and keeps them from getting mixed or lost. If the type of LMS is cloud-based, every team member will have access to all the required information because the data will be stored on a remote server, thus making things easier for online collaborations among different departments.
2. Provides Lifetime Access to eLearning Content
When you publish your eLearning course materials on the LMS, your audience gets unlimited access to the information they require. Even individuals who are not in front of their desktops can access the eLearning platform via their smartphones and tablets, allowing them to build skills and perfect work-related activities without having to wait until their next online training session. Apart from the responsive nature of the LMS, content can also be downloaded and accessed offline. This is one of the primary reasons why an LMS is required for worldwide audiences in various time zones.
3. Renders User-Friendly Interface
Unlike old interfaces that were visually unappealing, modern age LMS focuses on providing a user-friendly interface that improves the eLearning experience. All the required options are easy to access and navigate through. Due to these LMS being responsive, they facilitate basic smartphone features such as swipe, double click zoom in/out, etc. If the UI/UX (User Interface or Experience) of a platform is friendly, it keeps the learners engaged, and motivates them to take up more courses. When the employees are interested in getting upskilled on a regular basis, it will eventually boost their performance, increasing the overall training ROI for organizations.
4. Tracks Learner Progress and Performances Effectively
Learning Management System helps you to track a learner's progress efficiently by verifying their performances throughout the course. For example, consider a specific department from an organization has introduced a new scenario-based course, that most of the employees successfully completed, but some couldn't. An effective LMS will track their weak points and provide the necessary resources to improve their performance. Any modern LMS has built-in features and analytics to generate advanced reports that will give detailed statistics of your course, like what parts need an overall improvisation and what part it excels at.
5. Reduces Learning and Development Cost and Time
Developing and hosting so many courses for different departments is a really troublesome task for organizations. Anything they can use to save time and money is always welcomed from their side. Modern LMS works really well with different authoring tools to create high-quality, engaging, and efficient courses, that save a lot of fortune for them. As an LMS focuses on online learning, it saves a lot of money that would have got used up for physical classroom preparations.
Modern LMS are full of different features that broaden their use cases to new limits. Learners can click on any specific module they wish to learn, skipping the entire hour-long courses. They are also provided with certain assessment features such as quizzes and exams or even take part in interactive simulations.
6. Updates eLearning Courses Conveniently
The courses you would have developed 2 years ago, might not stay totally relevant in today's time, hence modern LMS allows you to update them whenever you want, as per the latest trends and advancements you desire. You simply have to update the existing course, instead of starting the course development from scratch. The changes will show up to the learners when they login to the course, so the managers don't have to send them updated courses separately every time a course is modified.
A Few Other Benefits That Can't be Overlooked
Course and catalog management
Support services
Certifications
Social learning capabilities
Gamification
Automation
Localization
Artificial intelligence (AI)
Parting Thoughts!
A new-age LMS can be really beneficial in a variety of ways and your choice of LMS can directly impact your company's productivity. Choosing the right LMS is not the end of the story. Administration of the LMS is an indispensable factor you can't go away with. Wondering how to get it right? Access this free webinar recording to walk away with the perfect recipe for successful LMS administration.