It's Time to Bust the Myths and Build a Learning Organization!
Is the concept of learning organizations and culture a myth? Well, that's debatable. Let me throw some light on how organizations can actually foster a culture of learning.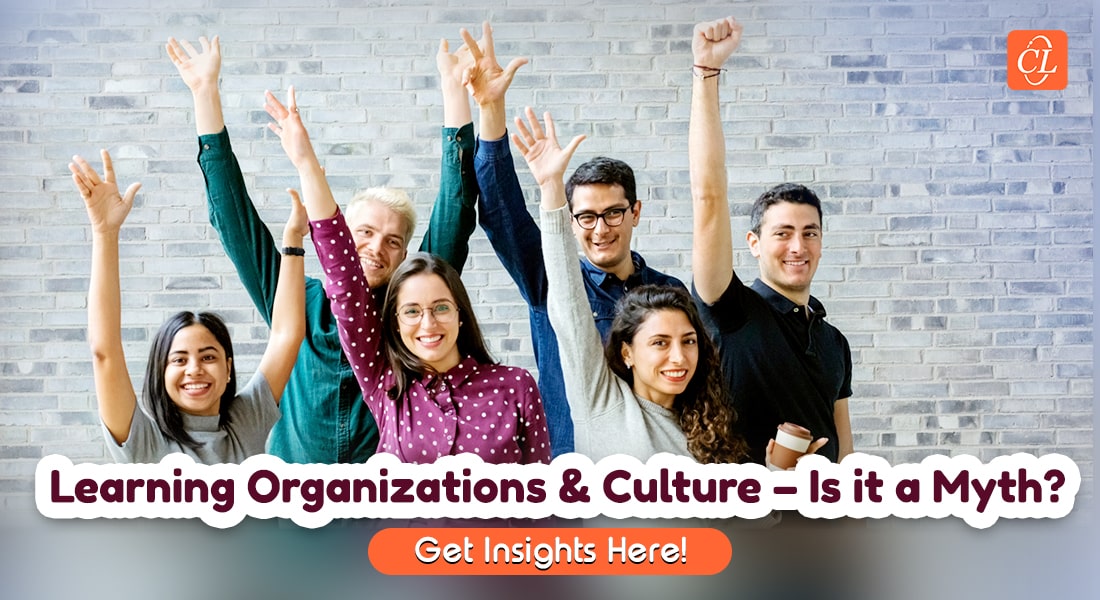 Learning Culture in organizations as a subject had everyone in L&D (called T&D) up in a frenzy when Peter Singe, a professor at MIT published a book, The Fifth Discipline: The Art and Practice of the Learning Organization, in 1990. Peter presents 5 disciplines that he claims will foster three core learning capabilities of learning – kindling desire, engaging in reflective conversations, and abilities to comprehend complexity. The five disciplines according to him are personal mastery, mental models, building a shared vision, team learning, and system thinking which integrates the other four.
He goes on to list 7 learning disabilities which are an individuals' mindset that retard their learning ability and concludes with 11 laws of the Fifth Discipline which are essentially rules to learn better.
Are You Looking Forward to Foster a Learning Culture in Your Organization?
Here are 5 disciplines that can lead the way:
Personal Mastery
Mental Models
Building a Shared Vision
Team Learning
System Thinking
Read on to explore more…
Learning Organization and Culture: What's the Buzz All About?
I was a young training manager in large agrochemicals company in India when everyone was talking about Learning Organization and Culture. I managed to get hold of a copy and went through it. I confess I hardly understood a word of it at that time. Fortunately, there was no social media or webinars and for that matter, proper websites, so the topic died a natural death. When I read again the book many years later, I found that the concepts, though always in existence in various fields of management and leadership, were brought together rather creatively into an attractive mental model. Organizations have been practicing these concepts for quite some time but not in a holistic manner.
The Concept of Shared Value and Shared Vision to Build a Culture of Learning
I read about "shared values" in the McKinsey's 7-S framework of effective management which was published in 1970s! Shared Values are the foundation of a Shared Vision. Without shared values there can be no shared vision. Organizations across the world talk a lot about shared values and vision. But I greatly doubt if their employees can even recite them from memory, much less demonstrate their understanding and acceptance. Without a shared vision that is understood, accepted, and practiced by the whole organization, the very first piece will be missing, where is the learning organization or culture that it is supposed to foster? Peter was quite emphatic that all five elements are needed to bring into exitance a learning organization and it is easy to agree with him.
I can go on in the same vein about the other four. I am not trying to criticize or dilute what organizations are doing on these fronts – systems thinking, mental models, team learning and personal mastery. I am only objectively reporting my observations during the last 3 decades, working within and without organizations worldwide.
There is lot of work our customer-companies do every year on all the 5 elements of Learning Organizations. But I did not come across even one that work all these areas with an objective of building a learning organization or culture. They are practiced more in isolation and for different objectives like maximizing the top and bottom lines. To increase sales revenues, decrease costs, optimize resources and processes, and develop certain skills are the goals of systems thinking, learning new way of doing things, group learning and so on.
The Way Ahead to a Continual Learning Journey…
When the individual's learning is delinked and misaligned with that of the organization, I don't think the real learning culture will ever come into being. Learning being a continual process flourishes when acquired from multiple sources. There is no doubt that learning augments when we indulge in collaborative learning. LearnFlux is one such event.
LearnFlux is a 3-day virtual learning event for L&D pros, powered by L&D pros. It is the one-stop shop to increase the impact of your corporate training initiatives. You will get to listen to proven solutions from L&D practitioners of top global organizations, and network with peers across industries.
LearnFlux sessions cover a board range of topics – from aligning training with business goals to measuring the impact of training, and everything in between. And sessions include fireside chats, panel discussion, mini workshops, and more.