LearnFlux: A Must-Attend Event for L&D Professionals
The L&D industry is ever-changing! Some changes might come as a happy surprise while others can be a total shock. But don't worry! You can be prepared for anything that comes your way by attending our exclusive LearnFlux event. Stay tuned for more!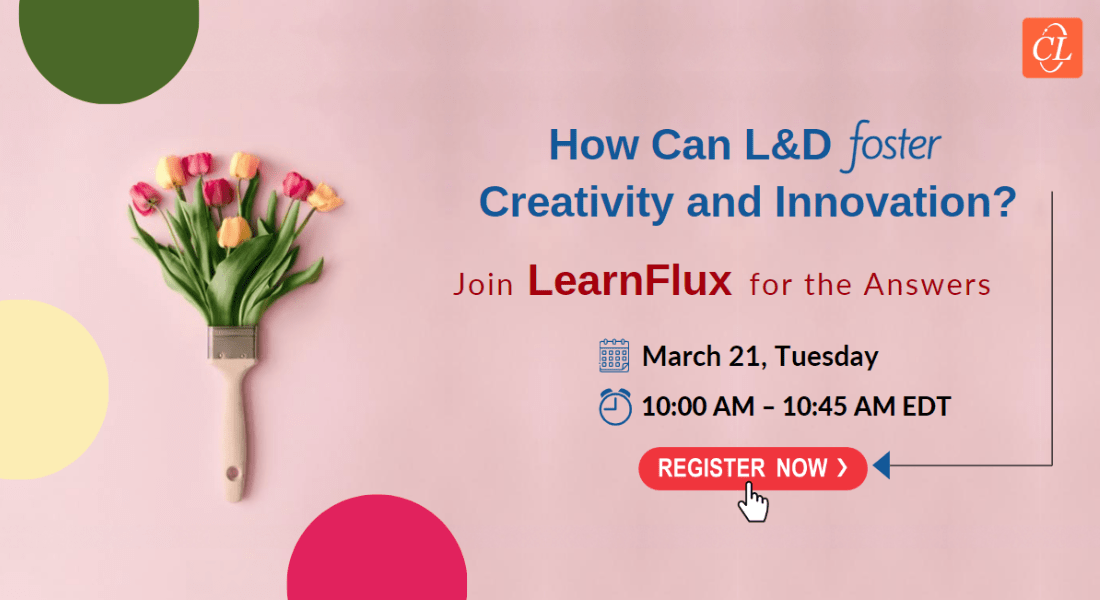 As an L&D professional, you know that staying up-to-date with the latest trends and emerging technologies is essential for delivering effective training and development programs. That's why you can't afford to miss Learnflux – the virtual learning hub designed for eLearning Champions. Our upcoming 3-day event will cover a wide range of topics that are essential for L&D professionals looking to elevate their eLearning strategy.
Curious About What To Expect From LearnFlux?
Here's a sneak peek into the topics:
Why is 2023 the Right Time to be in L&D?
Game design
Digitalization
Artificial Intelligence (AI) and Machine Learning
I know you're curious to dig a little deeper into what these topics might be. Well, the list is pretty long. From aligning your business and learning goals to gamifying your eLearning to best sales practices, there's a lot waiting for you. But for simplicity's sake, I've tried to explain only a few topics here.
Are you excited?
4 of the Many Topics To Be Covered Under the Umbrella of LearnFlux
Why is 2023 the Right Time to be in L&D?
The session will explore the current trends and future opportunities in the L&D industry, and why 2023 is an excellent time to be in this field. LearnFlux will cover the impact of emerging technologies, changing learner needs, and new approaches to learning and development. You will gain insights into the skills and competencies that will be in demand in the future, and how you can prepare yourself for the changing landscape of L&D.
Game Design
Most of us love playing games! But have you ever thought of designing one? And more than that, have you considered leveraging gamification for training and learning purposes? Well, this exciting topic will be covered in our LearnFlux event. The idea of using game mechanics and elements in learning and development is gaining popularity, and we will explore the benefits and potential of game design in L&D. Furthermore, we will also walk you through the basics of game design, the types of games that can be used for learning, and the design principles that make them effective. So are you ready to gain insights into how game design can make learning more engaging, fun, and effective? Register today!
Digitalization
It is another critical topic that will be covered in one of the LearnFlux sessions. The session will explore how digital technologies are transforming the L&D industry, and how organizations can leverage these technologies to enhance their learning programs. You will also get to learn more about topics such as digital learning platforms, eLearning authoring tools, mobile learning, and virtual and augmented reality. To ensure a holistic understanding of the topic, our LearnFlux session will talk about the benefits and challenges of digitalization in L&D and how you can integrate digital technologies into your learning programs.
Artificial Intelligence (AI) and Machine Learning
AI and Machine Learning is a rapidly growing field that has the potential to transform many industries, including L&D. It is essential to understand their applications and how to incorporate them into your training programs. The good news is that these key areas will be explored in the event to help you enhance the effectiveness and efficiency of your training programs. So what are you waiting for? Register for LearnFlux now!
Clearly, these topics are relevant and timely for the L&D industry. Our LearnFlux event will provide you with valuable insights and knowledge to help you stay up-to-date with the latest trends and practices in the field. With that said, there are many more other topics that are waiting to be discussed in detail.
So have you booked your spot for LearnFlux? If not, then do it now!!
WAIT!
There's more.
With its interactive elements including workshops, panel discussions, book reviews, and fireside chats, LearnFlux is sure to provide you with a dynamic and engaging learning experience. So whether you're a beginner or an experienced professional, LearnFlux has something to offer to help you reach your full potential in the field of eLearning.
Wrapping It Up!
Be a part of our upcoming 3-day event from 21st March to 23rd March and discover the latest strategies, best practices, emerging technologies, and much more to augment your skills and knowledge. It will definitely help you elevate your eLearning strategy and ensure individual and organizational success. So register now and take your training and development programs to the next level with Learnflux. See you soon!