Insider's Guide for L&D Pros to Building a High-Performing Hybrid Employee Learning Strategy [eBook]
L&D professionals… did you know - a robust hybrid workforce learning strategy helps ensure that your employees are prepared to take on their roles and responsibilities efficiently. But what to include in the strategy? Read on to find out…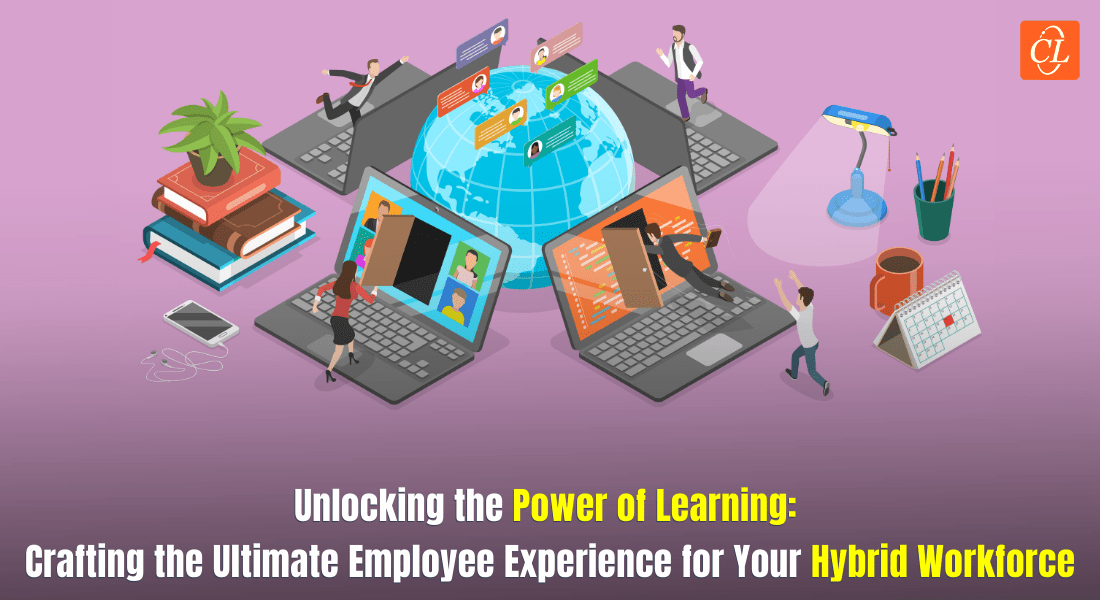 With the rapid evolution of remote and hybrid workforces, learning and development (L&D) professionals are finding themselves in uncharted territories when it comes to creating an effective employee learning strategy.
It has become important for L&D professionals to buck up and develop high-level strategies that help master hybrid employee learning. In this article, I will provide you with a high-level overview of essential strategies for successful learning in a hybrid workforce. From leveraging technology to developing best practices and the use of eLearning, find out what you need to know to build a winning employee learning strategy today!
Want to Build An Effective Employee Learning Experience for your Hybrid Workforce?
Following these high-level strategies can help you –
Identify Skill Gaps to Develop Learning Objectives
Decide on how you Wish to Deliver the Learning
Access Existing Technology Ecosystem
Make Sure that Your Employees Practice the Learning
Adopt Agile Processes for Learning Design and Development
High-Level Learning and Development Strategies for Hybrid Workforce
When it comes to developing a high-performing hybrid workforce learning strategy, there are a few key things to keep in mind. Let us discuss them in detail –
Identify Skill Gaps to Develop Learning Objectives
First, it's important to think about the overall objectives you want to achieve with your training program. What specific skills and knowledge do you want your employees to gain? In order to identify these skill gaps, you will have to work closely with your teams, identify the gaps in the business' performance, and then see how employee training can help fill the gaps. Once you have a clear understanding of your learning goals, you can start to develop a plan for how best to achieve them.
Decide on how you Wish to Deliver the Learning
One important consideration is whether or not you want to include online learning as part of your learning and development (L&D) strategy. If you have decided that you don't want to offer complete eLearning for your corporate training, then you may choose to go for blended learning. You will have to consider your course, learner preferences, and the learning objectives and determine how you will deliver the training content to employees – will it be through an eLearning course, video conferencing, or another format? Whatever your choice may be, you will have to select a proper learning management system (LMS) to host and manage the eLearning content. There are a number of different platforms and providers to choose from. It's important to select one that offers high-quality content and is easy for employees to use.
Access Existing Technology Ecosystem
As an L&D professional, accessing the available technology ecosystem is yet another important consideration you will have to make. Now that you have identified the existing skill and knowledge gaps and have gained some understanding of how to deliver the learning, you will have to analyze your existing technology ecosystem and see what you need. You will have to access the stage of technology against the eLearning strategies you wish to apply, and also the future of your organization's goals and aspirations.
Ensure That Your Employees Practice the Learning
Another critical part of any hybrid employee learning strategy is ensuring that employees have the opportunity to practice what they've learned. This can be achieved through simulations, case studies, or other hands-on activities. It's also important to provide feedback and coaching so that employees can continue to improve their skills.
Adopt Agile Processes for Learning Design and Development
The traditional learning models and frameworks cannot keep up with the pace of today's businesses, let alone the future of work. Considering this, it is essential for L&D teams to adopt advanced ways of developing and delivering learning content.
Learning teams need to take some inspiration from software development world, leave behind the static, linear and inflexible processes such as the ADDIE, and adopt ways to deliver projects that are flexible and agile. For example, moving to cloud-based content authoring allows multiple authors to collaborate in real-time, responding to business and learner demands as they change.
For this, they need to adopt agile processes such as rapid eLearning design and development.
Parting Thoughts
As the hybrid workplace becomes more prevalent, it's important for learning and development professionals to understand how to build a high-performing hybrid workforce eLearning strategy. By understanding the needs of both remote and on-site employees, L&D pros can create a strategy that meets the needs of all learners.
Here are some parting thoughts on building a high-performing hybrid workforce eLearning strategy:
1. Understand the needs of both remote and on-site employees.
2. Create a curriculum that is relevant to both groups of employees.
3. Use technology to your advantage. There are many great tools available to help you deliver effective eLearning content to your hybrid workforce.
4. Don't forget about Soft Skills training! Many hybrid workplace challenges stem from communication and collaboration issues. Be sure to include Soft Skills training in your eLearning strategy.
By following these tips, you can create a successful hybrid workforce eLearning strategy that will help your company meet its business goals. Want to learn more about the state of learning and what you need to stay ahead of competition in 2023? This eBook can help you with it.