Instructional Design Strategies: Guided Learning vs Scenario-based Learning — When to Pick What?
Instructional strategies are the foundation of effective eLearning courses. Choosing the right instructional strategy needs thoughtful actions. Read this blog to steer clear of your doubts about choosing between guided learning and scenario-based learning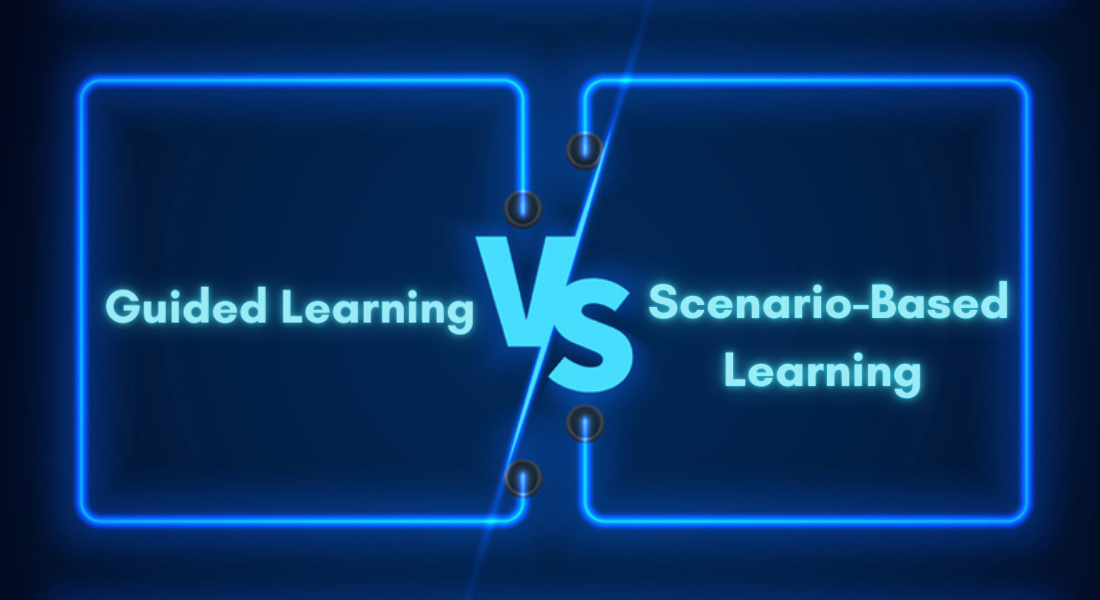 Are you worried about learner engagement in your eLearning? Do you wish to offer immersive learning experiences to your learners? Well, instructional design strategies are the cornerstones of effective eLearning. With modern instructional strategies, you can now design learner-centric eLearning courses that drive engagement, ensure retention, and boost employee performance. However, it might be tricky when it comes to choosing among the many strategies available while designing an eLearning course. Well, it all depends on the content, your learners, their learning environment, and your training goals. In this blog, I will take you through the nuances of two popular instructional strategies — guided learning and scenario-based learning along with their use cases.
Guided Learning vs Scenario-Based Learning — When to Use What?
Guided Learning :
Helps learners get acquainted with new products and processes
It is for subjects that need a mentor or peer to enhance knowledge transfer
Can be used for sales, software, and process training
Scenario-based learning:
When you want your learners to analyze a scenario and make decisions
When you want to impart high-risk task training
Ideal for Compliance, code of conduct, and critical-thinking tasks training
What is Guided Learning?
Guided learning is a type of instructional strategy that uses learning agents such as characters or avatars to guide learners through an eLearning course. These avatars can be characters or personified animated objects. They can also be people who are a figure of authority with specific roles and designations learners can resonate with such as a mentor, a senior sales or operations manager, or a subject matter expert. The essential elements involved in guided learning that facilitate the delivery of content are characters with audio narration and the setting that entails location, time, and background narrative.
Guided learning can be used:
To help new hires find their way through the new processes and new tasks that they are supposed to take up.
Where learners might have questions or doubts about the content delivered.
Where learners need to have a personal connection with a figure of authority and need reassurance from them on their learning.
For subjects that require a mentor or peer to enhance knowledge transfer.
Guided learning provides the necessary handholding to the learners throughout the course. The characters or avatars guide learners through the course allowing them to make their own decisions. Let's see a few use cases of guided learning.

Use Cases of Guided Learning
1. Sales Training
Guided learning can be used to train your sales team on new product features and benefits. It can also be used to explain the new features added to the existing products that improve functionality. You can also take your newly hired sales reps on a tour to introduce your existing offerings and get them acquainted with your bestselling products. They might learn better when they are guided by an avatar of their senior sales manager. Using guided learning you can also train your sales team on how to handle specific customer objections and resolve their queries.
2. Software Training
Automation and digitalization are revolutionizing the business world. Organizations are embracing new tools and technologies to stay current and to win a competitive advantage in this dynamic business scenario. Mere adopting technological advances doesn't serve the purpose. It's important for you to train your employees on the new tools and technologies for seamless business operations. Guided learning can be an effective strategy for software training. You can introduce the new software or tool, explain its functionality and benefits, and take them through the entire process.
3. Process Training
The world is evolving at a fast pace and so are the tastes and preferences of people. Mergers and acquisitions are becoming common, and it induces a change in the internal organizational structure. External forces like regulatory policies too undergo frequent changes. These factors force businesses to make changes in their modes of operation. New processes are laid out to stay at par and improve the functioning of a business. The changes in the work model brought about by the Covid-19 pandemic have also led to many changes in processes. Guided learning is a wonderful way to acclimatize your learners to the new processes and address their queries.
What is Scenario-Based Learning?
Scenario-based learning is one of the most popular instructional strategies that can offer an immersive learning experience to your learners. It depicts real-life work scenarios and allows learners to think through the situations and make decisions. This strategy builds the critical thinking abilities of learners and hones their problem-solving and decision-making skills and facilitates learners to apply the knowledge gained to their day-to-day job tasks.
When you build scenarios, you should be careful about mirroring real-life work challenges. The context of the scenario plays a critical role and hence it is important to choose the characters, setting and issues to be depicted carefully.
The elements involved in scenario-based learning are:
A storyline
The characters
Questions with enough choices to nudge learners to think about all possible options and make decisions
Detailed feedback to explain why the learner is right or wrong
Wondering where to use scenario-based learning? Well, you can use it when you want your learners to:
Analyze the scenario and decide on the best course of action
Apply rules, policies, best practices, and guidelines at work
Be prepared for the unprecedented business challenges that might crop up
Sounds interesting right? Well, now that you are acquainted with the intricacies of this instructional strategy, let's see where you can apply it in your corporate training.

Use Cases of Scenario-Based Learning
1. Critical Thinking Skills Training
Scenario-based learning is apt for situations when there are multiple ways to solve a problem and not just a single correct solution and it is difficult to provide real-life practice. There are situations at work that require deeper understanding and analysis to adapt guidelines to diverse scenarios. You need to impart critical thinking skills training to your employees to equip them for such situations. For instance, in the case of equipment troubleshooting, there can't be a single possible way to resolve the issue. In such cases, branching scenarios can help learners evaluate the situation at hand and take the correct action.
Scenario-based learning is also a good approach for high-risk task training, where there is high risk involved in practicing the task in the field. When it comes to performing surgery or flying an airplane, it is dangerous to practice in real-life situations, at least initially. Scenarios can help learners think critically and apply their learning in a risk-free simulated environment without the fear of serious consequences (if the learner fails to respond correctly).
2. Compliance Training
Undoubtedly, compliance training is a dry subject. It is too boring for the learners to go through lengthy eLearning courses with text-heavy slides and learn about the rules, regulations, and company policies. You might expect them to doze off. Worry not as scenario-based learning can help you enliven your compliance training. Rather than explaining the rules and regulations to be followed at work, you can build scenarios to help learners interpret and apply the applicable rules and guidelines to their day-to-day work. This method fosters involvement and helps in better learning and retention.
3. Code of Conduct Training
When it comes to the code of conduct at the workplace, employees learn better by analyzing situations and making decisions. Say, for example, when it comes to information security or safety training, a scenario-based eLearning course can work wonders. What better than creating situations that your learners usually face in their daily work routine, helping them analyze the situations, and prompt them to decide if there has been a breach of the rule or policy, and take appropriate actions?
Watch this video to know the best practices for scenario-based learning.
It's a Wrap!
Well, the ball is now in your court! Remember that guided learning is better when you want to handhold your learners through the learning and want to inform them about the subject, be it a product or process, or the best way to do something. However, scenarios are good to nudge your learners to think and apply their learning in their day-to-day work. Hope the blog has helped you with insights for choosing the right instructional strategy for your eLearning courses.
If you are keen to learn more about the other instructional design strategies that can help you design engaging learner-centric eLearning courses, get your hands on this eBook. Grab your copy now!