7 Creative Ideas to Celebrate a Spooky Halloween in Your Workplace
Halloween is one of the craziest festivals where people do various spooky decorations and dress up as different characters to enjoy the festival. This blog enlightens you with 7 creative ideas to make the most out of Halloween in your workplace.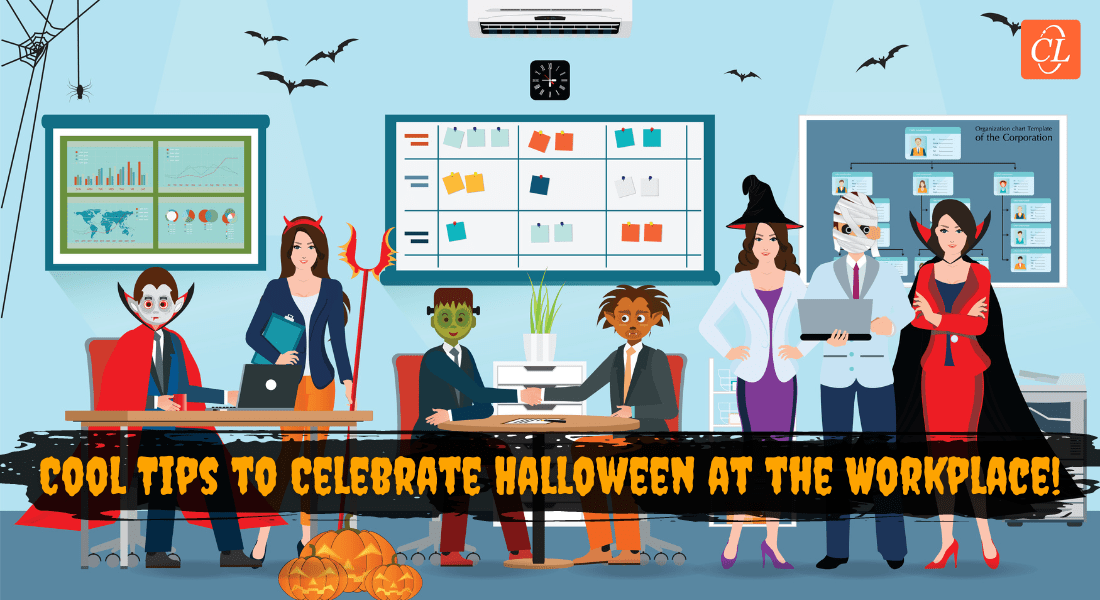 Halloween is celebrated in a lot of countries on the 31st of October every year, and people dress up as spooky characters and kids go around their neighborhoods playing trick-or-treat. Apart from the celebrations in a locality, corporates can also enjoy Halloween celebrations with the help of some creative activities in their respective workplaces. It will help the employees showcase their creativity and enjoy themselves together eventually strengthening their relationships. This way, introverted employees will also be able to interact with their colleagues and have fun.
Are You Trying to Figure Out How to Enjoy Halloween in Your Workplace?
Try some of these creative ideas to enjoy the festival:
Dress up in spooky costumes
Host a creative trick-or-treat event in the office
Engage employees in multiple fun games
Read on to explore more of such unique ideas to celebrate Halloween with your employees.
7 Creative Ideas to Celebrate a Spooky Halloween in the Workplace
1. Dress up in spooky costumes
Every employee can get dressed up in a spooky costume or it can also be a get-up of their favorite superhero, anime character, or something creative they can think of while following the basic norms of the workplace. The top 3 best-dressed employees will receive a gift that will motivate the employees to actually try something for the occasion and not just sport some accessories and call it a day. The judges of the contest can be the department heads or employees can just vote their top 3 where they won't be allowed to include their own names.
2. Decorate the office cubicles and the corresponding hallways
Simplistic yet creative decorations can turn your office into a spooky place. Classic decorations like spider webs on the corners of each cubicle, caution tapes on the entrances of every cubicle, dry ice spread around the office that looks like fog, and accessories like pumpkins or ghost dolls on the office desks are always effective to give you the Halloween vibes. Along with these, a few other unique and creative decorations can also make the cut if your boss approves the budget. Decorating the office together will make the employees work with each other and enhance their ability to work in a team.
3. Provide some custom-designed dishes as breakfast
To increase participation, employees can be provided free fast food and maybe a dessert. Simply providing a free breakfast will do the needful but it won't give you the feels, so you can decorate the dishes with sauces or creams. For example, providing a donut with some haunted eyes drawn on them with vanilla cream or cupcakes with unique spooky faces on top will just make it more creative and fun. The main objective is to provide free food on the occasion, so that they participate in the celebrations, creating overall harmony within the organizations and positively affecting employee retention.
4. Host a creative trick-or-treat event in the office
This one's pretty exciting! Employees can be divided into different teams, and each team has to make the most sales of their custom candies (they don't have to be actual candies, but just a representation of candy with unique customizations). Now, one by one, each team will try to convince the other teams to buy their candies, and the team that sold the most candies or generated the maximum sales, will win the contest, and an actual packet of candies or some other merchandise such as coffee mugs or bags can be rewarded to the winning team as a prize. This will help the employees understand the basic concepts of making a sale in this exciting informal sales training activity.
5. Engage employees in multiple fun games
When all the employees are done with their dress-up contest, they can be engaged in fun games. Engaging employees with the help of games is a well-known strategy in the field of eLearning and corporate training known as game-based learning, but after all, they are games so the primary objective of engaging the masses is fulfilled through them. You can either include the old school party games such as musical chairs, hot potato, or a simple guessing game. These games will help the employees enjoy themselves together and break the ice of formal awkwardness for the newly hired employees.
6. Include time-based challenges to incite a competitive environment
After everything related to fun and games, some employees might still be looking for a competitive environment. To make sure they get to enjoy it as well, you can include some time-based challenges like wrapping up a skeleton doll as a mummy or decorating a desk on a Halloween-based theme. When employees are involved in such challenging tasks, it helps them enhance their time management skills along with their problem-solving and critical thinking abilities. These soft skills are important for an employee and boosting these skills through fun and exciting challenges will help the employees' individual growth.
7. Finalize a voluntary committee for managing all the creative activities
Instead of only the management team organizing the event, other employees can also be given a choice to volunteer in organizing the event as the head of managing a specific activity. While managing a task on their own, they will get to develop their leadership qualities and management skills. In a corporate environment, it's always a good add-on if the employees have considerable leadership qualities. Managing these activities can help them hone their skills and serve as a practical application of their theoretical leadership training.
Wrapping Up!
Celebrating a festival as exciting as Halloween can help the employees break the ice among each other and enjoy the event together. A Halloween event can include a lot of activities that can help the employees to take a day off their busy schedule yet learn something useful in a fun and exciting way. One exciting way to make the employees learn while enjoying an event can be pulled off with the help of a role-playing game that might be similar to the trick-or-treat game we discussed in the blog.
Through this game, every employee will have to play a character and be involved in multiple scenarios. Apart from the game, this is also one of the modern concepts of training called scenario-based learning where employees get to learn things with the help of real-life work scenarios. Here's a free webinar recording if you wish to know more about the potential of scenario-based learning to facilitate corporate training.