Stay Ahead of Your Competition with These Insightful eLearning Trends 2023
Years pass. Trends Change. But the success of a business rests on years of effective corporate training. To help you continue the streak of providing top-notch, impactful training for the year 2023, here's a blog that talks about top 4 eLearning trends.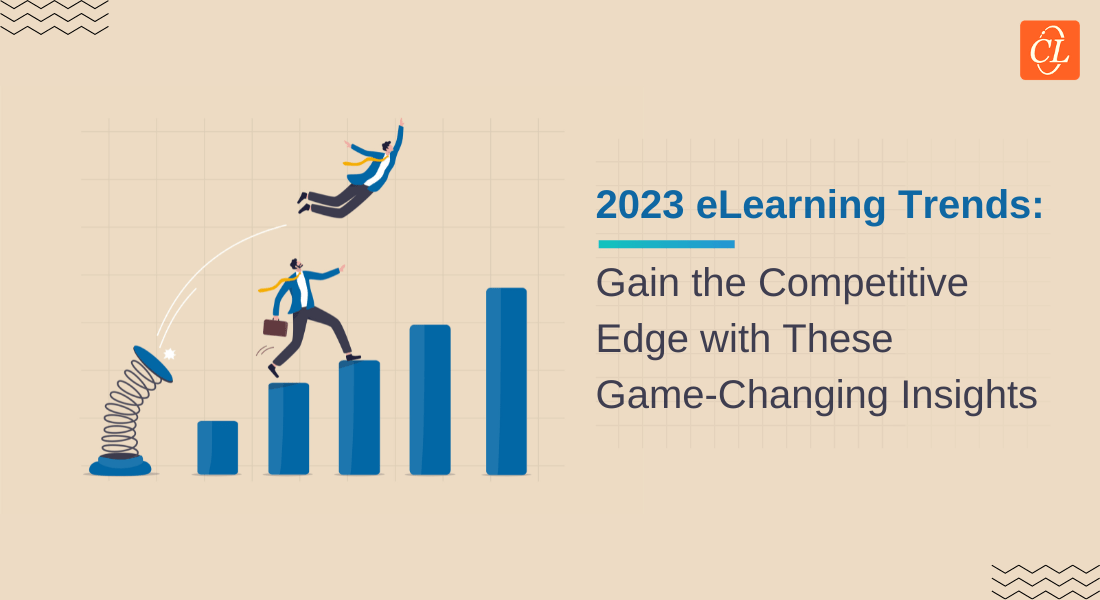 As the seasons come and go, the world of eLearning continues to bloom with new and innovative ideas. The winds of change are blowing, and it's clear that the future of corporate training is digital. Like the first buds of spring, the latest eLearning trends are bursting forth, painting the landscape with new possibilities.
From the rise of AI-powered tools to the integration of L&D professionals in more strategic roles, eLearning is in full bloom. So come, let's wander through this verdant garden of training and explore the exciting and insightful world of eLearning trends.
Upscale Your Corporate Training with the Latest eLearning Trends of 2023
Here's the list of aspects to keep an eye on:
Role of L&D
Training formats
Emerging technology
Training investment
Excited? Me too!
Let's begin!
Top 4 eLearning Trends Creating a Buzz for the Year 2023
Role of L&D
The role of L&D professionals is increasingly becoming vital for the success of corporate training programs. If you're wondering how? It's because their role is shifting from simply being training facilitators to becoming strategic partners in the organization. L&D professionals are now seen as key players in driving business outcomes and ensuring that the organization's workforce is equipped with the necessary skills and knowledge to meet the demands of a rapidly changing world.
Therefore, it is essential that the L&D pros must have a deep understanding of the business, the industry, and the current and future skills needs of the organization. With that said, they also need to focus on collaborating with various departments, understanding their needs, and developing a comprehensive training strategy that aligns with the organization's goals. This requires them to have a strong understanding of analytics, training ROI, and data-driven decision-making. Well, now you know which direction to head!
Training Formats
Corporate training is an important investment for companies, as it helps employees develop the skills and knowledge they need to succeed in their roles. Effective training formats vary from traditional classroom training to gamification and Virtual Instructor-led Training (VILT). But it is crucial for you to choose the right training format to meet your employees' specific learning needs, while also keeping in mind their learning preferences. By adopting the relevant training formats, you can create a comprehensive and engaging learning experience that ensures employee growth, development, and productivity. Moreover, it contributes to the success of your business.
Emerging Technology
Technology has definitely changed the world for good! There's no second-guessing about that. And not knowing about an emerging technology or not being able to leverage these innovative tools properly puts you behind in the race of competition. So this eLearning trend brings your attention to these tools and technology that augment productivity and efficiency to ensure desired, high-quality results. They enable you to create a more effective and immersive training experience for your employees, making it easier for them to acquire and retain new skills and knowledge.
Some of the popular emerging technology includes Artificial Intelligence (AI), Virtual Reality (VR), gamification, image editing tools, video development tools, and more. Then what are you waiting for? Leverage the power of emerging technology and say goodbye to hectic, time-consuming, cost-heavy options.
Training Investment
Have you ever wondered if there's any secret to making corporate training truly successful? Well, it's all about making the right investment. From Learning Management Systems (LMS) to Learning Experience Platform (LXP) to social learning, there are plenty of training investments that can add the extra spark to your employee training programs. Think of it like a secret sauce – a little bit of this, a dash of that, and voila! You have a recipe for training material that is not only effective but also engaging and enjoyable for employees. So go ahead and invest in the tools that will make your corporate training truly sizzle!
Wrapping It Up!
As we look ahead to the remaining months of 2023, the trends in eLearning continue to evolve and shape the way we train, learn, and grow. These eLearning trends are sure to provide air to your corporate training wings so that your business can soar. From selecting the right training formats to making relevant training investments to revisiting the role of L&D, these trends are definitely making a buzz. So, it's an exciting time to be a part of this rapidly growing industry and to see the positive impact it has on individuals and organizations alike. With the ever-changing demands of the world, eLearning will continue to play a critical role in helping us adapt, grow, and succeed. Check out this informative eBook to know more about the state of learning in 2023.