Top 5 eBooks on eLearning You Should Read this Christmas
With many eBooks published on eLearning and the amount of time you have to spend this holiday season, here are the top 5 eBooks on eLearning you must read!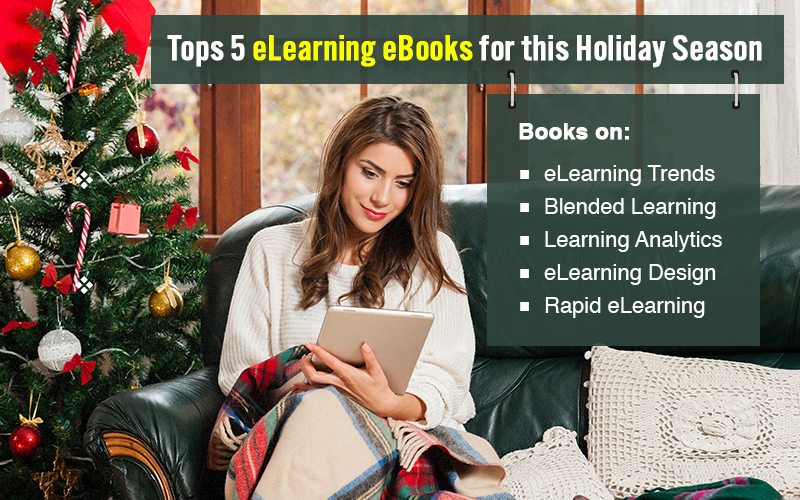 It's the holiday season! This is the time to catch up on things and do what you have been wanting to do but couldn't find time for. And what better way to enjoy the holiday season than spending some quality time with your family, hanging out with friends, hogging on food, cakes, and cookies, and… that's right, catching up on those books on eLearning you've been eyeing for a long time!
There are so many eBooks being published on eLearning today – about technology, changing trends, best practices, you name it, there's an eBook on it. The world of online learning is dynamic and constantly evolving with new technologies, new devices, new learning platforms. You see so many different things happening that it's difficult to keep up with them. To make your life easy, I have compiled a list for you – of the top 5 eBooks on eLearning that have grabbed a lot of attention this year.
Top 5 E-books on E-learning
1. Enterprise E-learning Trends 2020 – by Docebo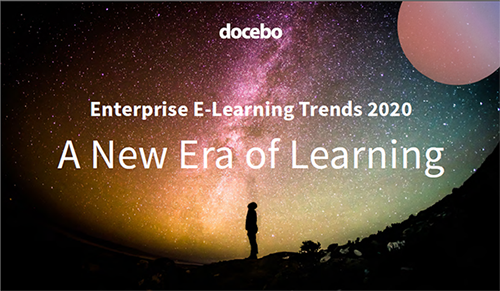 Changes, shifts, swings, trends… different namesfor advancements happening around the world. Development is always constant with e-learning, and this eBook about the latest trends in eLearning:
Gives you an overview of the emerging trends in learning and development (L&D) such as the continued advancement of intelligent Learning Platforms
Offers insights into the potential developments to come in 2020 and beyond
Talks about the role professionals need to play to ensure continuing success of different learning activities
Acts as a guide to create appealing online courses, keeping in mind artificial intelligence and augmented learning delivery
Here's where you can access it.
2. 5 Steps to Start Using Learning Analytics – by Watershed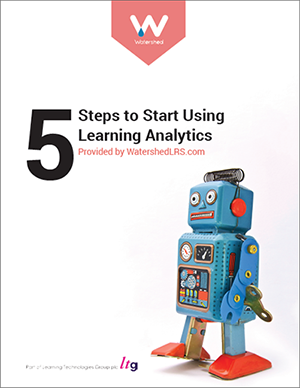 Learning analytics play a huge role in corporate training. It is a tool that can be leveraged to improve individual as well as organizational performance, by measuring the impact of learning programs in the organization. If you've ever wondered if training actually helped learners with their jobs at the workplace, or if they require additional support, then learning analytics can give you the answers to these questions and more.
Implementing learning analytics in your organization is not as difficult as you think it is, and this eBook shows you how. It takes you through:
The 5 steps to get started with learning analytics
The different technologies that can support your program, so you can choose the right approach for your learning analytics program
xAPI, Connectors, Performance Checklists, and CSV Import, identifying data gaps, reporting on additional metrics, exploring data, and so on.
So have a read by accessing the book here.
3. Blended Learning In Today's Workplace – by Patti Shank and eLearning Industry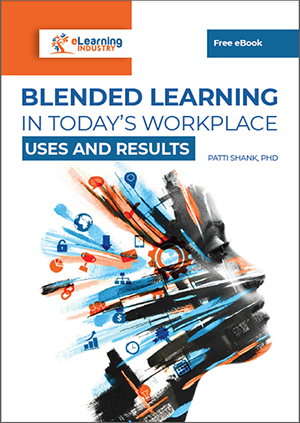 Designing compelling eLearning courses for learners from different age groups, backgrounds, cultures, and environments is not an easy task, but blended learning can make it so. It can be a powerful training solution that appeals to different kinds of learners. This handy eBook on how to implement blended learning in the workplace is based on a survey conducted by the eLearning industry, with inputs from 1106 people from 77 different countries!
It begins by defining Blended Learning and analyses how well this definition matches the respondents' use of blended learning and the modalities used in the blend.
It offers an elaborate overview of all the questions asked along with the answers received, covering blended components and blended percentage.
It focuses on the fundamental concepts of blended learning and illustrates how blended learning is used differently in businesses, government, and education.
This intensive report also offers many tips on blended learning, based on respondents' experiences of using blended learning in their organizations.
Read the book here to turn these tips and tricks into a blended learning solution!
4. eLearning Design and the 'Right' Brain – by CommLab India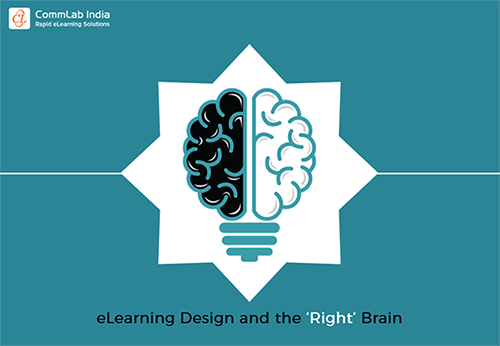 One of the most significant transformations in eLearning is the shifting of focus from the left-brain aptitudes to those of the whole mind. Training that focuses primarily on the left-brain senses is no doubt methodical and analytical but usually lacks engagement. This eBook explores the creative, emotional, intuitive, imaginative, artistic side of the brain – the right brain – and talks about:
Accommodating emotions, experimentation, and empathy in corporate training to move away from the usual rigid and linear design
The 6 right-brain senses – Design, Story, Empathy, Symphony, Play, and Meaning – and the importance of implementing them in eLearning
Creating a whole new mind by complementing left-directed with right directed thinking
Bottomline, this eBook will help you create memorable learning experiences by incorporating design elements that appeal to the right brain of learners.
5. Rapid eLearning Design for Quick Rollout – by CommLab India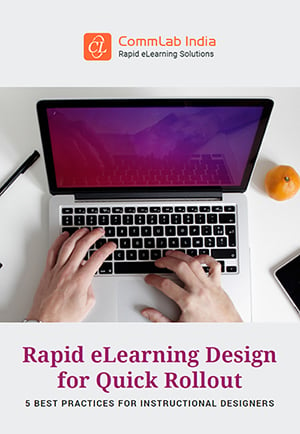 This eBook on the essentials of rapid eLearning design for instructional designers provides 5 best practices of developing quick eLearning solutions without compromising on quality or creativity. It provides:
An understanding of the different ways training fits in the overall scheme of things, in the context of business
Insights into working with subject matter experts (SMEs) efficiently by saving their time
Design strategies such as personalization, stories, and empathy to keep your learners engaged throughout the training
Insights into choosing the right authoring tool for rapid eLearning design and development
Read this eBook for more tips on designing robust training solutions, rapidly.
Endnote
If you want to try and introduce something new in your training when you go back from your holiday, make time for these informative eBooks! You will then have a lot to look forward to! Which reminds me, have a Merry Christmas and a Happy New Year! Also, if you have other interesting reads to suggest to us, please leave a comment.
To know more about eLearning, click to download the eBook below. It's a great way to understand the right-brain aptitudes and their value in eLearning for corporate training. Happy Reading and Happy Holidays!