A Guide to Effective eLearning Content Development for Corporate Training
eLearning content development can seem like a Herculean task at first but is it really so? Is there a way to simplify it? Of course, there is! Here is a guide to effective eLearning content development for corporate training.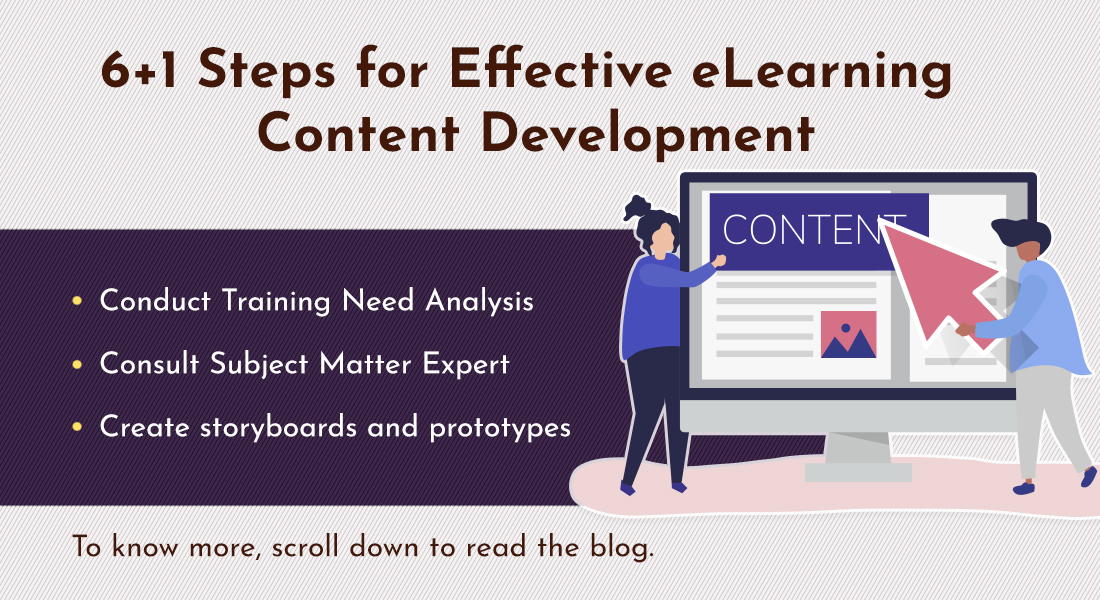 It is a universally acknowledged truth that any business interested in growing is always searching for effective learning solutions to train their employees. Whatever may have been the views of such businesses on the right training methodology in the past, the necessity of online training can no longer be ignored in the current times. E-learning is now much in demand and we are happy to take up this discussion and provide a comprehensive guide to an effective eLearning content development strategy.
6+1 Aspects of Effective eLearning Content Development
Training Need Assessment
Content curation
Insights from Subject Matter Expert(s)
Adhering to learning objectives
Storyboard & prototype
eLearning translation
In-house or Outsource
E-learning content development should be a carefully thought-out process that includes analyzing the available content, compiling the required information, and strategizing the best way to present that content.
Sounds challenging? Not very! You just have to stick to this step-by-step plan, and you can develop your eLearning content in no time.
6+1 Steps to Effective eLearning Content Development
1. Conduct a Training Need Analysis (TNA)
No matter the training strategy you opt for, Training Need Analysis is always a must. It is especially important for eLearning content development because the content is being developed for an audience you can't see. Conducting a TNA will give you answers to questions, such as:
Who is the target audience?
What are their exact learning requirements?
What is their present level of knowledge?
What is the training goal that the content should address?
What should be the tone of the training?
Having answers to all these questions will not only help in effective eLearning content development but will also determine the right method to deliver the training content.
2. Curate All Available Content
Once the Training Need Analysis is done, you'll get a fair idea of the content required for the training. So the obvious next step is curating all available content. The content gathered at this stage need not be structured or scripted. You just need to compile all documents and resources with the information needed for the training. Here are some resources that you can use for this purpose.
Available classroom materials like PPT decks, instructor's manuals, user guides
Recordings from webinars
Videos of company leadership messages
PDFs on company guidelines, product and service guidelines, SOPs, etc.
Documents and research provided by Subject Matter Experts (SMEs)
3. Consult the Subject Matter Expert
When it comes to eLearning content development, SMEs' insights are extremely important. We have nicknamed them the Jedi Masters of Training content. They are both the source and consultants for the eLearning content. They go through all the curated content carefully, check for out of date and incomplete information, fill in the gaps with the latest information, and also are part of the review and quality assurance team through the entire eLearning development process.
Getting an SME's time can be a tad difficult as they usually hold higher job positions and L&D is not their primary job responsibility. But we have some tips on how to deal with your SME.
Always maintain a definitive timeline of when and where you need the SME's involvement during the eLearning content development process.
Ask for their time beforehand and stick to their schedule.
Involve them in the initial kick-off meeting with the L&D team and clarify all doubts.
(You can also record their inputs and explanations and use them as resources.)
Explain the scope, objective, and duration of the training so that they understand what specific information is needed.
4. Align Content According to Learning Objectives
Once your SME(s) is done checking and updating the curated content, the next step is to make the content ready for eLearning. This means getting rid of all extraneous information and retaining only what is relevant and specific to the training. How do you do that? With the help of learning objectives.
Learning objectives in an eLearning course are like the lighthouse – guiding learners, learning designers, and learning design towards the right direction – the business goals. Learning objectives are not only a way to inform learners 'what's in it for them' but also a way to tell designers 'what content to put in the course'. They decide the level and tone of the content, determine the instructional design that should be used to present the content, and also the course duration.
5. Come Up with a Visual Representation
E-learning is a very visual training methodology. You need to have a visual representation of how the course would look and feel to get your stakeholders' approval. And in eLearning, the best way to do this is by developing a storyboard and a prototype.
A Storyboard is a sequential slide-based presentation of the entire course, containing all the visual and textual elements with instructions and comments, without the functional elements.
A Prototype is a miniature version of an eLearning course with a sample of all the elements that would exist in the actual eLearning course, including interactivity and voice-overs.
6. Translate eLearning Content to Required Global Languages
Most businesses today have a global workforce located in different geographical locations. And we all know that learning is immensely more effective and engaging when it is in one's own native tongue. So, eLearning translation is an important part of eLearning content creation.
Translating eLearning content from one language to another can be tricky as it can include translating texts, images, graphics, videos, etc. It is also important for the translated eLearning course to not only convey information in the selected language but also reflect its cultural nuances and linguistic idiosyncrasies.
Here are a few things about translation that you should keep in mind during eLearning development.
Plan for translation alongside eLearning content development in the primary language. This will help you make the course ready for translation, providing extra space on each slide for text in the translated language, right-left or left-right alignments, white space, avoiding text on images, etc.
It is better to use neutral language, colours, and graphics in the course so that translation is easier. But it is also true that localizing the content by making it more language or culture-specific can be very effective. So, if you have a course that requires this added personalized touch, go for it!
Be careful not to hurt any sentiments, or convey something irrelevant or meaningless by translating everything literally.
Decide: In-house or Outsource
Let's be honest, eLearning content development can be a herculean task. And if you do not have an experienced and expert L&D team, the task can become very tedious. One of the major decisions you need to make is whether you should do it with your in-house team or outsource it to an external vendor. The decision is rather simple actually:
Do you have a dedicated in-house L&D team that includes instructional designers and course developers?
Is your in-house team capable of handling the project?
Can your in-house team finish the project within the set timeline?
If your answer to all or any of these questions is 'no', outsourcing can be a better option for your eLearning content development. And outsourcing does not mean you get to shake your hands off it completely. Some tasks can only be done internally, like conducting a TNI or curating available content. Once you have the raw content, you can ship off the task to a trustworthy vendor. How does that sound?
End Note
I hope you enjoyed reading this article and have gained some interesting insights from it. E-learning content development can seem like a challenge but all this effort will be worth it when you have a skilled workforce that continuously improves your business ROI.
And if you are struggling with whether to undertake the task in-house or outsource it, this free eBook will help you make the right decision.